Travel is an incredible gift. It has the ability to open our eyes, our hearts and our minds to the unique cultures and spellbinding beauty of the natural world. But with this gift comes a responsibility – to protect the world as we know it. At African Travel our mission is clear; to have a positive impact on the people and communities we visit, to help protect wild and marine life, and to care for the planet we all call home.
With our #AfricanTravelCares, we work with those that focus on conservation and protect the places we visit to ensure that every trip gives back to local People, Wildlife and the Planet.
HOW WE TREAD RIGHT
Through our partnership with the TreadRight Foundation®, the not-for-profit created by our parent company The Travel Corporation (TTC), we have more than 60 projects across 26 countries underway and our next evolution is How We Tread Right (HWTR), a 5-year strategy that addresses our collective impact through 11 goals tied to the UN Global Goals.
This Earth Day we announced a new Climate Action Plan, including exciting new ways we will become carbon neutral by 2030 or sooner. You can learn more about TreadRight® and our HWTR and Climate Action Plans here.
MAKE TRAVEL MATTER® EXPERIENCES
While we donate to causes that help communities and wildlife, including sourcing client gifts from local women's group or donating to children's education, we also go a step further to ensure a journey meets one of the UN global goals. The Travel Corporation's new How We Tread Right (HWTR) sustainability strategy includes special MAKE TRAVEL MATTER® Experiences, which ensures experiences are ethically responsible, help preserve wildlife and enhance the United Nation's global sustainability efforts.
Chosen with great care and assessed against robust criteria, our MAKE TRAVEL MATTER® Experiences have both a social or environmental impact on guests and the communities and wildlife visited.
Experiences are indicated with the above MAKE TRAVEL MATTER® seal can be found throughout our journeys or we can tailor an experience unique to an interest or passion. VIEW SUGGESTED ITINERARIES
DID YOU KNOW?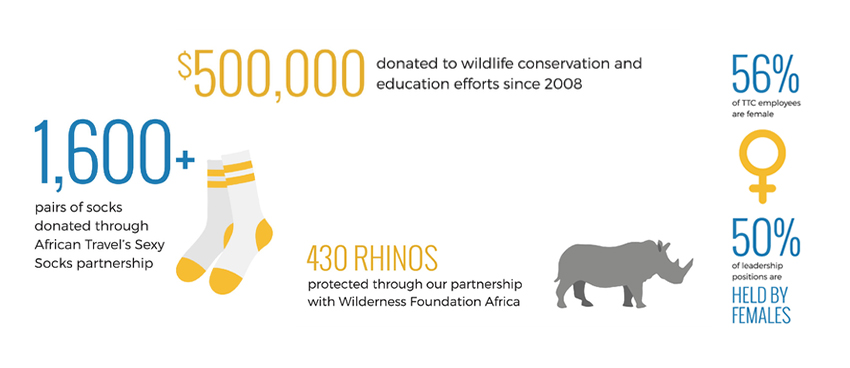 MAKE TRAVEL MATTER® PLEDGE
We are grateful for the thousands of people who have signed our pledge. If you share the similar ethos as TreadRight® and African Travel, take the pledge to have your travels matter with a simple signature.
MAKE TRAVEL MATTER® is a registered trademark of the TreadRight Foundation.