Why Namibia
Namibia's vast open spaces, dramatic deserts, rare wildlife, unique lodges, and incredible night skies makes it one of Africa's hottest safari destinations.
Namibia's desert adapted wildlife and landscapes is mesmerizing. Explore the red sand dunes of the Sossusvlei tower and spot plenty of game in the white salt pans of Etosha National Park. See the Skeleton Coast's shipwreck shorelines. Visit the Kunene region's plains and ancient valleys, holding rare plant and wildlife species like the brown hyena and desert rhino. Go off the beaten path to meet the nomadic Himba tribe.
Quick Info

Where to Stay: Ranging from luxury safari lodges on the edge of Etosha National Park to tented camps in the Namib Desert and modern city resorts.

Game Viewing: Pop-top minivans, cruisers, open vehicles; rare hyenas, onyx, desert rhinos in remote Kaokoveld; Cape fur seals, black-backed jackals and brown hyena on Skeleton Coast; large game heard in Etosha's white plains.

Getting Around: Transfers and game drives conducted in 4x4s. Also on offer are scheduled tours, luxury fly-in and hot air balloon safari and quad-biking.

Highlights: Dune boarding, sea kayaking near Swakopmund; rhino tracking, cycling, camel treks in Damaraland; 'star-gazer' rooms in dark sky reserves.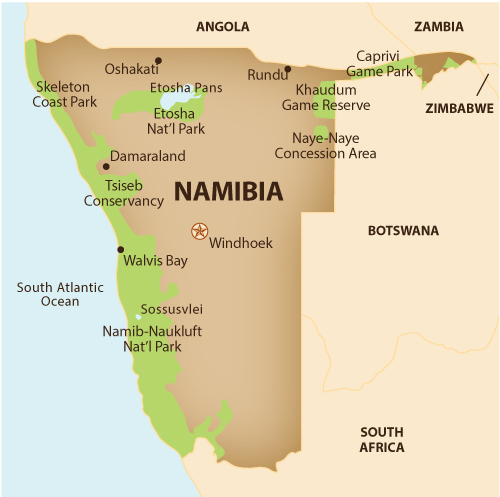 Weather

HI/LoF

Rainfall
Namibia Tours
10 days from $8,285 per person
Namibia
This ten-day journey aboard the Rovos Rail traverses dramatic landscapes stopping in Kimberley and Fish River Canyon – second in size only to the Grand Canyon- and features safari experiences in Nambia's Sossusvlei and the game-rich Etosha National Park.
8 days from $9,995 per person
Namibia
This flying safari promises a one of a kind wilderness experience for seekers of the remote and profound. Marvel at the stark scenery, desolate coastlines endless ancient valleys and desert adapted wildlife.
Namibia is one of our favorite safaris for the adventurous traveler. Those that venture here in 2021 will be rewarded with extra space and savings up to $1,540 per person.
10 days from $13,695 per person
Namibia
On this flying safari, scale the iconic red dunes of Sossusvlei and explore desert landscapes spending time with the Himba people. Track black and white rhino, learn about ground-breaking giraffe research, sleep in a shipwrecked lodge and marvel at the magnitude of your surroundings.