WE KNOW AFRICA
Welcome to the African Travel safari blog. In this space, we share inspirational stories and ideas on adventures in Africa, plus our latest social posts!
Our Impact Report
July 19th, 2023, by Jonathan Brannan
The Travel Corporation Releases 2022 Impact Report, highlighting advancements on climate action
TTC's second annual Impact Report showcases positive impacts and progress against the group's 11 sustainability goals, anchored to the United Nations Global Goals
The Travel Corporation, (TTC,) a family of 40 award-winning travel brands, released its second annual Impact Report today, sharing progress against the group's five-year sustainability strategy How We Tread Right (HWTR), launched in September 2020. HWTR's 11 sustainability goals are anchored to the United Nations Global Goals, in an effort to advance the shared mission to MAKE TRAVEL MATTER® by travel brands including Trafalgar, Contiki, Uniworld Boutique River Cruises, Insight Vacations, Red Carnation Hotels, and more.
One of the most notable achievements since the launch of HWTR is the replacement of TTC's goal to become carbon neutral by 2030 with the more ambitious goal of reaching net zero GHG emissions by 2050, designed to address TTC's impact on climate. The other issues addressed by the 11 goals include food, waste, travel experiences, diversity, equity and inclusion, and wildlife.
In 2022, TTC became the first tour operator to launch a Carbon Fund: an industry-leading fund designed to enable investment in green technologies selected for their ability to decarbonise the business. This fund was announced last year when TTC became the first global tour operator to have near-term, long-term and net zero targets validated by the Science Based Targets initiative. Some headway TTC has made towards decarbonization, its priority, include progress towards achieving its goal of sourcing 50% of electricity from renewable sources and reducing food waste by 50%, both by 2025. Some examples include TTC moving five additional offices and accommodations to renewable sources bringing its total to 26, and Evan Evans introducing its first zero-emission electric vehicle to its fleet. With food waste technologies implemented at 20 additional Red Carnation Hotels and Uniworld ships in 2022, the combined food waste savings last year equated to more than 284,000 meals.
In addition to driving impact through the 11 measurable goals featured in its strategy, How We Tread Right, TTC and its family of brands also work to protect our planet, its people and wildlife, through its non-profit TreadRight Foundation. In 2022, TreadRight funded nature-based solutions GreenWave and Project Vesta for the second consecutive year, in addition to community development and wildlife conservation initiatives such as Rainbow Railroad, the Tourism Pathways Project, Lakota Youth Development, Wilderness Foundation Africa, and Wild Entrust.
"While we're immensely proud of the impact we achieved in 2022, we're equally aware of the work that remains ahead of us," says Shannon Guihan, The Travel Corporation's Chief Sustainability Officer and Head of TreadRight. "TTC's Carbon Fund, launched last year and detailed in this Impact Report, moves beyond the leadership of achieving near-term, long-term and net zero validated targets, and illustrates how we intend to make this transition, in real terms. The sector needs to avoid the many distractions that are out there towards real change and seek measurable impact, which is exactly what we are focused on."
Key highlights from TTC's impacts in 2022 include:
PLANET
Introducing an industry-first Carbon Fund

Replacing the goal of carbon neutrality by 2030 with the more ambitious goal of net zero by 2050

Becoming the first global tour operator with validated near-term, long-term, and net zero targets

The reduction of Scope 1 emissions by 27%, Scope 2 emissions by 42% and Scope 3 emissions by 45% from 2019 

Sourcing 44% of total global electricity needs from renewable sources, up 20% over the previous year   
Moving 5 additional offices and accommodations to renewable energy, bringing the total to 26 properties    

Implementing food waste management systems at 20 additional hotels and ships

Achieving a combined food waste reduction of 120 tonnes, equating to more than 284,000 meals 

Reducing printed brochures by 64% from 2019
PEOPLE
Including at least one MAKE TRAVEL MATTER® Experience on 62% of TTC itineraries   

Our collection of MAKE TRAVEL MATTER® Experiences across all TTC brands reached 571  

Increasing TTC itineraries visiting developing regions by 50% from our 2021 baseline    

Establishing 5 partnerships globally to widen our hiring pool to include traditionally underrepresented people
6 brands focused on Pride and Women-only itineraries to help foster diversity, equity and inclusion

3 marketing partnerships with diversity, equity and inclusion as the main focus

19 active identity circles under TTC IDEA, TTC's employee resource group

Completing 7,471 hours in 2022, reaching a 46% completion of our goal since the launch of HWTR
WILDLIFE
Ensuring 100% compliance with our animal welfare policy across all itineraries
To read The Travel Corporation's full Impact Report and learn more about the progress TTC and its brands have made against its How We Tread Right sustainability strategy, please visit impact.ttc.com/progress.
AFRICAN TRAVEL'S SUSTAINABLE JOURNEYS
For inspiration, use thissustainable travel brochure filled with MAKE TRAVEL MATTER® Experiences, itineraries, packing and travel tips to plan a safari.
READY TO PLAN A SAFARI?
Call 1-800-421-8907 or fill out our questionnaire and submit it to a specialist to plan a trip.
Pride is Personal
June 16th, 2023, by Jonathan Brannan
Discover expert insights about LGBTQ+ travel in Africa with our President Sherwin Banda. Appointed to Condé Nast Traveler's first-ever Global Advisory Board and recognized as one of Robb Report magazine's "16 LGBTQ+ Visionaries in Luxury You Should Know," Sherwin is very passionate about creating diverse and safe spaces for all who visit Africa.
While misconceptions persist about the continent, Sherwin sat down for a Q&A to discuss his time growing up in South Africa, where Africa is heading, and what destinations need to be on your radar.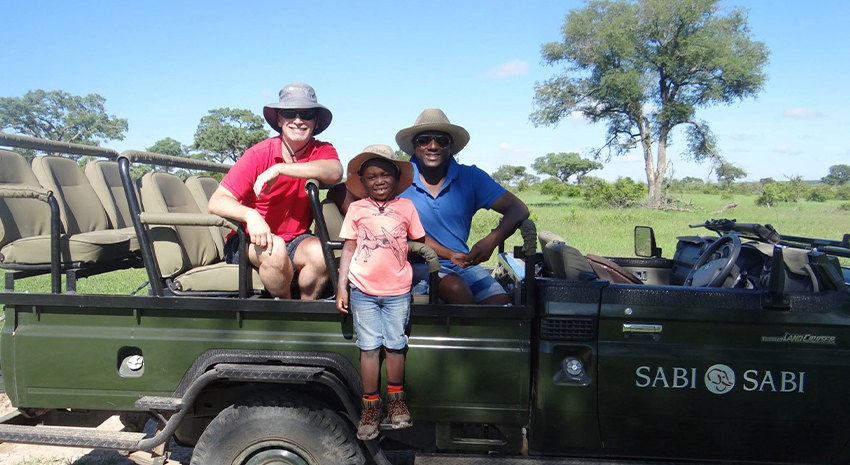 What do you think is one of the major misconceptions about LGBTQ+ travel in Africa?
A common misconception is Africa is not safe for travelers, and especially LGBTQ+ guests. In 1996, South Africa became the first country in the world to prohibit discrimination based on sexual orientation in its constitution and to protect LGBTQ+ people. Most people don't know that South Africa legalized same sex marriage in 2006 which was years before U.S. recognized same sex marriage. There is still a long way to go to have gay marriage recognized across Africa, however LGBTQ+ people are living and thriving in the destination.
Lodges, camps, and hotels across our experiences are well-vetted to meet international service standards and the specific needs of all guests. You will come for the wildlife, but the people will steal your heart. Africans are some of the friendliest people on earth.
Why do you think this perception exists that Africa is lagging behind the rest of the world in terms of LGBTQ+ travel?
Colonization and religion have prolonged the stigma attached to homosexuality and many countries were isolated for decades. Isolation still exists for some of these countries and that is where you see the strictest laws. Digital technology and the movement of people through tourism and business is really the changemaker, connecting Africans with people and new ideas. As Africans are exposed to different cultures and the locals advocate for a change in laws, we see mindsets changing.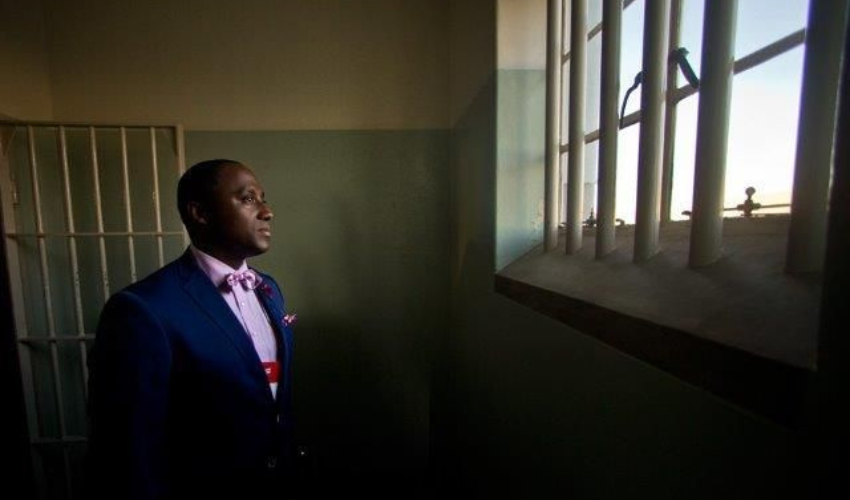 Growing up in South Africa, how did this influence you in life and your role in the travel industry?
I grew up in South Africa during apartheid and the people who became the consciousness of our struggle for freedom were ordinary people. They were religious leaders, teachers, and our elders within the community. Our elders were the protectors of our traditions and our memories. Listening to their stories prior to apartheid cultivated a desire for change within the youth. Our religious leaders challenged us to find an alternative without compromising our traditions or sense of humanity. Those early learnings shaped my desire to live in a life of service to others and to be 100% committed to inclusivity for all.
South Africa is a popular LGBTQ+ destination, what would you recommend guests do in South Africa?
Known as the Rainbow Nation, South Africa truly offers something for everyone. It offers a diversity of activities for sightseeing and checks the boxes in terms of a varying array of accommodations. Cape Town is referred to as the "Mother City" of South Africa and is very gay friendly, with the largest LGBTQ+ community in all of Africa. There are many exciting places to see throughout the city. The pink district called De Waterkant has many LGBTQ+ friendly bars, restaurants, and nightlife.
How does African Travel ensure each guest feels safe and included?
Inclusivity matters and African Travel continues to strive to provide a safe and welcoming space for every guest. African Travel has a diversity and inclusivity training program that works with partner lodges, hotel, and local guides to train each to be sensitive to each guest's needs before a guest visit.
What are some emerging destinations LGBTQ+ travelers should consider?
While 34 African countries, many of which are in Western African, outlaw homosexuality, the continent has made great strides in improving how they recognize the LGBTQ+ community. Where global tourism has had a positive impact on local cultures and citizens have fought for their own freedoms, we've seen these countries affect change first.
It may have started in Southern Africa, but change is moving north. Botswana sets the gold standard for sustainability, and it continues to progress since it decriminalized same sex relationships in 2019. The experiences here are outstanding because the government has limited the number of camps, so you have a truly intimate experience. I would highly recommend relaxing on a beach at the end of a trip and Mozambique has some beautiful beaches. The country also decriminalized same sex relationships in 2015. Seychelles has some wonderful resorts opening this year, including the new Waldorf Astoria and the Seychelles also makes it illegal to discriminate based on sexual orientation.
What are you excited to develop in the next year or two for African Travel?
Each of our safaris have meaningful immersive MAKE TRAVEL MATTER® experiences that benefit both the guests and the local communities they visit. I want each guest to have a deeper understanding of Africa's cultural heritage and impact. We are looking at new ways to share experiences, especially for the African American and LGBTQ+ communities. Seeing the contrast of ancestral traditions and modern culture while connecting guests with these interesting locals is an exciting opportunity for us, especially where it intersects for the LGBTQ+ community.
For inspiration, we have a Pride Safari Guide featuring our top experiences in Africa. Our guide includes helpful tips, how to MAKE TRAVEL MATTER®, and our favorite safaris.
READY TO PLAN A SAFARI?
Call 1-800-421-8907 or fill out our questionnaire and submit it to a specialist to plan a trip.
Earth Day 2023
April 22nd, 2023, by Jonathan Brannan
TreadRight Announces Newest Project Partner Trees for Life and Supporting its Wild Pine Project on Earth Day
Travelers can visit the world's first rewilding centre in the Scottish Highlands for communities to thrive and wildlife to flourish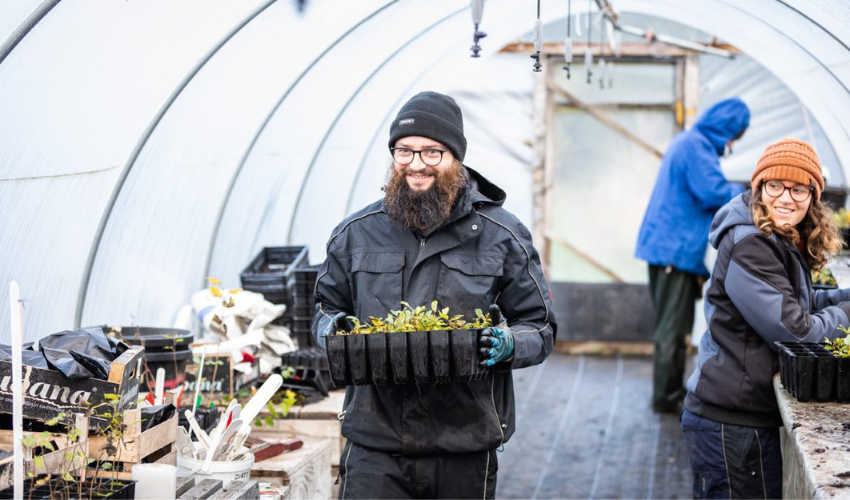 This Earth Day, the TreadRight Foundation, a joint initiative between African Travel and our The Travel Corporation (TTC) family of brands, announces its newest project partner, Scotland-based Trees for Life and support for its Wild Pine project. The rewilding project is restoring Scotland's globally important Caledonian Forest and its unique wildlife. It is the first project TreadRight has announced since shifting focus to supporting nature-based solutions (NbS) in support of its three pillars of Planet, People and Wildlife.
TreadRight is The Travel Corporation's philanthropic arm, a global travel provider whose mission is to MAKE TRAVEL MATTER® for both its guests and the destinations and communities it visits with its family of 40 award-winning brands, including Trafalgar, Insight Vacations, Contiki, Uniworld, Highland Explorer Tours, HAGGiS Adventures and Red Carnation Hotels. In 2022, TTC became the first tour operator with validated near-term, long-term, and net zero targets. In support of these targets TTC also announced an internal Carbon Fund to invest in its net zero transition, in concert with TreadRight's prioritization of nature-based solutions.
"This Earth Day's theme is 'invest in our planet' and TreadRight is pleased to partner with Trees for Life, a strong nature-based solutions charity working to tackle the overlapping nature and climate emergencies and create a cascade of benefits for people," says Shannon Guihan, The Travel Corporation's Chief Sustainability Officer and Head of The TreadRight Foundation. "NbS include the conservation and restoration of natural ecosystems, and improved land management to either reduce carbon emissions or to store carbon in the planet," she adds.
Trees For Life is dedicated to rewilding the Scottish Highlands. According to the charity, thousands of years ago wild pinewoods covered an estimated one million hectares of Scotland – but today only about 2% of this life-supporting habitat remains, broken into small and isolated fragments, many under threat and in poor condition.
With the support of thousands of volunteers from around the world, Trees for Life – which celebrates its 30th anniversary this year – is saving this magical forest habitat and its wildlife from being lost forever, while creating social and economic benefits for local communities.
Rewilding is an effective means to protect and restore sustainable biodiversity, natural landscapes, and wildlife while removing carbon emissions from the atmosphere. Alongside prioritizing the reduction of carbon emissions, supporting nature-based solutions which remove and store emissions already in the atmosphere is an integral component in the global journey towards net zero, which is the critical goal post to avoid a climate disaster according to the latest climate science.
Trees for Life is TreadRight's third nature-based solution partner, in addition to US-based GreenWave and Project Vesta, both marine-based initiatives. Learn more about TreadRight's nature-based solutions here.
Rewild Africa
At African Travel, Earth Day doesn't just come around once a year. Every journey features a MAKE TRAVEL MATTER® Experience that connects travelers with the places, wildlife and people where their dollars have the greatest impact. There are several opportunities to help rewild Africa.
Lion Tracking and Tree Planting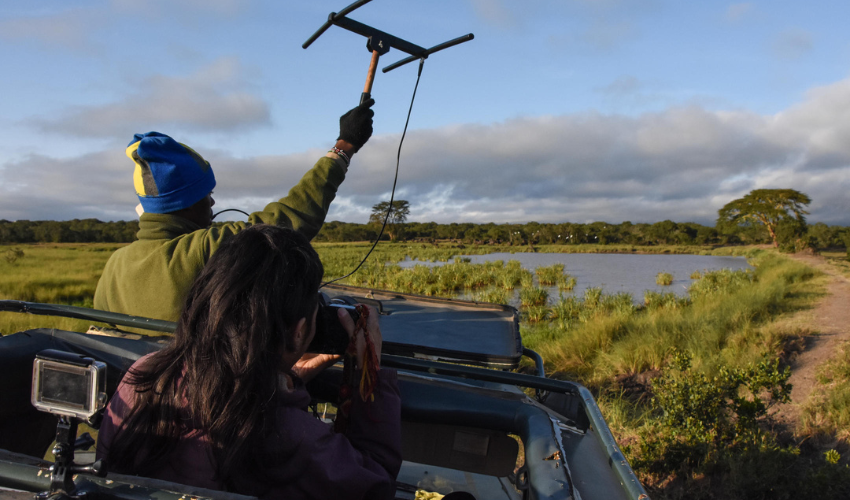 Experience the thrill of a lifetime at Ol Pejeta Conservancy - home to one of the highest predator densities in Kenya. Guests on our Magical Kenya safari have the unique opportunity to contribute to lion conservation by joining a lion tracking experience and witness these magnificent apex predators up close. As you help track the lions, you'll gather vital data about each pride member, contributing to finding solutions to the challenges facing Laikipia's lions and making a real impact on conservation efforts.
But that's not all - at the end of your adventure, you'll have the chance to plant a tree and leave your own positive impact on this important ecosystem. By connecting with nature and contributing to conservation efforts, you'll leave Ol Pejeta with memories that will last a lifetime. Don't miss out on this incredible opportunity to participate in one of the most exciting wildlife experiences on earth.
Reforesting Rwanda's Rainforests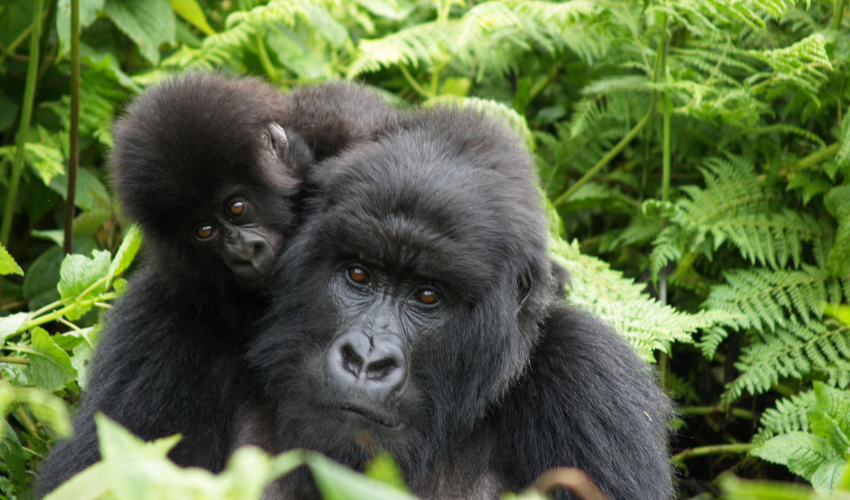 Explore the magnificent 'Land of a Thousand Hills' on our Ultimate Tanzania & Rwanda itinerary and immerse yourself in the splendor of the rainforest and contribute to the forestry efforts that are critical to the survival of Rwanda's endangered mountain gorillas during your stay at Kwitonda Lodge. A great place to start is the Akarabo, meaning 'little flower' in Kinyarwanda, the on-site nursery. This unique conservation project is of vital importance, as the historic deforestation of the area has led to a dramatic loss of habitat, placing numerous endemic species found only in this region at an increased risk of extinction. The project creates a critical buffer zone between the neighboring the Volcanoes National Park, the natural habitat of Rwanda's endangered mountain gorillas and many other unique forest animals, and agricultural land.
If you're curious to discover even more about our MAKE TRAVEL MATTER® Experiences in Africa, we've compiled a selection here for you to peruse. Explore and be inspired by the meaningful impact you can make during your travels with us.