Akagera: Rwanda's Quintessential Big 5 Safari Destination
Akagera National Park in Rwanda offers a unique and unforgettable wildlife experience. Situated in the eastern part of the country, it boasts a diverse landscape that ranges from savannah to wetlands, making it a haven for a variety of wildlife species. Visitors can expect to see majestic elephants, lions, leopards, buffalos and other big game, as well as a host of bird species. The park also offers breathtaking views of the surrounding hills and lakes, providing a perfect backdrop for a picnic, game drive or boat tour. With its combination of natural beauty, rich wildlife and comfortable accommodations, Akagera National Park is a must-visit destination for any nature lover or wildlife enthusiast. Whether seeking a relaxing getaway or an adventure, this park promises to deliver a memorable experience.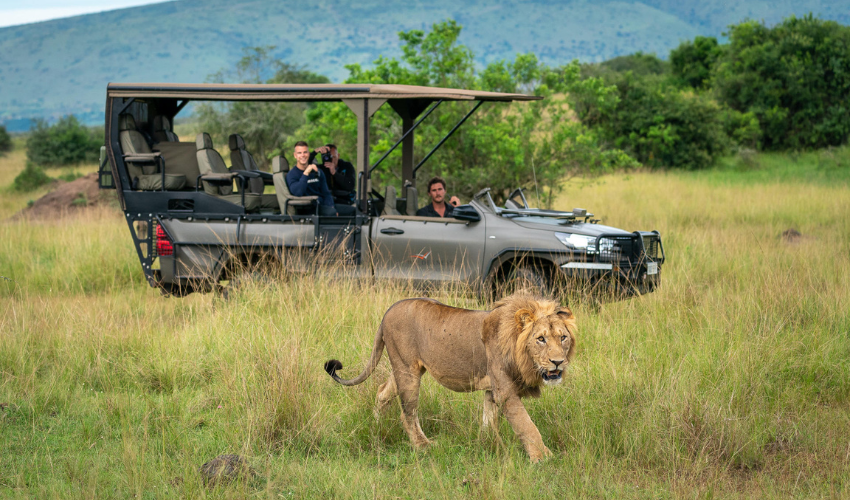 Activities
Game Drives
Embark on an unforgettable adventure in a world teeming with wildlife! Akagera National Park is not just home to the Big Five, but also has a remarkable conservation story with the successful return of lions and white and black rhinos. During thrilling game drives, come face to face with elephants, lions, buffalos, hyenas, zebras, giraffe and an array of antelopes including bushbucks, roan antelope, Topis, klipspringer, Oribis, Cape eland, water-buck, duikers and impalas. The park also boasts a rich diversity of primates, including olive baboons and Vervet monkeys. With experienced guides at the helm, each drive promises a multi-sensory experience, delving into the park's ecology, geology, and history, making every drive a learning adventure like no other!
Night Game Drives
Enjoy a mesmerizing journey into the heart of the night at Akagera! Equipped with filtered spotlights, after-dark game viewing excursions reveal the captivating secrets of the nocturnal world. From the elusive leopard to the spotted hyaena, civet, genet, mongoose, owls and nightjars, witness a symphony of creatures that come alive under the cover of darkness. With both day and night game drives available, your adventure at Wilderness Magashi promises to be truly extraordinary.
Lion Tracking Conservation Project
Guests can become 'Citizen Scientists' during their visit to Akagera and participate in conservation efforts, including tracking and identifying the lions and leopards of the area through the use of identikits.
Water Safaris
Journey across the magnificent waters of Lake Rwanyakazinga, on state-of-the-art swamp cruisers. Enjoy an elevated perspective with their 'double decker' seating, allowing you to immerse yourself in the beauty of the surrounding wilderness. Get ready to be enchanted by the world of water birds and the powerful crocodiles and hippos that call this lake home. With every moment on board, you'll be surrounded by the comfort and sophistication that define a truly luxurious travel experience.
Birding
Unleash your inner ornithologist and immerse yourself in a world of avian splendor at Akagera National Park! Boasting an impressive 482 documented bird species, including the elusive shoebill and some of the rare Lake Victoria endemics, Akagera offers a truly exceptional birding experience.
Catch and Release Fishing
Enjoy the thrill of the catch and the peace of mind of catch and release fishing, available year-round. Guests are provided with everything you need to cast your line, including a small stock of basic rods and reels. Get ready to reel in your next big catch and experience the ultimate fishing adventure!
Accomodation
Magashi Camp
Perched like butterflies on the shores of Lake Rwanyakazinga, Magashi's six spacious tented suites welcome you to an intimate wilderness area, surrounded by one of the most serene landscapes imaginable - the ideal stage for exceptional safari adventures. Savor the luxurious atmosphere of our main area, complete with a plush lounge, dining area, bar, pool, and expansive viewing deck featuring a cozy fire pit. Experience traditional Kugisha cuisine with an unforgettable twist, accompanied by cattle-herding songs and stories.
The camp's commitment to sustainability and conservation is evident in every aspect of Magashi. They are proud to be 100% solar-powered and completely single-use plastic-free, and support local community initiatives, including empowering the surrounding communities by hiring locally and supporting local cooperatives that provide guests with lunch bags, kitenge beeswax wraps, candles for the dining tables, and hand-carved wooden shoebills. At Magashi, guests are provided with a true luxury travel experience that indulges the senses while embracing the beauty of the environment and empowering the local communities.
READY TO DISCOVER RWANDA?
Call 1-800-421-8907 or fill out our questionnaire and submit it to a specialist to plan a trip.