Zanzibar... The name alone evokes images of tropical paradise. Calling up visions of picturesque islands with soft-sand, white beaches and shimmering azure waters. Yet, the Zanzibar Archipelago has so much more to offer than romantic coastlines and blissful sunsets. These islands offer a kaleidoscope of sights, smells, tastes and experiences that will feed your soul, rejuvenate your body and reawaken your creativity.
Zanzibar is without a doubt a dream beach destination. An ideal place to get away from it all. But it also has a fascinating history and rich cultural expressions, as well as being a top adventure and eco-tourism destination.
Experience luxurious island living at its finest on the breathtaking Zanzibar Archipelago. These tropical paradises boast immaculate white sandy beaches and crystal clear turquoise waters, perfect for soaking up the sun and indulging in relaxation. But there's much more to discover beyond the idyllic coastlines - the islands offer a vibrant and diverse range of cultural experiences, rich history, and thrilling eco-tourism adventures. Whether you're seeking rest and rejuvenation or an exciting escape, Zanzibar has something for everyone. Don't miss the opportunity to immerse yourself in the ultimate luxury getaway on these enchanted isles.
Zanzibar Activities
Stone Town
The historical district of Mji Mkongwe, also known as Stone Town, is a must-visit destination on the island of Unguja. As the capital of Zanzibar City, Stone Town offers a unique blend of African, Arabic, Indian, Persian, and European influences, creating a one-of-a-kind cultural experience. Stroll through the winding, spice-scented streets and take in the stunning stone buildings as you listen to the call to prayer echoing through the air. Enjoy refreshing chai and coffee from local vendors, and savor the flavors of fresh fish dinners laced with coconut. Stone Town is the heart and soul of the island, and a visit here is sure to be a memorable one.
Jozani Forest
we invite you to come explore the breathtakingly beautiful Jozani Chwaka Bay National Park, a biodiversity hotspot teeming with unique flora and fauna. One of the main attractions of this vast expanse of green is the opportunity to spot the rare and captivating red colobus monkey, a species that has evolved in isolation from its African mainland relatives for thousands of years. With their distinctive calls and vivid coats, these monkeys are a true sight to behold. In addition to the chance to catch a glimpse of these stunning creatures, the park also offers nature trails through sun-dappled forests where butterflies flutter, a boardwalk through mangrove swamps, and even the faint possibility of spotting a leopard (though the last sighting was many decades ago). Don't miss this chance to immerse yourself in the natural beauty and wonder of Jozani Chwaka Bay National Park.
Palace Museum
Experience the grandeur of the Palace Museum, a luxurious residence dating back to 1883 and commissioned by Sayyid Sir Barghash bin Said Al-Busaid, the second Sultan of Zanzibar. Built in classic Omani style with stunning coral stone, silver fittings, and acres of marble underfoot, the museum offers a glimpse into the opulent lifestyle of the sultan during Zanzibar's time under Omani imperial rule from 1698 to around 200 years. Now open to the public as a museum, visitors can explore three floors of fascinating royal relics, including furniture, clothing, and writing. This is a must-see for any luxury traveler visiting Zanzibar.
Enjoy a Spice Tour
Experience the vibrant and aromatic world of Zanzibar's spice trade on a guided tour through the winding backstreets. Introduced to the island by Portuguese traders over 500 years ago, spices such as cloves, nutmeg, and cinnamon continue to be produced in small organic set-ups. Let your senses guide you as you inhale the fabulous scents of turmeric, vanilla, cardamom, chili, and black pepper. After the tour, sit down to a flavorful Swahili lunch featuring the spices you encountered on your journey and even have the opportunity to purchase some to take home with you. A tour is a must for any traveler seeking to fully immerse themselves in the rich history and culture of Zanzibar.
The Rock Restaurant
Located on the picturesque peninsula of Michamvi on the east coast of Unguja island, The Rock restaurant is a culinary masterpiece and considered by many to be the best dining experience in Zanzibar. With only 12 tables available and often fully booked, securing a reservation at this iconic restaurant is well worth the effort. Indulge in dishes such as fish carpaccio with coconut sauce, tambi (local Swahili spaghetti) with stir-fried fish, and complement your meal with a bottle of crisp South African rosé. Dining at The Rock will be an unforgettable experience in Zanzibar.
Where to Stay?
Thanda Island Private Marine Reserve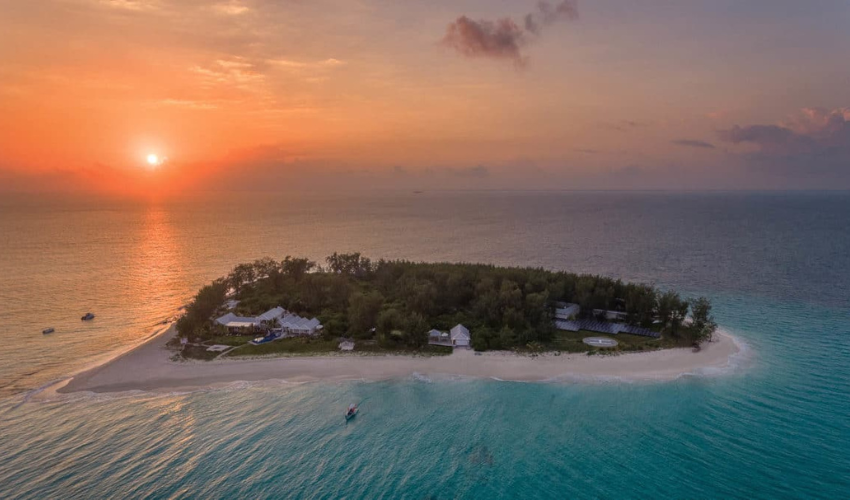 Escape to a private island, exclusive to your group of up to 15. Enjoy five luxury suites, endless activities including snorkelling and spa treatments, and private staff to ensure a personalized experience. With white sandy beaches and turquoise waters, the island is perfect for kayaking, sailing, and yoga. Take a boat trip to Zanzibar for further exploration. Unwind in your own paradise with stunning ocean views and memories that will last a lifetime.
READY TO ADD ZANZIBAR TO YOUR SAFARI?
Call 1-800-421-8907 or fill out our questionnaire and submit it to a specialist to plan a trip.