The TreadRight Foundation®
| | |
| --- | --- |
| At African Travel, Inc. we take great pride in creating safari experiences with an eye on working with those that focus on conservation and protecting the places we visit. As such, we are a founding partner and supporter of the not-for-profit TreadRight Foundation®. Created as a joint initiative between The Travel Corporation's (TTC) family of brands, The TreadRight Foundation® was founded with one clear purpose to MAKE TRAVEL MATTER®, ensuring our travels help make a positive impact to People, Planet and Wildlife. | |
Over a Decade of Positive Impact
| | |
| --- | --- |
| | Since its founding a dozen years ago, the TreadRight Foundation® has more than 60 projects in progress or completed that meet one or more of the 17 Sustainable Development Goals set up by the United Nations. African Travel is a proud supporter of various projects including our past efforts to reforest devastated land in Tanzania. LEARN MORE |
How We Tread Right UN Global Goals
African Travel has committed to a 5-year How We Tread Right (HWTR) sustainability strategy which addresses our collective impact on the planet, people and wildlife, aligned to the UN Sustainable Development Global Goals.

The United Nations has set 17 Global Goals to address today's most pressing sustainable development issues. We have prioritized 11 of these Global Goals based on where we can drive the most impact through our operations and our trips.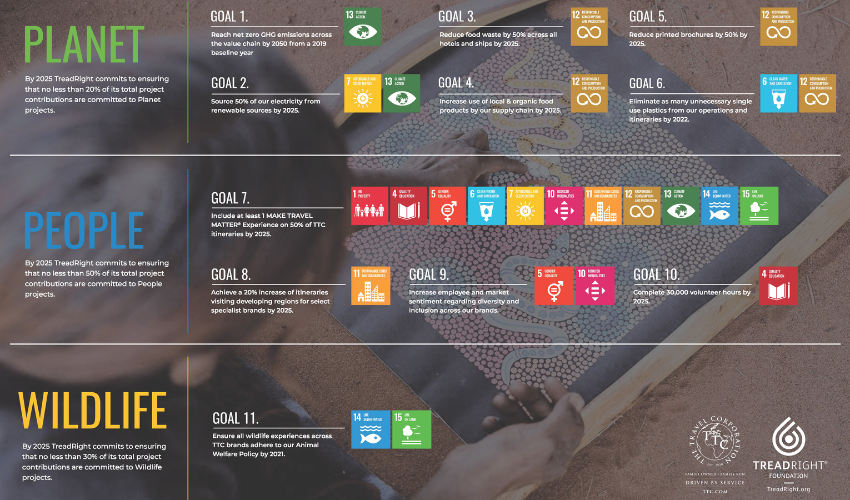 OUR ROAD TO NET ZERO:
Since the launch of our sustainability strategy, global action on the world's response to climate change has continued to advance. We have matched that advancement through our decision to commit to net zero.
Our Climate Action Plan outlines how we will reach net zero GHG emissions across the value chain by 2050 from a 2019 baseline year, with accompanying near-term and long-term targets that are validated by the Science Based Target initiative (SBTi). Our primary focus is to decarbonize, the most effective means to address climate change. To enable that, our parent company The Travel Corporation has established the following validated science-based reduction targets:
Net Zero Target: Our Sustainability Goal 1
Reach net zero GHG emissions across the value chain by 2050 from a 2019 baseline year
Near-Term Targets (2030)
Reduce absolute scope 1 and 2 GHG emissions 46.2% by 2030 from a 2019 base year

Reduce absolute scope 3 GHG emissions from purchased goods and services, business travel, and use of sold products 27.5% within the same timeframe
Long-Term Target (2050)
Reduce absolute scope 1, 2 and 3 GHG emissions 90% by 2050 from a 2019 base year
To cement our commitment to decarbonize, in 2022 we launched a Carbon Fund – a fund dedicated to financing initiatives to reduce the carbon emissions of our business. This fund is a bold step towards prioritizing the planet and will be used solely for initiatives that contribute to our net zero journey and help restore our planet. Progress made by this fund will be reported on in future Impact Reports.
To further support our journey to net zero, our TreadRight Foundation will prioritize and invest in nature- based solutions developed to address climate change as well as the rapid loss of biodiversity. Learn more about TreadRight and our projects.
We encourage you to read about our carbon measurement methodology, learn more about our Climate Action efforts, and view our recent Impact Report at our Impact Hub.