Kevan's Journey to Kenya
We hope that an African adventure is just around the corner for you. To inspire you to live the African dream, we sent our Director of Sales, Kevan Cowie to Kenya in January to report on what travel is like right now.
Below are his journal entries on getting to Kenya and his first days at Nairobi National Park. You can also read about the second part of his trip to experience two contrasting private conservancies here.
Flying to Kenya
My journey started on Kenyan Airways' 787 Dreamliner non-stop service between New York JFK Airport and Nairobi International Airport. The flight was about 13 hours and very comfortable. Wearing a mask was required at all points of checking in, security checks, boarding and throughout the flight.
BEFORE YOU LEAVE: All travelers must have PCR COVID-19 negative certificates, conducted within 96 hours of arrival in Nairobi and are required to complete the "Travelers Health Surveillance Form" online before departure to Kenya. For additional travel requirements, click here.
I was pleased to see that all Kenya Airways staff adhered to protocols. You'll see the Kenya Airways representatives at the desk and check-in wears regular uniforms, but are masked, while your crew on board are masked and wear a full protective uniform for the duration of the flight. Full meal and drink service was available on board.
Welcome to Nairobi
On arrival in Nairobi, I was met by our local African Travel hosts who assisted me with all of the arrival formalities and full protocols were in place throughout the arrival process. I was then transferred to The Emakoko Lodge, a boutique lodge located on the edge of Nairobi city and the Nairobi National Park about a 40 minute drive from the airport.

Welcome to The Emakoko "Your Home Away from Home"
Nairobi National Park is Kenya's oldest National Park, just over 100 years old! It's one of the most unique parks in Africa because the city of Nairobi and wildlife live side by side in harmony, as if as time has stood still for thousands of years for these animals. I met and spoke with the owners, Emma and Anthony Childs, who live on site with their young family and are deeply committed to the preservation and protection of the Park and to the local communities that border it.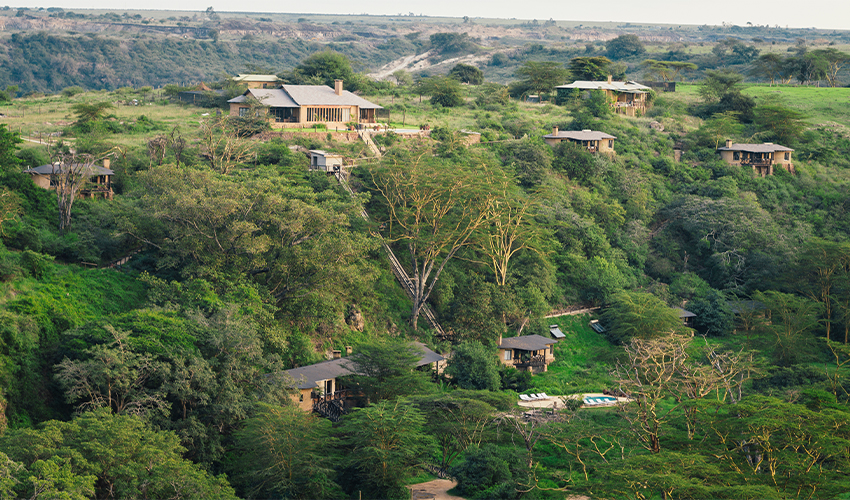 Emakoko is an incredible experience located in the only national park that abuts a cityscape allowing you to enjoy two very different experiences within minutes of each other. It's where rhino, leopards and lions run side by side in a truly unique setting. Emma and Anthony were both raised in Kenya and Nairobi has been a piece of their backyard almost their whole lives. They told me that the park is a shrinking ecosystem that is often undervalued since it has so much wildlife to be seen that many travelers may not realize. The park has one of the largest populations of black rhino in the world and the wildlife knows no boundaries. A variety of animals will come to your doorstep, from hippos, giraffes and gazelles to monkeys swinging from the treetops.
INTERESTING FACT: Nairobi National Park has an impressive population of lions.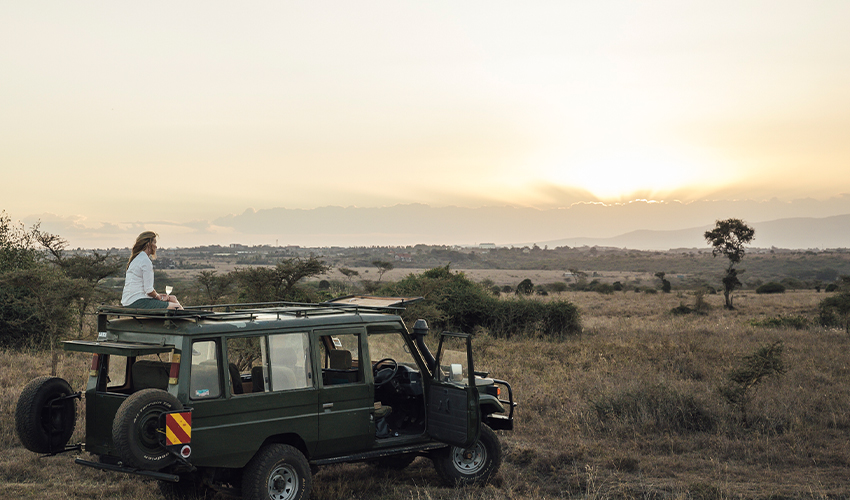 Spot "The Big Four" and Visit Endangered Wildlife
Because of Emakoko's location on the border of the park, you can embark on game drives early, before other crowds enter the park. It feels as if you have the entire park to yourselves. While many might expect to spot the popular Big Five at African national parks, Nairobi has "The Big Four" - leopards, buffalo, rhino and lions.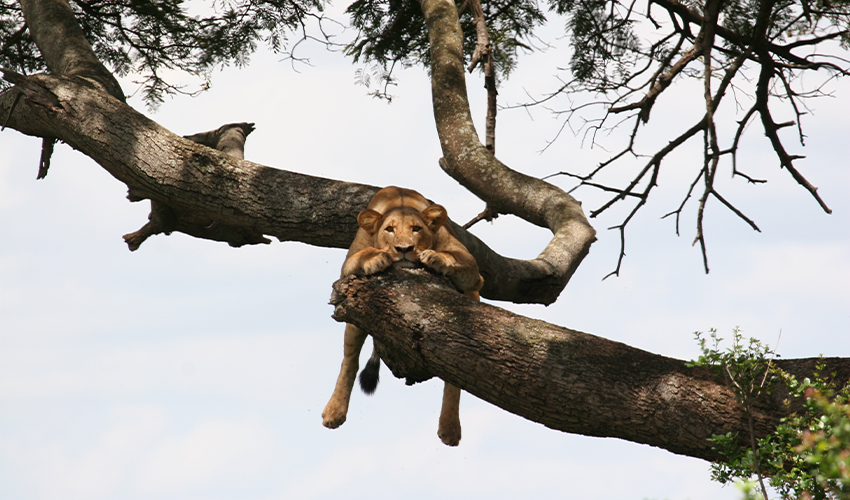 Elephants are visibly absent from the park, but it's possible to see these majestic animals while staying at Emakoko thanks to the David Sheldrick Foundation. The Sheldrick Wildlife Trust was set up in Nairobi to help rehabilitate young elephants under two years old. You can get the fifth of the Big Five experience here by visiting these baby elephants. You have the option to adopt them and follow their lives until they are eventually reintroduced into the wild. There's also an opportunity to feed the endangered Rothschild's giraffe at the Giraffe Center- a great experience for families with children.

Luxury, Private View of Africa
The cottages at Emakoko are designed for relaxation and comfort, with huge, luxurious beds, black-out curtains (though who would want to shut out the amazing view?) and private verandas that look out on to the park. The attention to details, including the amenities, are astounding. The lodge has 10 small chalet cottages that can sleep two people with en suite, open floor plans.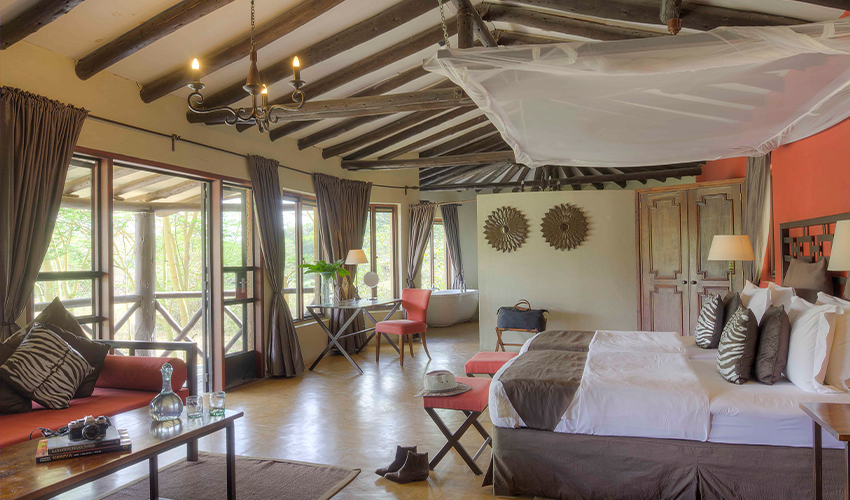 Families or couples that are looking for more exclusivity and privacy can stay in Emakoko's private house. This luxurious home has two full size bedrooms and bathrooms, each with their own private balcony, private swimming pool, fireplace and a private chef. The cottages and house all come with gorgeous views that overlook the gorge and the park.

The Sounds of Africa
During my stay I relaxed and fell asleep to the sounds of Africa, such as a lion roaring or the cry of a lone hyena. It's an amazing contrast to the sounds of any sleeping city. The relaxing atmosphere extends through to the open and airy public areas.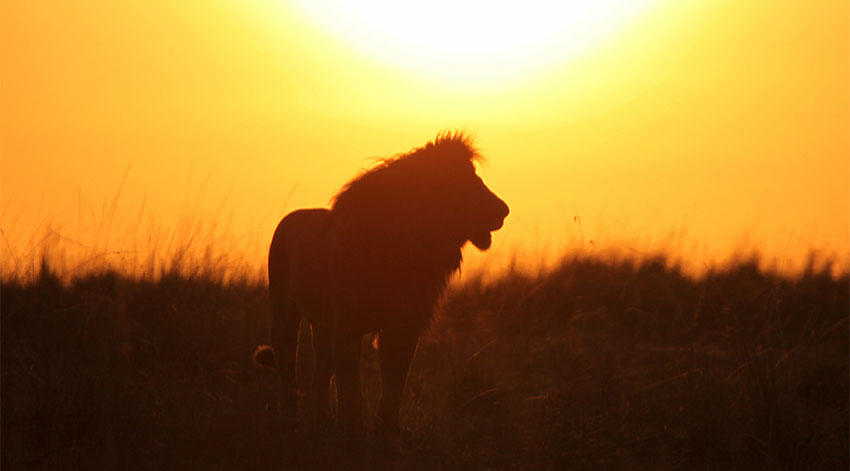 FOOD FACT: Kenya is known for its incredible coffee, which I enjoyed immensely during breakfast before (and during) game drives. I was mesmerized by the spectacular park sunsets while sipping a delicious cocktail during an African sundowner- a safari tradition. The Kenyan cuisine at Emakoko is freshly caught and sourced for a true cultural taste of the country.
Interested in visiting The Emakoko? The family owned property features in both of our Captivating Kenya and Family Safari in Kenya.
You can continue on the second part of Kevan's journey and click here to hear about Kevan's favorite safari experiences at his next stops, the Elewana Tortilis Camp, located in Amboseli and Sand River in the Masai Mara.