HELP US NAME A BABY RHINO
We take great pride in creating safari experiences with a clear purpose to Make Travel Matter. In partnership with The TreadRight Foundation, we are proud to support programs that help local communities and protect wildlife. This includes working with Wilderness Foundation Africa (WFA) in their conservation efforts and funding a light aircraft, a Bat Hawk, to help protect rhinos from poaching.
Since the start of 2020, 19 new rhino babies have been discovered and protected. 11 of these babies were first detected by the TreadRight-funded Bat Hawk. As a thank you, the WFA has asked TreadRight and The Travel Corporation (TTC) to name 3 precious rhino calfs.
African Travel has the honor of naming Yima's handsome son. We want advisors to share in the fun and are asking the industry to show their creativity.
The advisor whose name is selected will receive a free educational journey to Africa!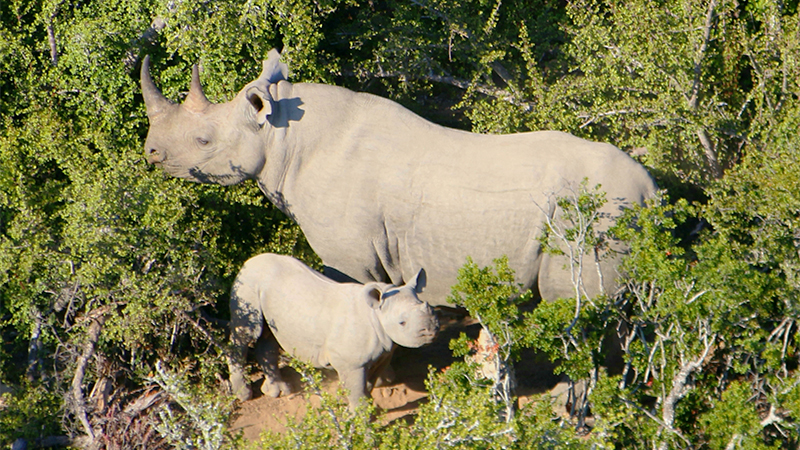 Using the form below, please submit a name you think is appropriate for this cute baby male rhino. The name should be inspired by Africa and reflect our make travel matter ethos. You can submit names until December 1st.
The final selection will be made by Ami Vitale, TreadRight's wildlife Ambassador and award-winning National Geographic magazine photographer who captured the final moments of Sudan, the world's last male northern white rhino alive on the planet in Kenya.
TreadRight's work with the WFA
The Eastern Cape Province in South Africa is home to the third largest endangered black rhino population in the world, and evidence shows it is currently a high-risk target for poachers. Because rhinos prefer thick vegetation, aerial surveillance is necessary and plays a critical part in both wildlife security, and in tracking and improving the management of rhino populations.
Since 2017, TreadRight has partnered with the WFA and funded the purchase and operations of a Bat Hawk to protect rhinos from poaching in provincial nature reserves and national parks in the Eastern Cape.
The regular surveillance through monitoring flights by the Bat Hawk in the known rhino poaching hotspots is contributing to the safekeeping of this endangered population.
By working together, we help advance the United Nations Global Goal 15, Life on Land, by combating poaching and trafficking of rhinos that are vital to this ecosystem, as well as Global Goal 8, Decent Work and Economic Growth, through the employment of intelligence and police support for specialized wildlife crime units, contributing to a higher employment rate.
African Travel, Inc. "Name a Baby Rhino" Terms and Conditions
NO PURCHASE IS NECESSARY TO ENTER OR WIN THIS CONTEST. MAKING A PURCHASE WILL NOT INCREASE YOUR CHANCES OF WINNING. VOID WHERE PROHIBITED BY LAW.
TERMS:
The African Travel, Inc. "Name a Baby Rhino" Contest (the contest) period runs from November 16 - December 1, 2020. The contest is sponsored by African Travel, Inc. 330 North Brand Blvd., Suite 225, Glendale, CA 91203. ("Sponsor"). Entries for the contest must be received prior to no later than 11:59PM PST, December 1, 2020.
The contest is open to travel advisors in the 50 United States, the District of Columbia, and Canada, and must be 18 years or older as of date of entry.
CONTEST RULES:
Travel Advisors may submit as many entries as they like. All entries throughout the duration of the contest period will be reviewed by a panel at African Travel and judged based on a name that is inspired by Africa and reflects African Travel's make travel matter ethos. Ami Vitale will select the Grand Prize winner from all correct entries received during the time period of the contest.
Only entries received through the official contest entry form are valid. Email entries will not be considered. Winner will be contacted by email. The winner will be announced December 4th, 2020.
African Travel is not responsible for any technical difficulties experienced during the contest. Void where prohibited by law. Prizes are non-transferable and awarded "as is", with no substitutions.
THE PRIZE:
Prize is (1) complimentary spot on a 2021 or 2022 educational trip to Southern or East Africa. Trip includes 7 to 9 nights hotel and lodge accommodations, intra-Africa economy air, transfers and select safari experiences.