Romantic Safari Experiences
Enhance Your Safari: A Guide to the Most Romantic Experiences
Picture yourself staying in an intimate treehouse hideaway surrounded by the untamed wilderness or enjoying an 'Out of Africa' picnic with breathtaking savannah views. Envision the excitement of spotting the Big 5 on a private game drive or witnessing the Great Migration from above during a hot-air balloon ride, creating unforgettable moments with your loved one. At African Travel, we specialize in crafting personalized romantic experiences that leave a lasting imprint on your heart. Explore our thoughtfully curated suggestions below, and allow us to tailor your safari to perfection.
Experiences You'll Love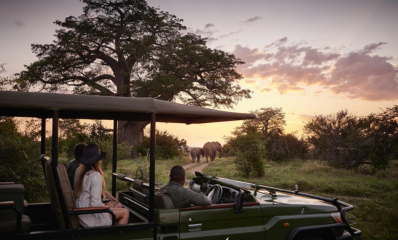 Private Game Drives
Embark on a thrilling safari game drive, spot the Big Five together, sharing captivating moments with your loved one.
Luxury Sleep-Outs
Fall asleep beneath the African night sky on a star bed, nestled in a luxurious treehouse or perched on your lodge's deck.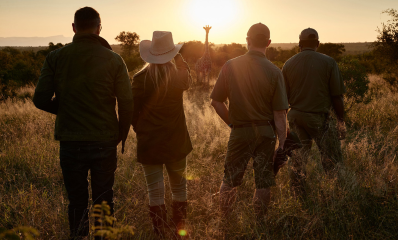 Romantic Nature Walks
Embark on a romantic walking safari, hand in hand, as you intimately explore the untamed beauty of the African wilderness.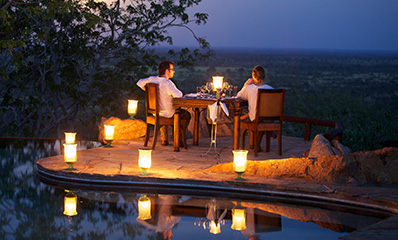 Intimate Bush Dinners
Enjoy a gourmet meal prepared by an award-winning chef under the starry African sky while surrounded by the sounds of the wilderness.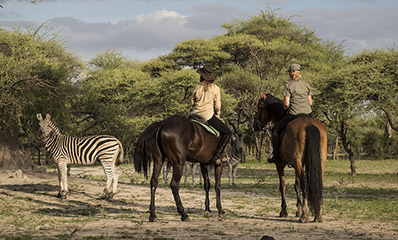 Horseback Safaris
Enjoy a romantic horseback ride through the African wilderness, taking in the stunning landscapes and wildlife from a unique perspective.
Hot Air Balloon Rides
Experience the beauty of the African landscape of Serengeti, Okavango Delta and the Kruger National Park from above with a hot air balloon safari.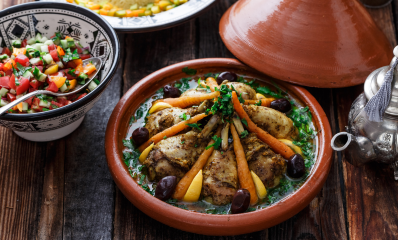 Cooking Classes
Immerse yourselves in a cooking class, learning to prepare delicious African dishes together, and savor the flavors of the continent you're exploring.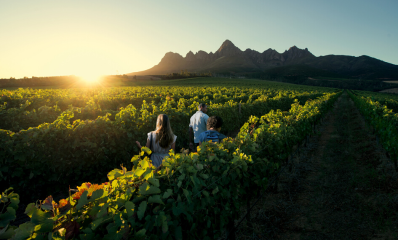 Wine Country Escapes
Indulge in a romantic journey through the rolling vineyards of South Africa, where you can savor world-class wines, dine amidst picturesque landscapes, and learn about the winemaking process.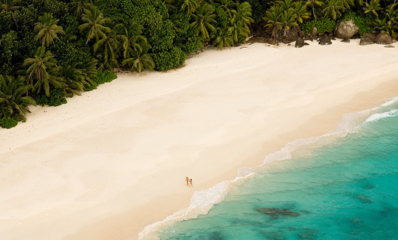 Beach Extensions
Combine your safari with a beach extension to one of Africa's pristine coastal destinations for a perfect blend of adventure and relaxation.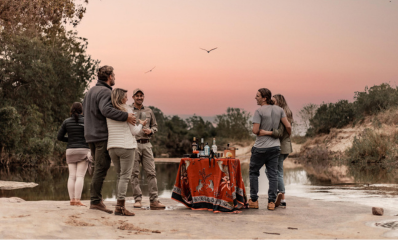 Picturesque Sundowners
Sip on your favorite cocktails while watching the sunset over the stunning African landscapes of Serengeti or Victoria Falls.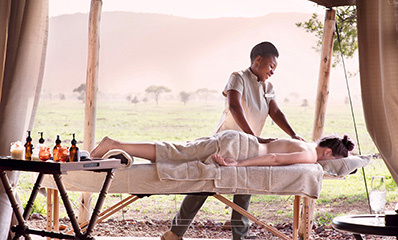 Spa Treatments
Indulge in couples' spa treatments amidst the serene surroundings of luxury safari lodges and camps.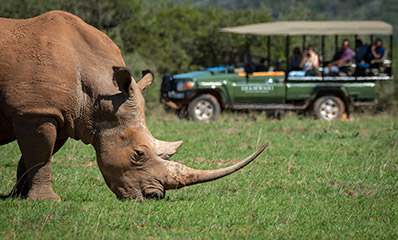 Conservation Activities
Share a sense of purpose by participating in conservation activities together, like rhino tracking or contributing to local community projects.
To help plan the perfect romantic safari, use our inspirational guide filled with planning tips, ideas, and guest experiences.