Immersive Wildlife Experiences
Africa holds exceptional wildlife anywhere you go. Not only can you see Africa's diverse species on game drives, but you can actively participate in experiences that have a positive impact.
"Tourism helps fund the conservation efforts at lodges and camps so booking a trip already has a significant impact," explains African Travel's President Sherwin Banda. "It is important to work with a safari specialist like African Travel that can guide you to the experiences that have a positive impact on the people, planet and wildlife."
As part of its partnership with the TreadRight Foundation, African Travel's sustainable strategy includes experiences that Make Travel Matter. The following immersive, hands-on wildlife safari experiences participates in wildlife experiences in an ethically responsible way and ensures memorable moments for a lifetime.
Help Save Rhinos and Big Cats at Shamwari
At Shamwari Game Reserve you will learn about the important conservation work done to help save rhinos and big cat species. Shamwari is one of the largest conservation initiatives in Southern Africa, and every guest participates in the conservation story - whether it is a through a donation we make for each guests' visit on our South Africa's Natural Wonders safari or their own experience with the animals.
Learn about the balance between wildlife and plant life from the rangers or meet the veterinarians and ecologists at the Wildlife Rehabilitation Centre. See the care, space and compassion lions and leopards receive at their forever home, the Born Free Big Cat Sanctuary. If conservation is your passion, consider a two-week volunteer program with the Shamwari Conservation Experience.
Celebrating Big and Small Wildlife at Sabi Sabi
Sabi Sabi is a private reserve integrated with Kruger National Park and a hotspot of biodiversity in South Africa supporting over 300 species of birds, 47 large mammal species, and over 50 species of small animals. An important part of conservation here lies in the expertly trained and passionate rangers who also act as environmental educators during game drives and other nature activities.
Rangers like Louise, one of the groundbreaking women rangers at Sabi Sabi, share a wealth of information with guests about the reserve's habitat management for endangered wildlife, such as the cheetah's battle of extinction with 170 living in the entire park. Morning walking safaris are also a fantastic opportunity to feel the pulse of Africa and experience animals in close proximity.
Elephant Moments at Jabulani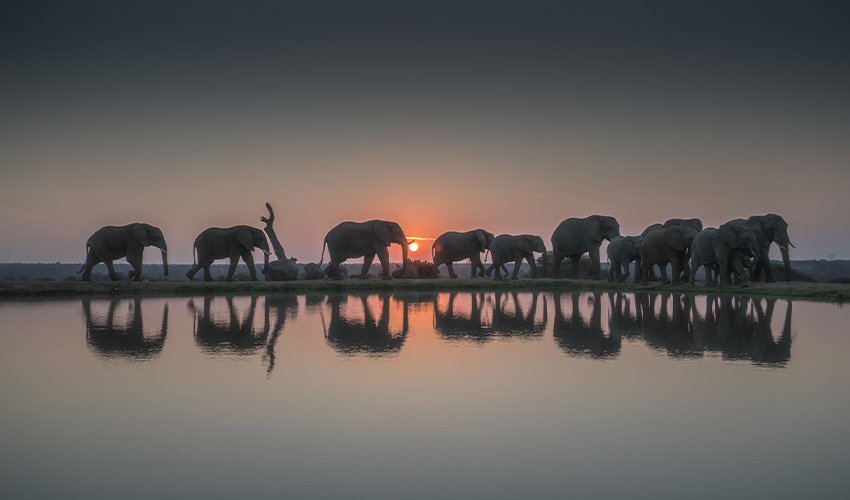 As South Africa's only elephant orphanage sanctuary, Jabulani at Kapama Private Game Reserve offers many one-of-a kind-experiences. Between game drives seeing the other wildlife on the reserve, you can meet Jabulani's resident herd of African elephants and spend time learning about their behavior and incredible stories.
Start the day with Elephant Moments, where Jabulani's enthusiastic elephant caretakers share the daily lives of the elephants. The watch the herd splash playfully during their midday swim, and in the evening, join them for their last sunset walk during an intimate sundowner. Contributions towards fostering an elephant can be made when guests book our South Africa Regal Retreat or visit the luxury safari lodge in a tailor-made trip.
Discover Pristine, Desert-Adapted Wildlife and Track Black Rhinos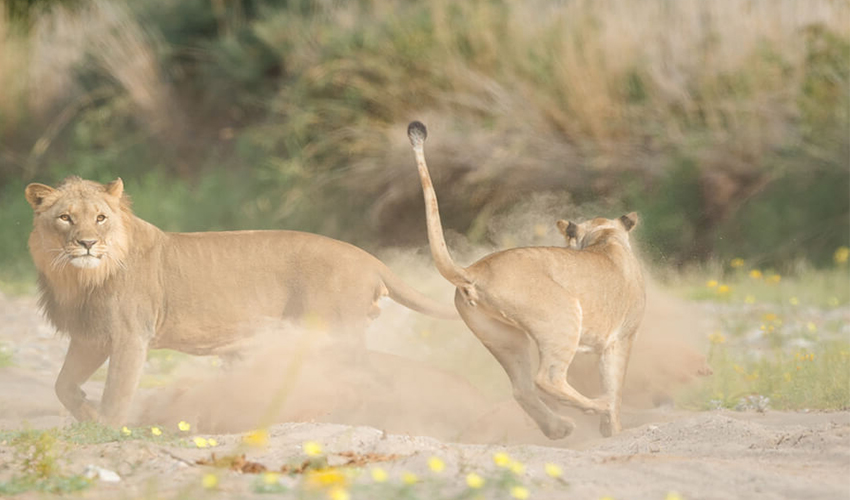 In Namibia you can discover desert-adapted animals that live in this harsh environment and the efforts to ensure their survival. The Namib Desert holds one of the greatest concentrations of desert adapted elephants, cheetahs and has the only population of lion that live in the desert.
At Hoanib Valley Camp, see first-hand the joint venture between the local communities and the Giraffe Conservation Foundation - the world's only Africa-wide giraffe conservation organization. Guests can learn more about ground-breaking giraffe research on our Deserts and Dunes of Namibia. Move over to the Skeleton Coast and discover the largest free-roaming black rhino population in Africa. In Damaraland, visit Anderssons at Ongava and enjoy the thrill of tracking these rhinos with your expert rangers. Learn about the Save the Rhino Trust and the work done at Ongava's innovative Research Center.
Protecting Primates in Rwanda and Uganda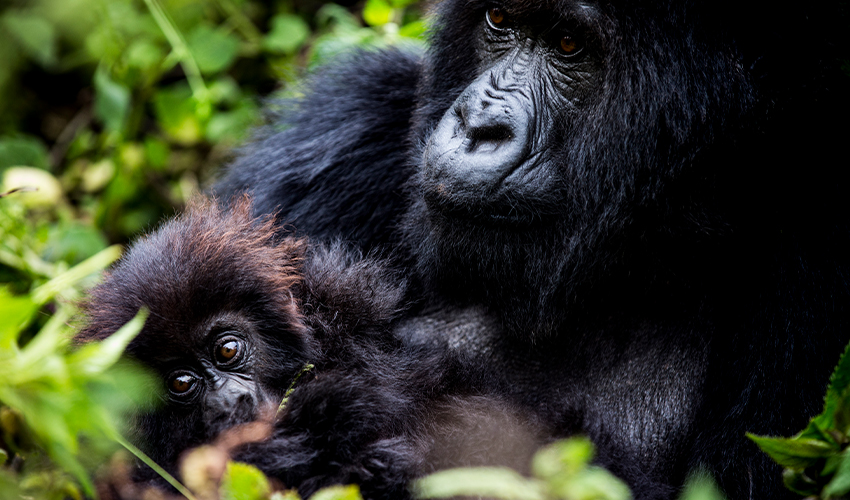 Endangered mountain gorillas and intriguing chimpanzees are the star attractions in Rwanda and Uganda. Luxury lodges by Volcanoes Safaris have been the forefront of reviving gorilla and chimpanzee tourism in the region since 1997 and were the first to take people gorilla trekking in Rwanda.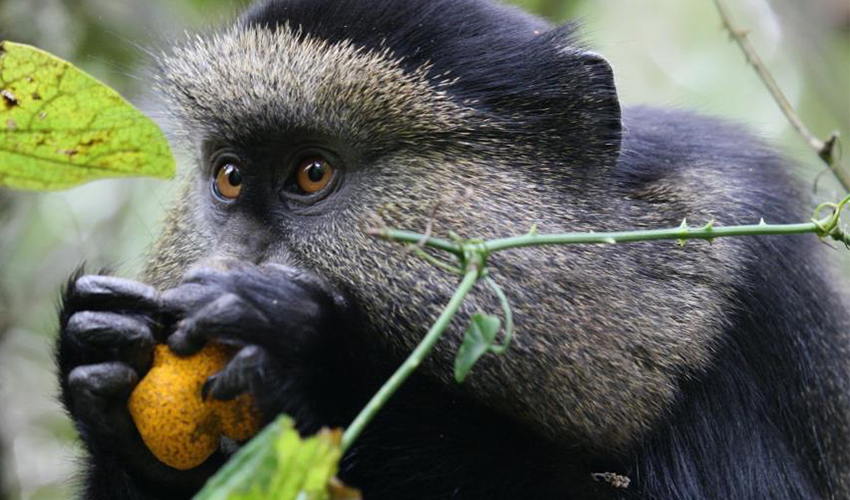 Rwanda's Virunga Lodge on our Rwanda in The Mist is a luxury gorilla experience in itself, where you can discover the site of Dian Fossey's primate research when you hike to the remains of her Karisoke Research Center. There is also the Dian Fossey Map Room that holds conservation lectures with a curated exhibition of explorers and conservations.
Pangolin, Meerkats and Wild Dog at Tswalu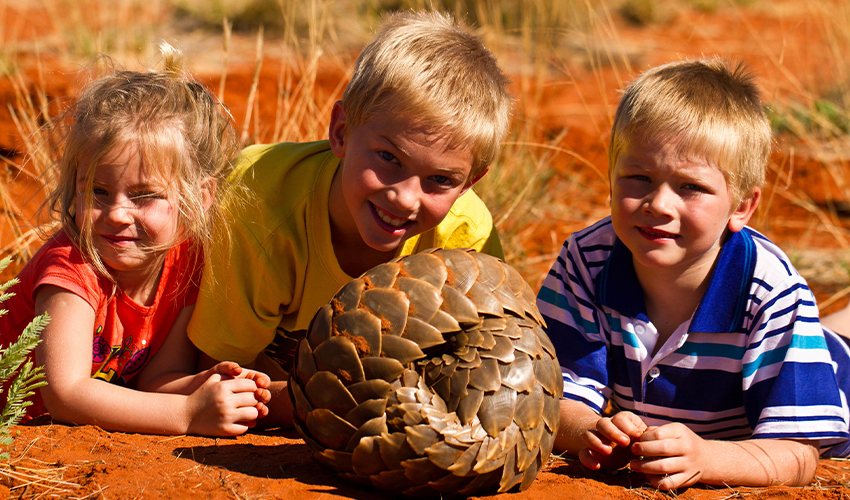 Tswalu Tarkuni lies in the green part of the Kalahari and amazes with a private safari experience. On our South Africa Private Villa Safari, view lion, buffalo and zebra, but also see animals such as the dainty springbok and the gemsbok. Many of the animals at Tswalu are significant to the San people, and you can see first-hand their inclusion in ancient galleries of rock art. Take front-row seats for sightings of species that are elusive elsewhere, from aardvark and pangolin to Hartmann's Mountain Zebra, wild dog and meerkats. It is also one of the best places in southern Africa to see cheetah in the wild.
A special wildlife experience, Tswalu's two habituated meerkat colonies are used to human presence without letting it disrupt the important business of their grooming and foraging. During you stay, join a researcher from the Tswalu Foundation in the field and learn more about research projects to protect wildlife here.
Amazing Birdwatching Across Africa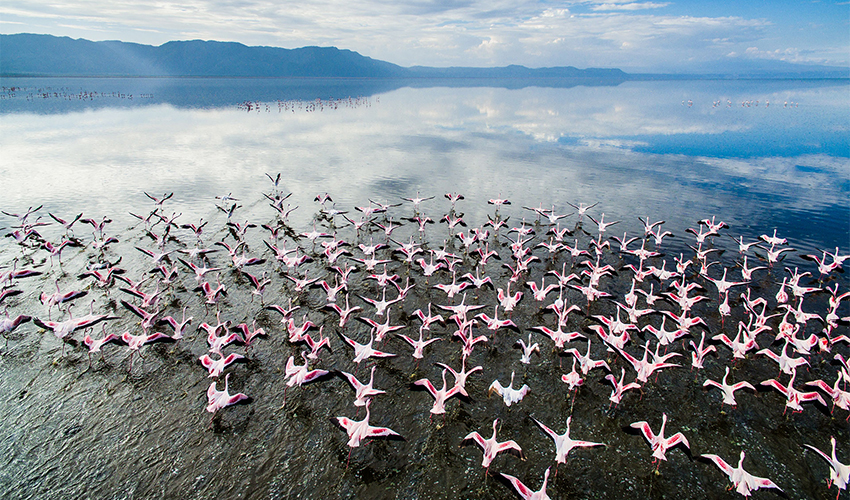 Many parts of Africa astound visitors with its plethora of bird species. Often you can view 300 distinct species in one area. From Rwanda to Botswana, to Southern Africa, you will see the incredible diversity of birds just from an afternoon spent birdwatching over Africa's lakes, waterholes, or rivers.
Notably on our Tanzania Explorer, Lake Manyara National Park attracts hundreds of flamingos during the pink season. The shores of the lake are dotted with pink flamingo and attract more than 400 species of birds. The park is also famous for its unusual tree-climbing lions and the vast elephant. Lake Manyara is described as a scenic gem, with a setting praised by Ernest Hemingway as "the loveliest I had seen in Africa."
Unique Water and Desert Wildlife in Botswana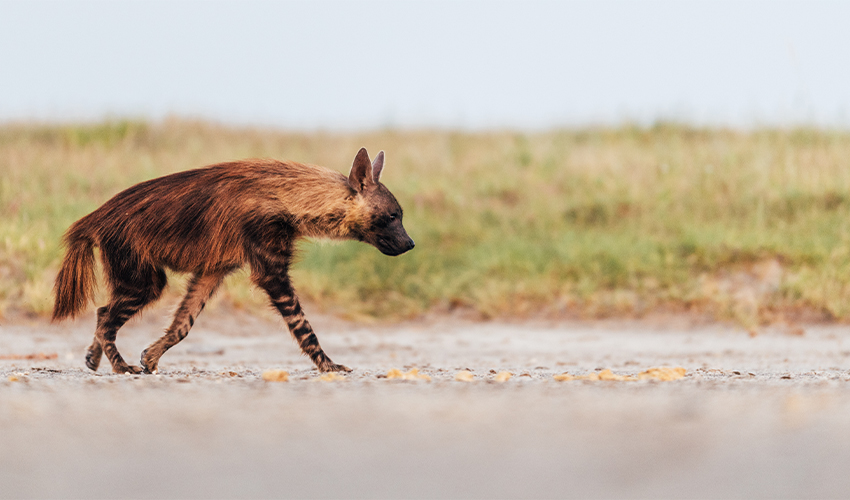 Botswana is popular for its land and water safaris, which also means you'll see wildlife from two different landscapes. If elephants are your thing, Linyanti Reserve is famous for its large concentrations of elephants, with herds of pachyderms roaming "elephant highways." At DumaTau, the sunken hide is the perfect place to watch massive elephant feet and trunks from eye-level.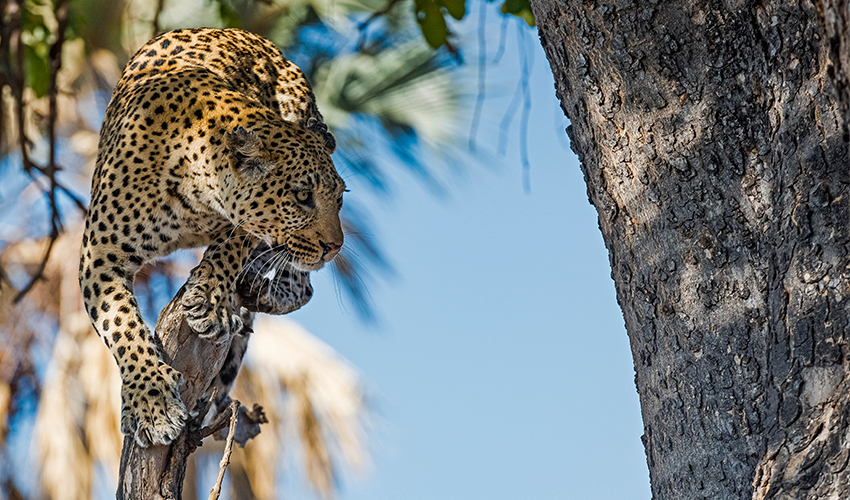 Over at the heart of the Okavango Delta, look forward to sightings of lion, cheetah and, if you're lucky, the elusive leopard at Xigera Safari Lodge. Packs of endangered African wild dog are also found here, and the ever-resourceful spotted hyena. Learn about the lodge's conservation efforts from knowledgeable guides, spot wildlife from a different angle by gliding through the waterways in a glass-bottomed boat or stop to watch wildlife during a 'feet-in-the-water' sundowner.
In the Kalahari Desert, you can see unique desert species at the iconic 1940s-style Jack's Camp – such as the rare brown hyena, with only 8,000 left in the world. As the sun rises, you can watch meerkats emerging from their burrows and later take an unforgettable walk with the Kalahari bushmen to spot more rare wildlife, possibly the bat-eared fox.
Protecting Wildlife with Man's Best Friend
Several projects in Africa help protect endangered species with the help of man's best friend. On a visit to Bushman's Kloof on our South African Tapestry, you can learn about the Anatolian Shepherd Dog project with TreadRight. The project provides farmers in South Africa with shepherd dogs to mitigate the human wildlife conflict with the endangered Cape Leopard. This protects both the livestock and one of Africa's most endangered wild animals, responsibly and sustainably.
Meanwhile at the Loisaba Conservancy on our Under Kenyan Skies, you can join a dedicated anti-poaching team for the day to learn about their dog sniffing demonstration, detailing how their bloodhounds are trained and able to track poachers to secure the 57,000 acre conservancy and its precious wildlife.
Making Travel Matter with TreadRight
Through our partnership with our not-for-profit TreadRight Foundation, we have supported 15 wildlife projects and donated $500,000 to wildlife conservation and education efforts since 2008. TreadRight's new How We Tread Right (HWTR) sustainability strategy includes special Make Travel Matter Experiences on our safaris, which ensures that all wildlife experiences are ethically responsible, help preserve wildlife and enhance the United Nation's global sustainability efforts.
TAKE THE NEXT STEP
Call 1-800-421-8907 or fill out our questionnaire and submit it to a specialist to plan a trip.