Travel Changing the World
May 4th, 2021, by Joanna Bielawski
It was announced today that MAKE TRAVEL MATTER® Experiences by our parent company The Travel Corporation (TTC) and our family of brands has been named an honoree in the Corporate Social Responsibility category of Fast Company's 2021 World Changing Idea Awards. Fast Company is the world's leading business media brand, with an editorial focus on innovation in technology, leadership, world changing ideas, inspiring readers to lead with purpose and embrace change. Now in its fifth year, the Fast Company Award honors ground-breaking ideas launched in 2020 that are deeply committed to pursuing innovation for the good of society and the planet.
Selected from thousands of applicants, we are honored that our MAKE TRAVEL MATTER® Experiences have been recognized along with the other notable individuals and brands doing incredible, world-changing work. MAKE TRAVEL MATTER® Experiences were developed as a tool for TTC's brands to advance positive change around the world through the direct participation of travelers. They're meant to transform the way we think about the travel experience, for the mutual benefit of travelers and the people and places they visit. It is our hope this transformation can shift the way we travel for good, through long-lasting and meaningful impact.
Our everyday choices and actions have an impact on the world around us, and the way we travel is no exception. This has never been clearer than in the present era of COVID-19, with the entire world experiencing an unprecedented pause in travel. Never before have people across the globe collectively appreciated the gift of travel in its absence, in addition to its economic value to communities worldwide.
What sets MAKE TRAVEL MATTER® Experiences apart from other travel experiences?
MAKE TRAVEL MATTER® Experiences are chosen for the ways in which they directly advance the United Nations Global Goals (UNSDGs), widely accepted as the blueprint to address issues such as poverty, inequality, biodiversity and more. Established in 2016, the goals were quickly adopted by governments, businesses and society as those we should all be working towards. We used the UNSDG's and their specific indicators to develop a set of our own criteria, endorsed by leading industry sustainable development experts, which allow our family of brands to identify transformative experiences that go beyond being a feel-good experience. This means we are building travel experiences that display genuine social and environmental good.
To identify MAKE TRAVEL MATTER® Experiences, we built a proprietary assessment tool that identifies if an experience meets a Global Goal, and if so, which goal or goals it supports.
How Can an Experience Change the World?
Choices are critical. From the clothes you buy, the food you eat and the businesses you support, to the trip you've been waiting to take since COVID-19 made itself known. Our portfolio of MAKE TRAVEL MATTER® Experiences can change the travel industry, which is one of the world's largest, accounting for 10.3% of the global GDP (WTTC, 2019). By choosing to participate in one of these experiences and actively seeking out travel designed to make a positive impact, you are helping us to prioritise community-based enterprises – from supporting women-owned businesses, experiencing unique farm stays that utilize regenerative agriculture practices or learning about ancient cultures that carry on their traditions by sharing their stories with others. You have the power to choose these experiences and support sustainable practices, while setting the tone for the purpose-driven offering you expect of the wider travel industry.
Why and how are MAKE TRAVEL MATTER® Experiences designed around the Global Goals?
Our goal in developing our MAKE TRAVEL MATTER® Experiences was to positively impact broader environmental and social issues, so it was a natural fit to look to the United Nations Global Goals to help narrow our focus and ladder up to international efforts.
MAKE TRAVEL MATTER®

How you can start today
As part of our sustainability strategy How We Tread Right, our goal at African Travel is to include at least 1 MAKE TRAVEL MATTER® Experience on 50% of our itineraries worldwide by 2025, and we are well on our way there. For your next adventure, browse our MAKE TRAVEL MATTER® Experiences and join us in making travel a force for good. To view more ideas, visit our Sustainable Safaris.

SOUTH AFRICA'S NATURAL WONDERS

10 Days - Cape Town | Grootbos Private Nature Reserve | Shamwari Game Reserve

Grootbos has coined Living the Futures to explain the way of life on this nature reserve and you'll find it in every experience from the 4x4 botanical safari to the stories shared by the gifted staff. You'll see the same passion at Shamwari Private Reserve as you meet the wildlife caregivers and safari guides.

PLATINUM BOTSWANA

11 Days - Johannesburg | Makgadikgadi Pans |Selinda Reserve | Okavango Delta

Recharge at the new Xigera Safari Lodge while enjoying bespoke safari experiences that thrill and educate. Delight in the Magic of the Makgadikgadi while learning about one of the largest animal migration routes, finding a treasure trove of ancient artifacts, and taking a fascinating walk with the Zu/'hoasi Bushmen.

FAMILY SAFARI IN KENYA

9 Days- Nairobi | Laikipia | Maasai Mara


Every lodge visited on this journey features something unique from meeting the mammas and local children at House in the Wild to re-wilding at Kenya's first Bush School for children.
5 Reasons to Travel to Africa Now
April 6th, 2021, by Chelsea Todaro
As travel begins to re-emerge, Africa has become a coveted vacation destination for adventure, romance, and family travel and space on safaris is filling up fast.
"Africa is proving to be a very popular destination for 2021 and 2022 because it offers a diversity of bucket list safaris for every travel style and interest," said our president, Sherwin Banda. "Africa lends itself to outdoor and social distancing experiences that many luxury travelers are looking for right now."
Now is the time to reserve a spot, as space is limited. Here are the top five reasons to place Africa at the top of the list:
1. Africa is Open and Accessible
With easing travel restrictions, airlines are increasing flights to Africa, which you can lock in now. Delta and United Airlines recently announced that they will have new routes to Africa in June. Our team has access to great flight rates with United Airlines to Cape Town later this year. There are also more choices in visiting other destinations in Africa due to increased internal flight options in Africa, such as more flights from South Africa to Victoria Falls starting again.
As a top award-winning safari operator selling the destination for 45 years, we know how to match the right Africa with the right client. African Travel has strong relationships across Africa, with plenty of space reserved, and can help craft the right safari for each guests. We have enhanced our experiences to bring the best of Africa while offering flexibility in travel and five-star service.
2. Find Exceptional Value This Green Season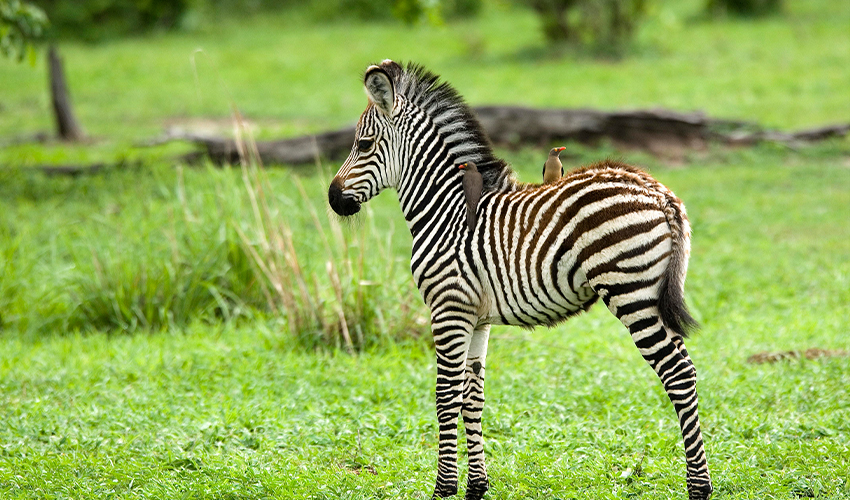 While you can travel to Africa year-round, one of our favorite times to visit is during the Green Season.
With the rains of Africa comes bright, blossoming flowers, thousands of migrant birds, and ideal breeding grounds for all types of wildlife. You'll have a high chance of spotting baby animals with their mothers and predators of all kinds.
There are less crowds and favorable rates during the green season. It also creates ideal conditions for incredible photography opportunities of wildlife and colorful landscapes.
The Green Season varies in Africa. East Africa is in November, December, and April, with Southern Africa from December to March.
Additionally, guests can save thousands of dollars on our most popular trips when traveling this year, receiving an additional 10% savings. See special offers.
3. Amazing Private Options
With luxury safaris comes ultimate private experiences from highly vetted lodges. This means less – or at times nearly absent- crowds that makes for an ideal safari experience. Although our safaris are naturally more intimate, the private conservancies and camps we partner with offer great exclusive options for guests.
Our new South Africa Private Villa Safari unlocks the 'rainbow nation's' hidden secrets. Exploring the most exclusive private reserves in the country, you'll experience Ellerman House villa's sweeping views of the Atlantic Ocean, discover Tswalu Tarkuni's ultimate off-the-beaten-track escape and indulge in The Farmhouse at Royal Malewane's own private deck and outside shower, with spectacular views of the bush.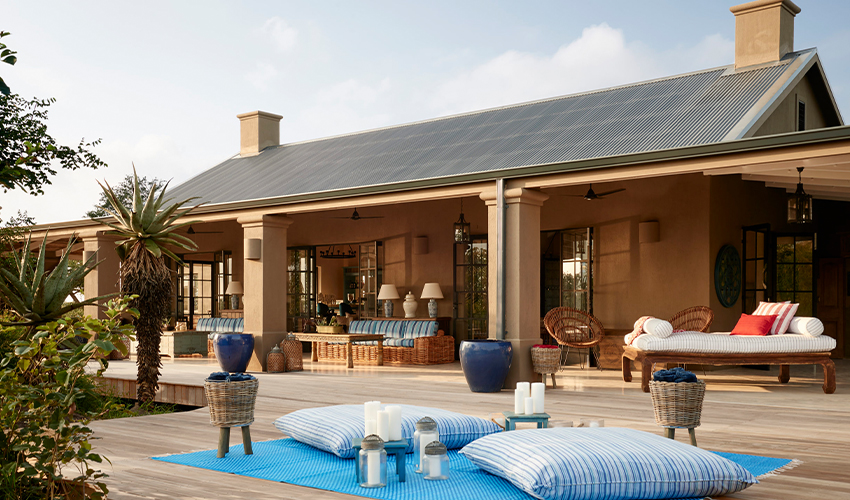 "Tswalu simply excels at accommodating privacy for families, especially in the Tarkuni Private Villa that accommodates up to ten guests. Because each party is assigned a private vehicle and dedicated guide, everyone enjoys total flexibility and peace of mind," - Yvette DeVries, Safari Consultant
For adventurous luxury, Rwanda and Uganda boast secluded small and intimate lodges where you can trek the lush green forests for endangered gorillas and chimpanzees. Uganda's Wildlife Authority has extended their promotional discounts until the end of June, with exciting offers on gorilla and chimpanzee permits and discounts in park entries and birding fees.
If you love stargazing, opt for an incredible private night-sky experience in Kenya on our Under Kenyan Skies safari. It's just you, your handcrafted four poster bed on raised wooden platforms, and the bush, as you sleep in Loisaba Conservancy's Star Beds for uninterrupted views of the galaxy from above.
4. New Camps Deliver Bragging Rights
By traveling to Africa now, you'll be one of the first to visit and indulge in Africa's new and renovated lodges and camps before others do.
Botswana is a hot spot for new lodges this year, such as Red Carnation's Xigera Safari Lodge - set in the heart of the Okavango Delta with a capacity of just 24 guests and is 100% solar-powered. Xigera's spacious suites look out onto lily-filled lagoons, providing a front-row seat to the theater of the African bush and its interiors are filled with exceptional artwork that matches the unique location.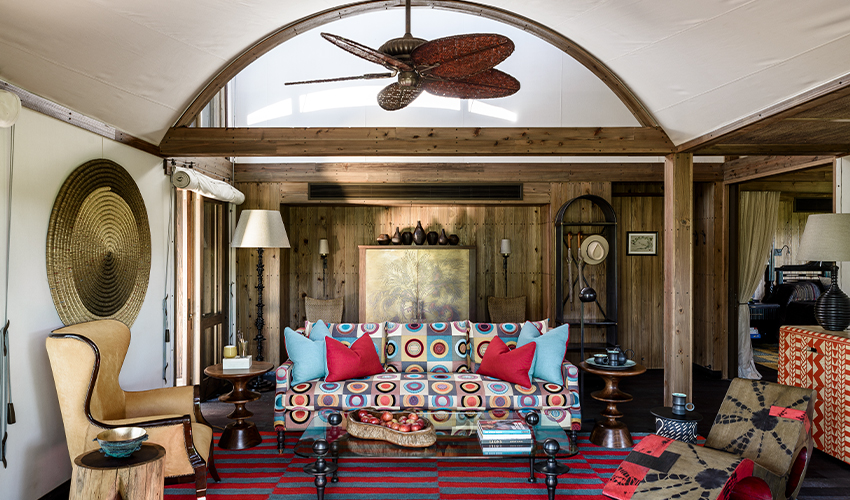 Another newer option on the fringes of the Okavango Delta is Tuludi in the private Khwai Private Reserve. There are plenty of spots to chill whether in one of the seven tented rooms, Sky Suite or treehouse library.
Venture to Botswana's Makgadikgadi Salt Pans where you can stay at Jack's Camp -- just one of three camps in a one-million-acre private wildlife reserve, newly fashioned in a classical 1940's style. The camp now has larger tents embellished with little touches like Natural History Museum cabinets and a private veranda with plunge pool. Don't miss the bushman walks, meerkats and desert game drives.
DumaTau's renovated ten-roomed luxury tented camp is in the private Linyanti Wildlife Reserve bordering Chobe National Park, set on a lagoon on the Linyanti River between two "elephant highways" with sweeping dramatic river views. The rooms have doubled in size and there is a new wellness center and gym which is shared with its brand-new sister camp Little Duma Tau.
For ultimate seclusion, Namibia's new Kwessi Dunes is set in the country's vast desert wilderness with unique 'star-gazer' rooms, where time seems to stand still. During the day you'll be actively exploring the red desert dunes, hot air ballooning and spotting desert adapted wildlife.
Classic under canvas options are getting reimagined in two iconic spots. On our Tantalizing Tanzania safari, the new Singita Sabora Camp boasts intimate 1920s-style letting you explore the untouched wilderness area of the Serengeti in the private Grumeti Reserve. Opened right before COVID-19 arrived, South Africa's Sindile tented camp gives you a secluded, luxury getaway in the Shamwari Private Game Reserve that's elevated above the surrounding bush with uninhibited views.
If you're looking for a more tropical scene, the new Xanadu resort in Zanzibar offers eight tranquil villas with on a stretch of pristine white sandy beaches.
5. Wellness in Wide Open Spaces
Africa has always been a destination suited to wellness with its open spaces and connection with nature. There are plenty of places to recharge and keep your distance, with camps and lodges offering spacious settings and gorgeous natural surroundings.
One of our wellness and luxury specialists Anais Chavez recommends Greystoke Mahale Camp in Tanzania to recharge among nature. A remote lodge on the shores of Lake Tanganyika, it's among the best places to enjoy a break from a vehicle safari, offering time on the water as well as hikes up the mountain visiting a thriving population of chimpanzees. The camp boasts an African-style beach castaway vibe. The upstairs viewing deck is the best spot to enjoy the soothing sounds of the waves.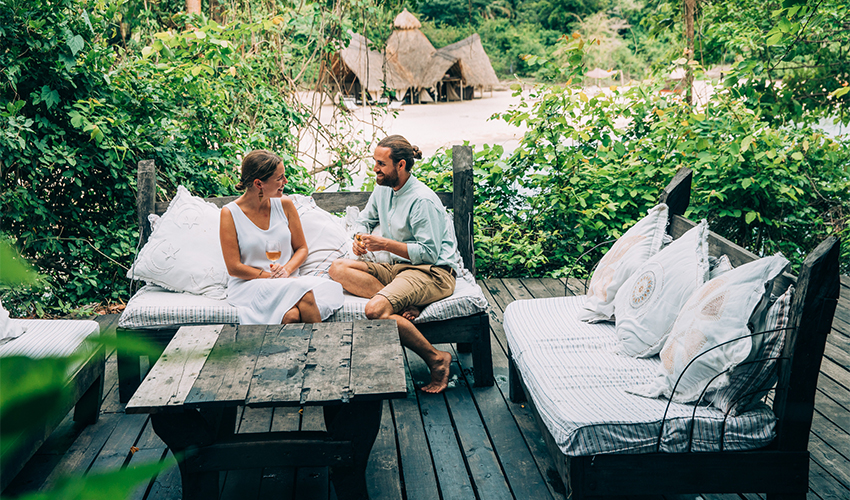 Another element of wellness beyond reconnecting with others is safely visiting destinations. Africa is vigilant on maintaining the utmost safety and wellbeing of its visitors — something that has and always will be at the forefront of safaris.
Now, more than ever, it is important to work with experts that have an extensive database of protocols to navigate the country with ease.
Your safety is always at the top of our minds, with 24/7 concierge service on the ground and support of our safari specialists in North America.
Call 1-800-421-8907 or fill out a safari questionnaire and
submit it to a specialist to plan a trip.
9 Wild Ways to Celebrate World Wildlife Day
March 3rd, 2021, by Kristen Malaby
Today we are virtually celebrating World Wildlife Day. We cherish Africa's beautiful and various forms of flora and fauna every day, and would like to share how to have a positive impact while having immersive wildlife experiences on safari.
Some of Africa's most endangered species are at risk right now so one of the best ways to help is going on safari. Tourism helps to fund conservation efforts at many lodges and camps.
THE FUTURE OF TRAVEL
It is exciting to see how far Africa has come in its wildlife efforts. As our President shared recently in a Fodor's article on conservation-based vacations in Africa, there are many ways to not just view animals but have a more active and responsible experience.

African Travel, through its partnership with the not-for-profit TreadRight Foundation, is committed to a new How We Tread Right (HWTR) sustainable strategy and supports the UN's goal that all wildlife experiences are ethically responsible. We also provide tips while on safari to protect wildlife like how to use social media responsibly.
9 IMMERSIVE WILDLIFE EXPERIENCES
by Chelsea Todoro
To celebrate World Wildlife Day, we are highlighting nine immersive experiences where guests get up close and personal and even participate in conservation efforts. From gorilla trekking to animal tracking, explore opportunities beyond typical wildlife safari drives including:
1. Help save rhinos and big cats at Shamwari on our Majestic South Africa
2. Celebrate big and small wildlife at Sabi Sabi (watch video)
3. Share elephant moments at Jabulani in our South Africa Regal Retreat
4. Discover Pristine, Desert-Adapted Wildlife and Track Black Rhinos on our Deserts and Dunes of Namibia
5. Protecting primates in our Rwanda in The Mist and Uganda on our Pearl of Africa
6. Join researchers at Tswalu and learn about pangolin, meerktats, and wild dog projects in our South Africa Private Villa Safari
7. Amazing birdwatching across Africa, including Lake Manyara in our Tanzania Explorer
8. Unique Water and Desert wildlife experiences in Botswana
9. Protecting wildlife with man's best friend at Bushman's Kloof and Loisaba