Cape Town is Open for Business
January 30th, 2018, by Lucille Sive
Cape Town is Open for Business
UPDATE: Cape Town's Day Zero has been avoided for 2018! Due to sustained and heavy rains over the last two months, Cape Town's dams have collectively increased by over 20 percentage points. With several months left in the winter rainfall calendar, it is now clear that Cape Town will continue to have enough water for its residents and visitors. Cape Town's residents have also set a new global standard for water consumption. The City has reduced its usage of water by nearly 60 per cent in just three years. This is a phenomenal achievement, unmatched by any other major city in the world. For more information, please read a joint statement here.
I have just returned from a fabulous two-week trip to Cape Town and I have to say that if you can you should come and enjoy this exceptionally beautiful city. I stayed at The Table Bay Hotel and the Twelve Apostles Hotel & Spa during my trip. As you have probably seen, everyone is talking about the water shortage in Cape Town and both these hotels are clearly giving their guests peace of mind that every drop of water is being used responsibly. My experience was very positive and I felt very comfortable at both properties.
As with all hotels in the Cape Town city region, they are following excellent water saving practices. Hotels have removed bath plugs to encourage guests to take showers, but bathtub plugs are available on request. Shower heads have been fitted with restrictors. Linens are not being changed daily unless you request it (like everywhere else in the world). Bottled water is readily available instead of pitchers of water in restaurants. They are also using biodegradable paper napkins and placemats in restaurants. As a result of these steps along with many other initiatives that have been put in place to cut water consumption, Cape Town is already showing 50% less water usage.
Cape Town is open for business and thrives on tourism to keep a healthy economy and to maintain 320,000 jobs. Historically Cape Town is a water-scarce part of the world (much like Southern California and Western Australia) and is vulnerable to the effects of climate change and is susceptible to periodic droughts. Responsible consumption of water is the new normal. I urge you to feel at ease travelling to Cape Town. Please note that water saving measures apply only to the City of Cape Town. Outlying regions of the Cape such as the Winelands and Hermanus, a premier whale-watching area, have not been affected and nor have the game parks.
I have addressed some of the many questions that I have had here:
If tourists visit Cape Town will there be water?
There is adequate water for tourists' essential daily needs such as washing, using the toilet and other daily hygiene. Tourists will be able to take a shower. At present, the use of baths is discouraged.
Will tourists have access to drinking water?
Yes. Bottled water is supplied in most hotel rooms and freely available for purchase at a reasonable cost in all grocery and convenience stores.
What does 'Day Zero' mean?
'Day Zero' is when the City of Cape Town would cut the regular flow of water. 'Day Zero' is a projected date that is entirely dependent on current rates of water consumption: if all participants adhere to the required water savings target, 'Day Zero' can be avoided. Day Zero has been repeatedly pushed back and is now expected to hit on July 15th. Tourists are still able to enjoy the diverse and world-class experiences that Cape Town has to offer.
Will restaurants and bars still be in operation?
In the event of 'Day Zero' - yes. Many parts of the hospitality industry have proactively implemented water savings and water augmentation solutions to ensure ongoing availability of water in their establishments. Restaurants and bars are not currently negatively affected, but must still comply with water restrictions.
Which tourism activities could be impacted?
Tourists will still be able to access and enjoy all primary tourism attractions such as Table Mountain, Cape Point and Kirstenbosch Botanical Gardens.
How widespread is the drought in South Africa?
The drought and resulting water restrictions are particularly to the City of Cape Town.
Will tourists be able to use a swimming pool?
Some swimming pools at hotels have been converted to salt (ocean) water. The majority of tourism establishments have put in place measures to ensure their water usage is reduced, and many have developed plans for alternative supplies.
Will emergency services still function in the event of 'Day Zero'?
Yes. All critical emergency services (hospitals, clinics, police services) will continue to function as normal.
In conclusion, this vibrant city offers gourmet cuisine, museums, nightlife, shopping and more. With its iconic Table Mountain that is a scenic wonder, awe-inspiring drives, quaint Winelands towns, botanical gardens, nature reserves and world class restaurants, this is one of the most prized cities in the world. A visit to Cape Town should not be missed.
Luxury Safari Experiences in Tanzania
January 11th, 2018, by Lucille Sive
Luxury Safari Experiences in Tanzania
During my recent trip to Tanzania, I was fortunate to stay in some of the most luxurious lodges Africa has to offer. The great migration is synonymous with traveling to East Africa and many people think the only time to see animals is from July-August. My visit in November definitely proved otherwise. The Serengeti was teeming with animals and their adorable babies.
Here are a few of the accommodations I stayed in during my visit with images of the stunning wildlife we encountered.
Tarangire Treetops
Located in Tarangire National Park, staying at Tarangire Treetops is an experience like no other. Known for their large number of elephants, baobab trees (my favorite tree!) and tree climbing lions, I was amazed at the number of animals we saw. Tarangire Treetops is situated near its own water hole, so we saw a wealth of animals coming to have a drink without even having to leave the lodge. The food, people and accommodations were all outstanding.
Tarangire Treetops comprises of 20 "up in the air" lodges each complete with a large, private balcony, a double shower ensuite bathroom and one of the largest bedrooms that can't be found in any camp or lodge in East Africa.
Looking to stay at Tarangire Treetops? Check out our SkySafari Tanzania Classic safari vacation.
Singita Faru Faru Lodge
Located in Grumeti in Northern Tanzania, Singita Faru Faru is one of the most luxurious and one of my favorite lodges I have stayed in. Contemporary, comfortable and playful, the lodge is located right on the edge of the Grumeti river, which presented exceptional game viewing opportunities from the comfort of the lodge during our stay. A playful monkey even made himself at home on one of our lounge chairs on the deck of our suite. On game drives, we saw herds of bearded wildebeest, a pride of lions and their cubs, zebra, monkeys, elephants and so much more.
When talking about the great migration, many people think about vast numbers of wildebeest traversing the Serengeti in search of greener pastures in the Maasai Mara and crossing the river Is teeming with crocodiles, but the wildebeest migrate year-round and November was one of the best game-viewing experiences I have ever had even though it is considered low season.
One funny story about the migration our guide Edward told us was that he once saw a lone Zebra close to the river. A herd of wildebeest were quickly approaching and their intention was to cross the water. The zebra saw the wildebeest approaching and started running in the opposite direction of the river (presumably to get out of the way of the herd) and in an act where swarm intelligence failed, the wildebeest started following the zebra in the direction they just came from!
The moral of the story is, you never know what you're going to see or experience and a stay at Singita Faru Faru means that you can expect the unexpected.
One Nature Nyaruswiga Serengeti
I also had the pleasure of staying at the newly opened Nyaruswiga Safari Camp situated in the heart of Central Serengeti and it was absolutely spectacular! From the service to the lodge to the safari experience was a dream. Nyaruswiga is an ultra-luxurious camp featuring 13 tented units with open savannah views of endless plains and the magnificent Nyaruswiga Hills. The accommodations at Nyaruswiga are exquisite! Each room features Wi-Fi, furnished patios, premium bedding (Egyptian cotton sheets) and even a pillow menu to ensure that you get the best rest in preparation for daily game drives.
Game drives at Nyaruswiga were not only filled with plenty of game viewing, but the safari vehicles need a special mention because they are out of this world! Holding a maximum of four passengers, the vehicles are equipped with luxurious interiors, ergonomically designed seats, a mini fridge and handwashing station. If your phone runs low on battery while taking incredible photos, you can use the USB charging station and then share the photos with your family and friends back home because the vehicles also have Wi-Fi!
One of the most memorable experiences from this trip was the hot air balloon safari. Gently floating across the Serengeti and flying low enough so that we could get a bird's eye view of the animals was a spectacular experience. After we stopped for a champagne toast and then enjoyed a full breakfast in the middle of the bush! It was the best way to end this truly luxurious experience.
Gorilla Trekking in Rwanda
January 9th, 2018, by Lucille Sive
An Unforgettable Experience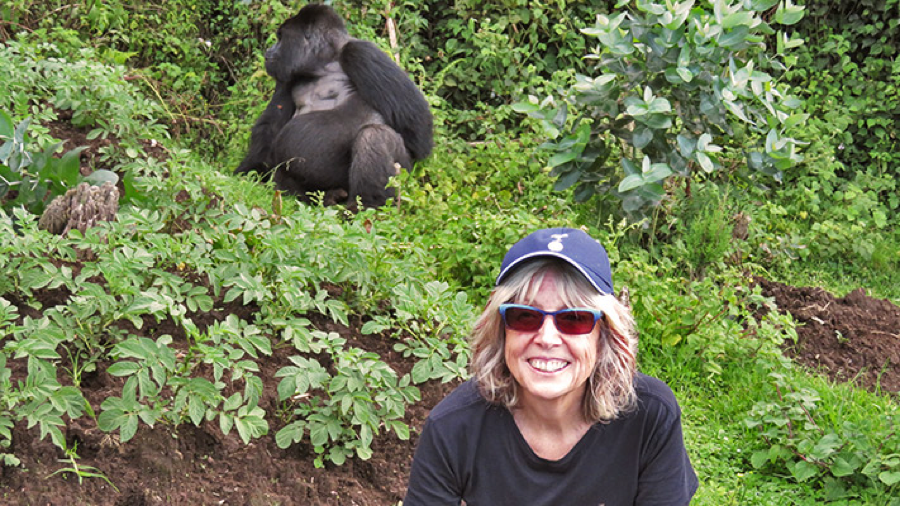 On my most recent trip to Africa, I realized one of my dreams: trekking with the mountain gorillas of Rwanda. These gentle creatures are stunning to behold and I feel privileged to have seen them in their natural habitat. As an experienced African traveler, I am no stranger to the majesty of Africa: from the spectacular Victoria Falls to the extraordinary animals such as elephants, lions, leopards and more, Africa is truly a destination of wonders. Even those incredible experiences, however, did not prepare me for my time with the mountain gorillas of Rwanda, a magical experience I am delighted to share with you now.
Prepping for the Gorilla Trek
The morning of our trek, we met our guide, Bosco, who would be leading us through the wilderness of Volcanoes National Park to meet our family of gorillas. Before we left, Bosco talked about the importance of our trek to the sustainability of the species. Mountain gorillas are critically endangered: researchers estimate that as few as 880 remain in the wilds of Africa. To ensure that the population of these beautiful creatures continues to thrive, the Rwandan government strictly limits the amount of Gorilla interactions available for tourists—only 80 gorilla trek permits are available per day in the country. This approach has two major benefits: the funds from the limited permits go directly to gorilla conservation initiatives and the small number of permits minimizes the human impact on the gorillas themselves. Additionally, the Rwandan government reimburses farmers and property owners whose trees are damaged or destroyed by the mountain gorillas, ensuring that the gorillas can roam freely without conflict.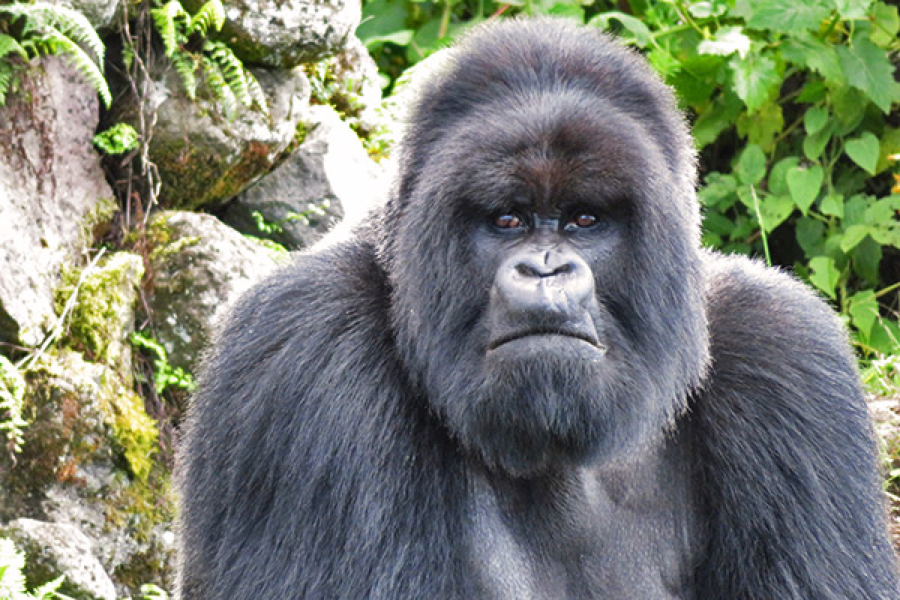 Bosco introduced us to the "Hirwa" gorilla clan, the family we would be meeting. The family is so named because "Hirwa" means lucky, which refers to the family's good fortune: they have grown to a clan of 20 members, including a pair of juvenile twins—a rare occurrence in the wild.
We were also given basic rules for how to approach the family: avoid eye contact, stay alert, be quiet, disable flash on our cameras and keep our distance from the family. Bosco emphasized that our goal, beyond observing this amazing species, was to interrupt the Hirwa family as little as possible.
Meeting the Gorillas
It didn't take long for us make contact with the gorillas. We hiked for about 30 minutes before Bosco told us that the clan was just ahead, outside a farmer's field. There was a palpable excitement in the air as I, and others in our group, readied our cameras in anticipation of what we were about to see. As we reached the top of the field, we caught our first glimpse of the clan: they were busily munching on bamboo trees.
The duration of their lunch was clear thanks to the trail of gnawed bamboo trees. The Hirwa family included a silverback, adult females and a few babies. The adorable babies were on full display: playing with mom, frolicking in the bushes and even beating their chests in a adorable impression of their silverback father. My favourite gorilla baby, however, tried his hardest to feed on a bamboo tree all by himself. The tree was just a little too thick!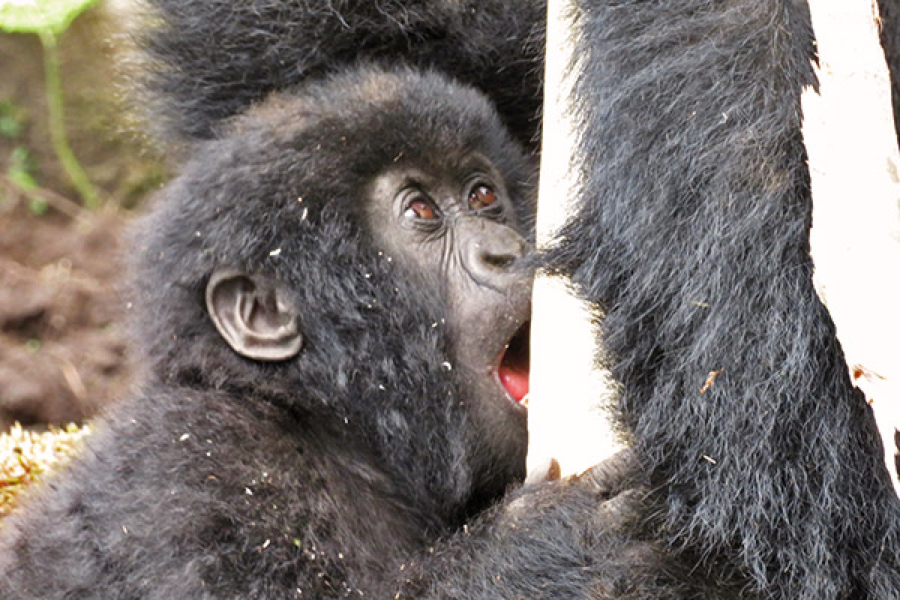 The size of the adult members of the Hirwa family astonished me. Male silverbacks, the largest members in a family, can weigh up to 480 pounds and the silverback of the Hirwa family was massive! As the other members of the family were busy eating and playing, he mostly sat alone in the background, quietly watching over his family. At one point, while I was watching some of the other gorillas, the silverback approached me—it appeared that I was between him and where he wanted to go. I looked to Bosco who told me to stay calm and let the large silverback walk by, and that's exactly what he did: the silverback brushed by my leg on his way to munch on some bamboo shoots.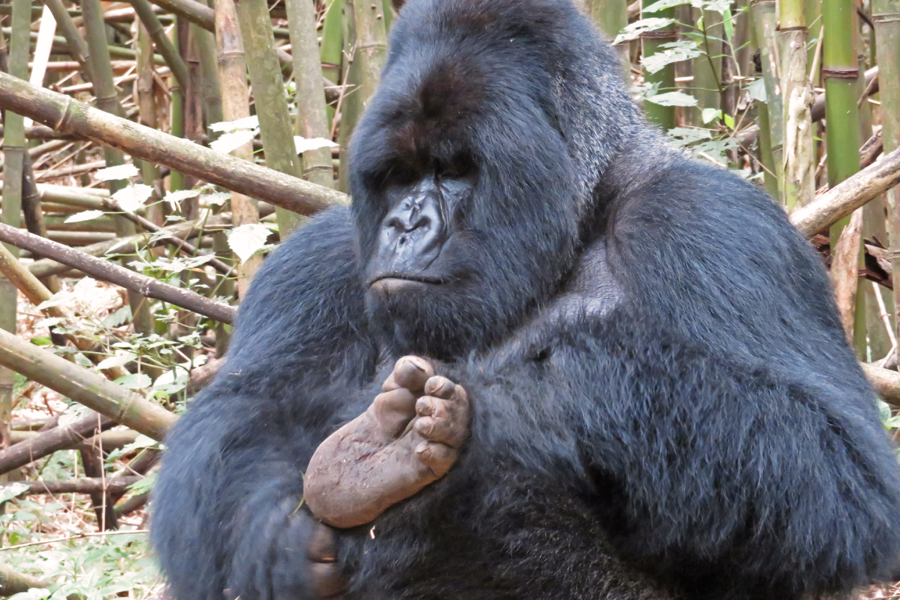 During my time with the gorillas, I could not get over their likeness to humans. With no border or fence between us, watching them felt in some ways like looking into a mirror. Gorillas share 98 percent of their DNA with humans, and the evidence was right in front of me as I closely observed their all too familiar gestures, mannerisms and behaviours.
Dian Fossey, author of Gorillas in the Mist and the famous mountain gorilla researcher, once remarked, "when you realize the value of all life, you dwell less on what is past and concentrate on the preservation of the future." I could not have said it better myself! My experience with the gorillas reinforced my feelings that conserving these creatures for future generations is a crucial mission, one that benefits us all. If you are considering visiting Rwanda to see the mountain gorillas, I absolutely recommend it. The experience was unforgettable and I will always cherish my time with the Hirwa family.
View our Ultimate Rwanda itinerary to learn more about the gorilla trekking experience.