OUR ULTIMATE TOUR OF BOTSWANA
Roughly the same size as France and Texas, but with a population of only around 2 million people, much of the country is unoccupied. Over a third of the country is dedicated to conservation in the form of national parks and reserves, allowing for unspoilt diverse ecosystems and the areas extraordinary wildlife to roam and migrate naturally.
There are many reasons to visit the jewel of southern Africa. Use our guide of new places and unique experiences to include in a Botswana safari.
When to Enjoy
Botswana is home to the Okavango Delta, Moremi Game Reserve and Chobe National Park so it's a great safari destination year round. That said, it's important to know what time of year is the best to go, so that you can make the most of your safari. That question is best answered by thinking about what you want to experience.
Dry Season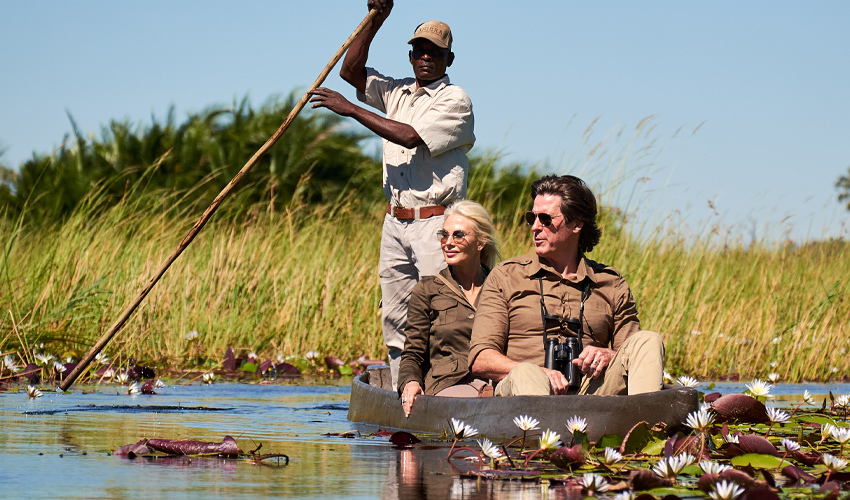 Game viewing is at its peak during the dry winter months of May to October when animals are concentrated in ever increasing numbers at water sources as the dry season wears on. Making it perfect for guests wishing to visiting the three main parks. The Okavango Delta becomes a web of permanent lagoons & channels that flood annually during the Dry Season and home to an abundance of bird and wildlife including great herds of elephant, buffalo and hungry predators who trek for days to reach this marshy paradise. The dry season is perfect for gliding your way across the calm waters of by a boating or a traditional mokoro (canoe). There's a whole other view to spy hippos, crocodiles and malachite kingfishers and you'll get an even better view with the glass bottomed boat at Xigera.
Green Season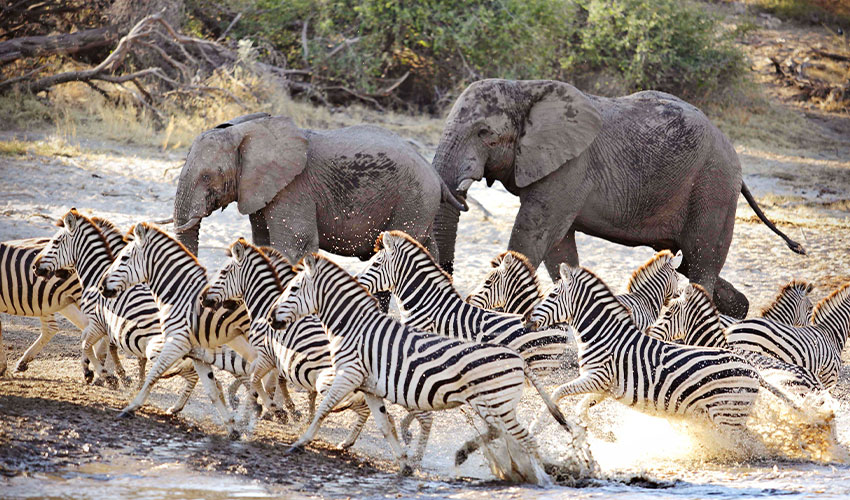 Locally known as the 'Green Season', Botswana's summer season runs from November to April, and is a perfect time to travel, if you don't mind the odd shower. The biggest advantage of travelling at this time is that visitor numbers dwindle, so you're likely to enjoy a quieter, more personal stay at affordable rates as camps drop their rates by as much as 50 percent. Botswana's wildlife are also on the move, up to 25,000 zebra and blue wildebeest journeying through the Makgadikgadi and Nxai Pan National Parks in search of water and lush grazing grounds creating Africa's second largest migration. Witnessing this spectacle from the air is magnificent and the surrounding scenery makes an inspiring backdrop for any budding photographer or simply for memories.
Where to Enjoy
Botswana exhibits its exclusivity to an exceptionally high standard. The country has based its tourism industry on attracting discerning travelers who are willing to pay more for the privilege of visiting the remoter areas of the country rather than trying to attract as many people as possible which would inevitably retract from the experience. With this in mind many of the lodges, particularly in the Okavango, are only accessible by small plane which pushes that exclusivity up even higher. It is all about being at one with nature, having a minimal impact on the environment and yet seeing it in style and with the luxury that guests expect from exclusive lodges.
The Okavango Delta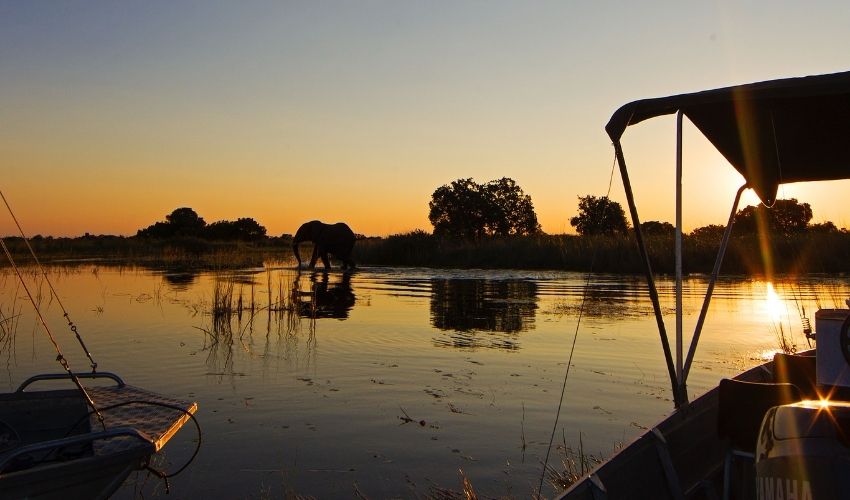 The Okavango Delta is one of the last remaining unspoiled wilderness areas of Africa and is home to outstanding land and water safaris. Fed by the floodwaters of central Africa, these waters fan out and form a wetland system of beautiful palm-fringed channels, lagoons and islands that support a wealth of fauna and flora alike. There is nowhere on earth that comes remotely similar to this wonderful ecosystem, so much so that it became the 1,000 UNESCO's World Heritage site in 2014.
Moremi Game Reserve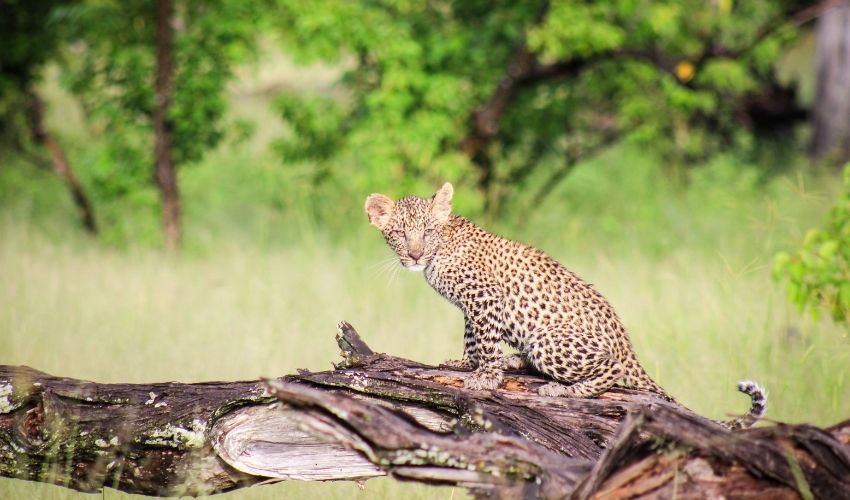 What you will discover soon after arriving at Moremi Game Reserve, is that it isn't just about crossing off the Big Five on your list, or finally spotting that rare bird. In Moremi, you have to take in the full package: broad skies, amazing sunsets, constantly changing colours, a warm African breeze, lily padded waterways and some of the best game viewing you will ever experience. Chief's Island is one of the richest and most diverse ecosystems in all of Africa. This, all together, is what will make you want to come back to Botswana as soon as you start your way home. The choices of exclusive camps are astounding here, for unrivalled access with the ultimate flexibility, Xigera Safari Lodge is the premier lodge in the area.
Chobe National Park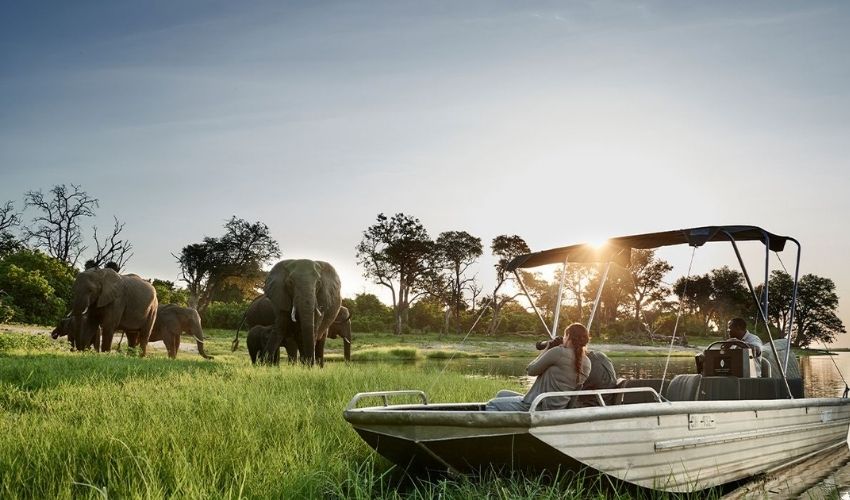 Often referred to as the "Land of the Giants", Chobe National Park is a Big Five safari destination that is most famous for its huge concentration of Elephants. The park is home to the largest elephant population in the world, currently estimated to exceed 120,000. Elephants love water so it is no surprise that the Chobe River is frequently visited by large herds seeking a refreshing drink and dip in the cool waters. It is a photographers dream, presenting the opportunity to photograph elephants bathing, diving under the water and babies simply playing and having fun. Chobe is best explored from the comfort of a safari vehicle or on a thrilling boat safari. Chobe Safari Lodge has their own private waterholes which offer some magnificent views of these majestic creatures. What could be better than cruising down the Chobe River as the sun sets, drink in hand, with a glorious view of the largest land animals on earth?
Linyanti Wildlife Reserve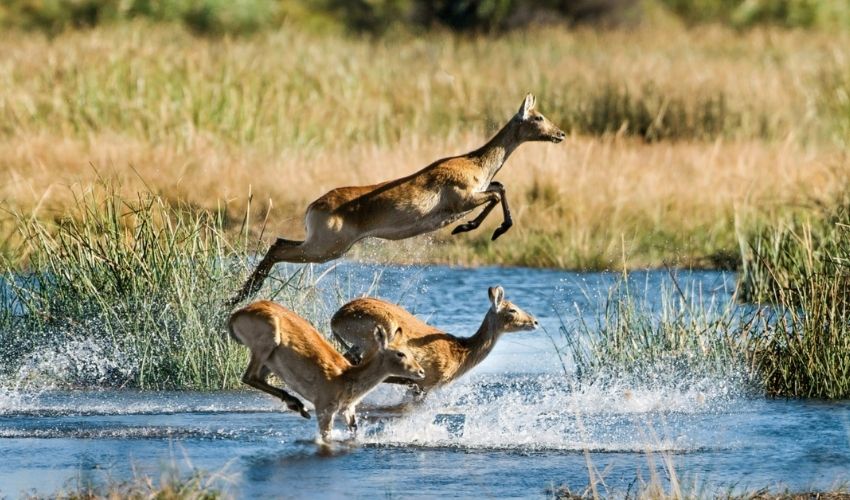 Linyanti Wildlife Reserve bordering Chobe National Park is another exciting destination on the safari and two camps that have been recently renovated are especially appealing. Set on a lagoon on the Linyati River between two "elephant highways" the newly renovated DumaTau allows a wonderful opportunity to get close to nature and observe the smaller things. No matter where you stay don't miss a Queen Silvia barge cruise, spy wildlife from a sunken hide, slow the pace and try catch and release fishing and visit the ancient Savute Channel.
Kalahari Desert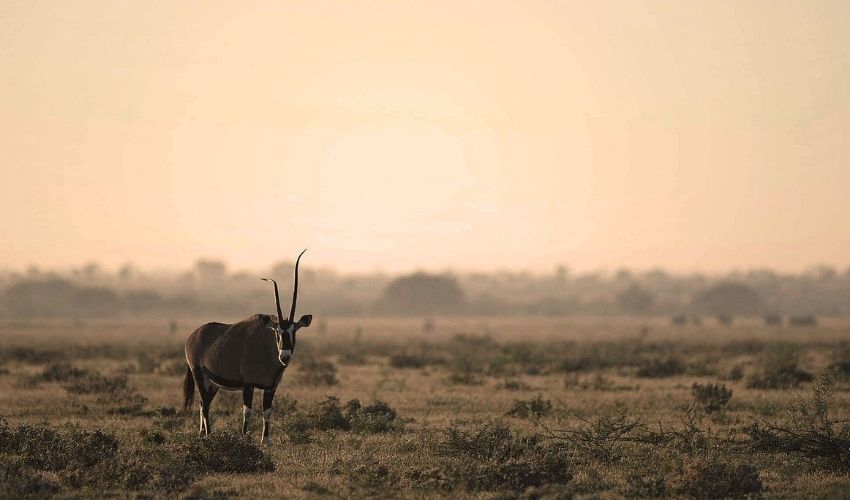 The Central Kalahari Game Reserve is the second largest reserve in the world and by far the most remote reserve in Southern Africa. The area is also home to the San people, an ancient hunter-gatherer society that has transcended the ages with their excellent hunting skills and ability to adapt to the harsh environmental challenges presented by this enormous desert. One of the highlights of this reserve is Deception Valley, formed by four fossilised river systems and where its sweet grasses attract large herds of herbivores unseen in the delta and in turn, hungry predators, including the famous black-maned lions, spotted and brown hyena, sociable suricates as well as cheetah, wild dog and leopard.
Makgadikgadi Pans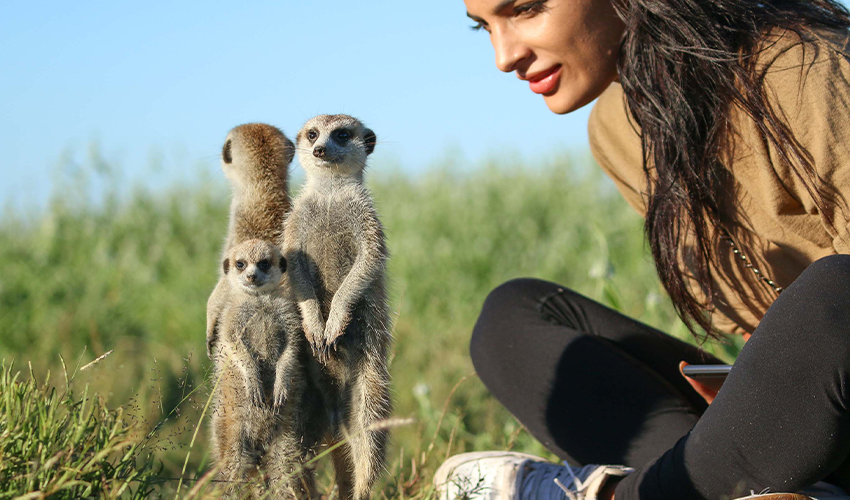 To explore the Kalahari Desert consider the Platinum Botswana safari and basing yourself in the Makgadikgadi Pans. The surrounding area features abundant lion, zebra and wildebeest, leopard, cheetah, Brown and Spotted hyena- but the best wildlife experience is the habituation program with meerkats. Wake up early in the morning and walk to their borough to watch them appear to warm their bellies in the cool morning. TIP: Be patient and sit still. Eventually the meerkats will feel comfortable to come out and you can observe them go about their business.
Guests can also explore this vast and mysterious area on horseback, just as the earliest explorers, hunters and missionaries did. While bird watchers can find both the greater pink flamingos and the lesser pink flamingos, coming to this place to mate and to lay their eggs in conical nests, built with the clay of the ground; this is one of the most important breeding sites in the world for flamingos.
Nxai Pans National Park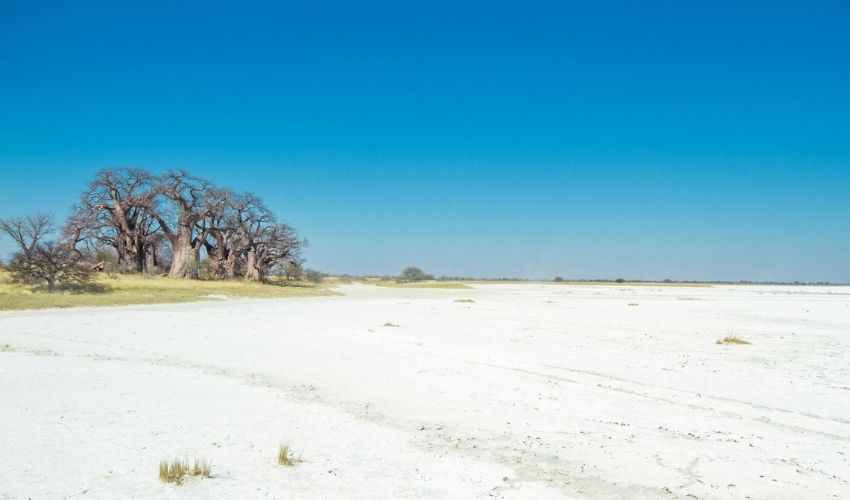 Nxai Pan is situated on the northern fringes of the ancient Makgadikgadi Lake basin and are ancient salt lakes, the flat ground is perfect for a and is home to the famous Baines Baobabs trees, a cluster of millennia-old baobabs. During the green season the area is covered in lush green grass, attracting huge concentrations of Burchell's zebra, blue wildebeest and springbok. Predators are well represented with lion, cheetah, hyena and wild dogs. A particular delight are all the smaller animals such as honey badgers, bat-eared foxes, African wildcats, banded mongoose, spring hare and porcupines.
Unique Experiences to Enjoy
Botswana is unlike any other safari destination in Africa. Discover unique and unforgettable experiences available at award-winning luxury lodges accross the country.
Photography Safari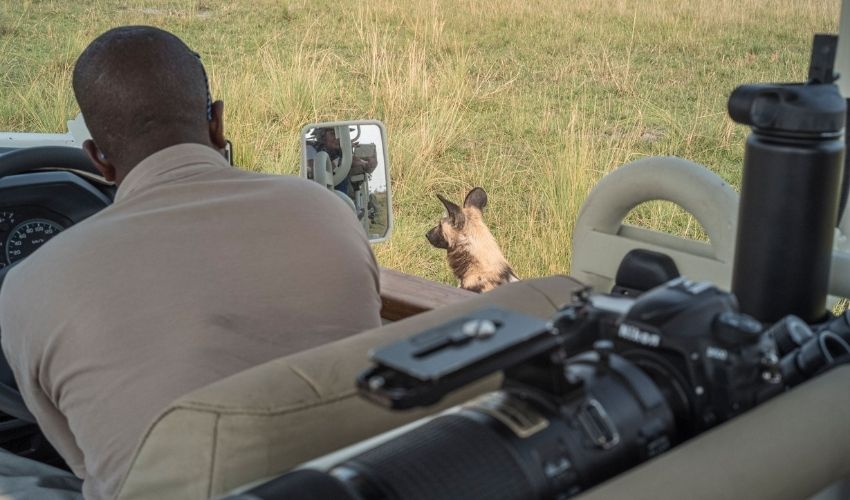 With its diversity of wildlife and exceptional clarity of light, Botswana is perfect for photographers. Most of the camps and lodges have unique photography hides and we craft photography safaris for your exact specifications, based on landscapes, wildlife and the experts who can join a safari. If you love the Instagram shots featured on Xigera's social media, you'll love our experience with Ike. He will share the best angles, wildlife shooting tips and ensure the ultimate adventure. Xigera's safari vehicles feature moveable armrests that can be locked in position for long-lens stability. Accompanying non-photographers will also relish the time spent tracking animals and birdlife amid the natural beauty of the Okavango.
Art & Culture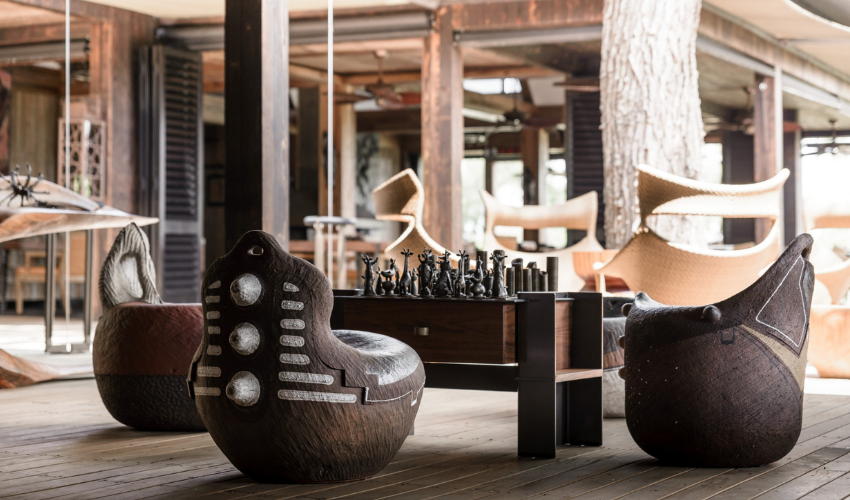 Join an insightful and informative tour Xigera's living art gallery, the interiors of the lodge are filled with exceptional one-off works of art and design created by Africa's most globally recognized names. The storied and iconic Jack's Camp also offers guests one of the most comprehensive collections of ancient artifacts in Botswana. Both can be experienced as part of our Platinum Botswana itinerary. In the capital of Gaboroe visitors can enjoy The Botswana National Museum and the National Botanical Garden. It displays traditional Botswana crafts and paintings and aims to celebrate the work of local artists.
Bushman Walks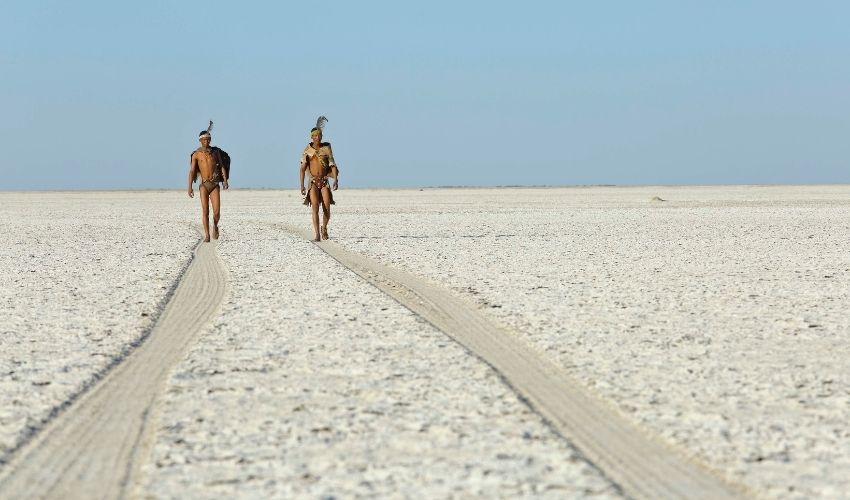 The San people of the Kalahari are one of the last great nomadic cultures in the world. The oldest inhabitants of Southern Africa, if not the oldest culture in the world, the San have lived in the area for about 150,000 years. Their wealth of indigenous knowledge of the flora and fauna of Southern Africa and their rich cultural traditions, are legendary. Some of the Botswana camps allow guests to sensitively interact with local San communities who live nearby. Guests can join a "Bushman Walk" with local San trackers and explore the Central Kalahari Game Reserve, while learning about local traditions and culture.
Remote Luxury
For guests looking to go further afield in Botswana while enjoying ultimate luxury, Mashatu Euphorbia Villas could be the perfect place to add adventure to a safari. Set in the Mashatu Game Reserve, in the far east of the country, the new luxury lodge set high on a cliff face in a forest of euphorbia succulents has breathtaking views of the river and plains below. Elephant wanderings, night-time howlings, lyrical birds can be appreciated with complete privacy. As well as day and night drives guests can enjoy horse riding, cycling, walking and the photo hides.
Stargazing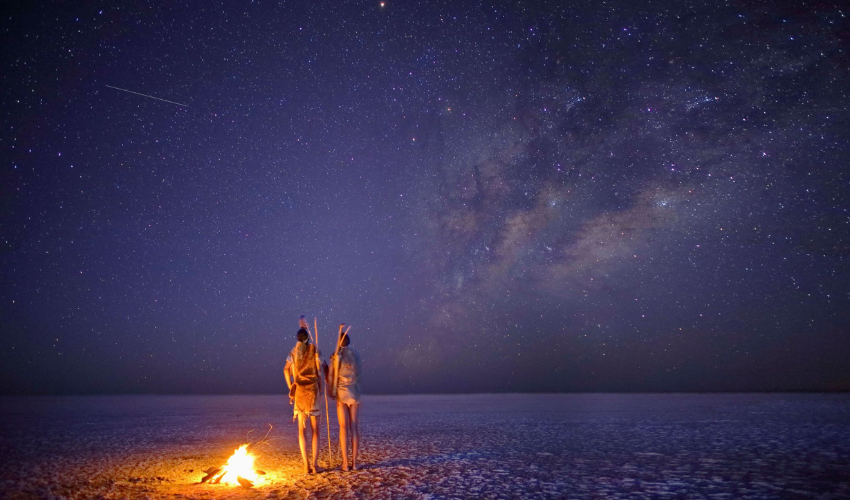 During the dry season the skys are usually cloudless and with the limited population density Botswana has little to no light pollution. Meaning guests can enjoy the unobstructed splendor of the milky way. Probably the best location for star watching are the Central Kalahari Game Reserve, Nxai Pan and Makgadikgadi Pan as the flat horizons here make for an amazing field of view. Meno a Kwena camp offers an amazing sleepout experience on the salt pans. After a campfire dinner you will sleep under the vast skies with a myriad of spectacular stars to accompany you.
A World of Your Own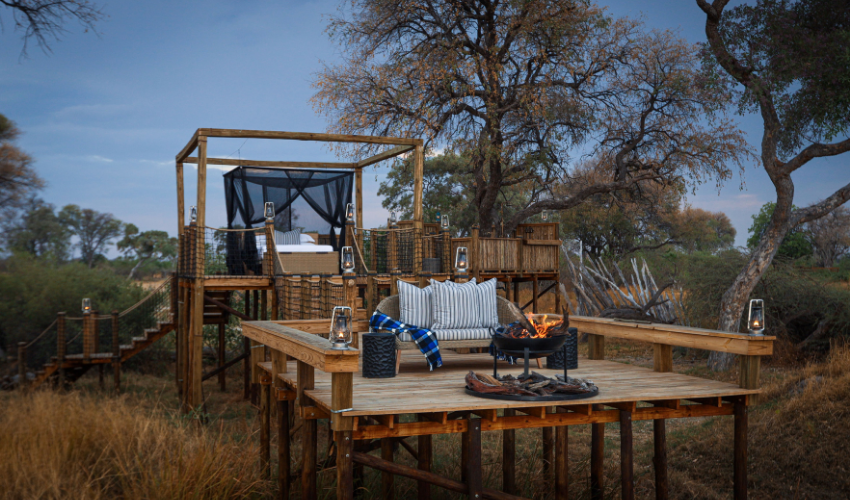 What better way to see grazing elephants, elusive hippos, and Botswana's other spectacular wildlife than from above? Luxury treehouses are booming in popularity. Tuludi Sky Suite is a private vantage point among the trees, overlooking the plains and water holes. For a truly immersive discovery of the Okavango Delta, Xigera's remarkable Baobab Treehouse gives guests the opportunity to experience Botswana at its most raw, and most remarkable.
Big Game Fishing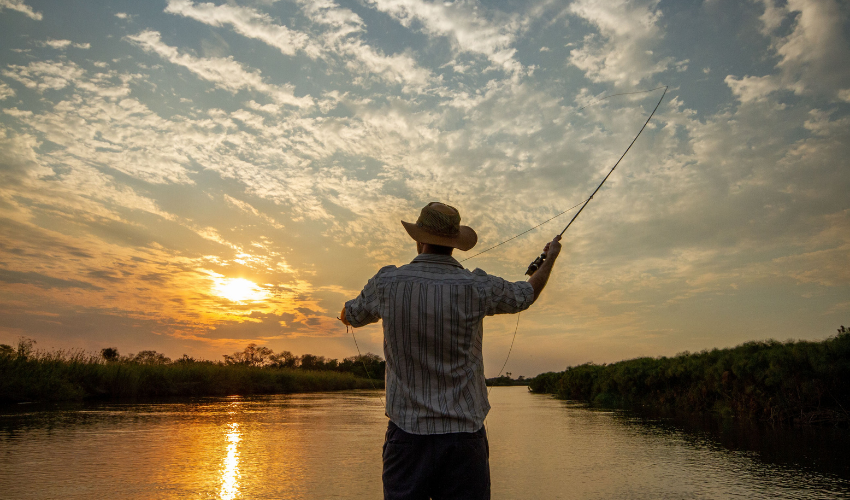 Fishing in Botswana will most likely be unlike any fishing trip you have ever taken, offering three very unique fishing experiences. Keen anglers may choose to tigerfish during the natural feeding frenzy created by the annual Okavango Barbel Run every September to October, or combine a tiger fishing trip with water-based game viewing on the Chobe River, or perhaps fish for bream in the channels and lagoons of the Okavango Delta. Catch and release fishing experiences in Botswana are popular among guest and offered at many lodges such as Nxamaseri Island Lodge.
Birding Paradise
Botswana boasts of a total of 600 different species of birds making Botswana a paradise for any avid birdwatcher. During the green season, thousands of birds migrate to the rivers and lakes surrounding the Makgadikgadi adding a wonderful view to the Makgadikgadi. Nothing beats birdwatching in the open lands as compared to birdwatching in the rainforest where thick forest vegetation blocks the beautiful sighting. When flooded, Sowa Pan, to the east of the Makgadikgadi Pans, attracts globally significant numbers of Lesser and Greater Flamingos.
The Okavango Delta is another fantastic destination for birding. Best visited after the rains, around October, enthusiasts may seek the slaty egret, wattled crane and lesser jacana. Elsewhere, Chobe National Park and the vast expanses of largely undisturbed wilderness are also suitably commendable for keen birders.

Sunsets
There is something so magical about the sunsets in Botswana that cannot be explained. Whether you're on a safari in the Okavango Delta, the Central Kalahari Game Reserve, or simply enjoying the watery world of the Chobe river, there is one thing that remains consistent; the raw beauty that simply must be experienced first-hand. During the magical golden hour the sky appears to be on fire as it bursts to life in hues of bright orange, red, pink and yellow. It is a sight best enjoyed with a traditional sundowner drink in hand.
Added on Adventures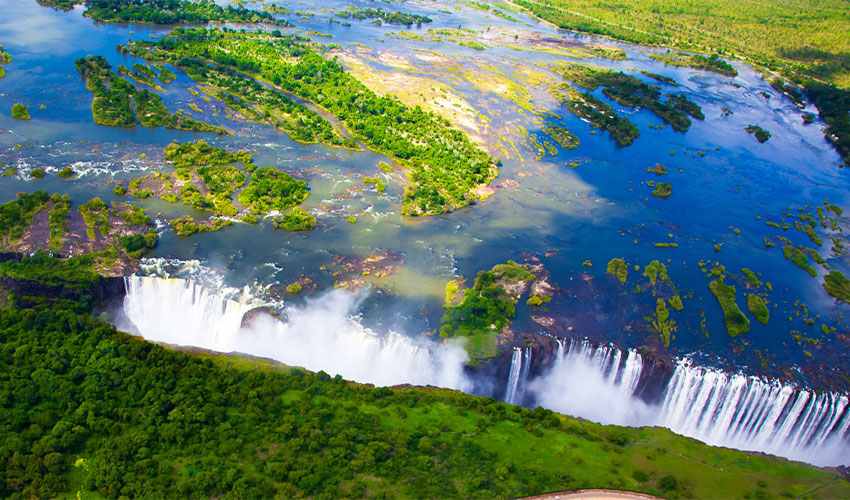 There is certainly plenty to do in Botswana to fill your whole vacation, it is also fantastically easy to combine a week or 10 days here with some time in one of the neighboring countries. This could be a wonderful chance to add a few nights in beautiful Cape Town or the spectacular Kruger National Park to your African adventure. Another popular combination takes advantage of the fact that the main entrance point to the Chobe National Park is very close to the borders with Zambia and Zimbabwe so you can also consider a visit to Victoria Falls.
"Botswana is my favorite because it's so wild and untouched. Every time I return from Africa, I discover something amazing, but in the case of Botswana it really is heaven on earth."
Suzannah Zani, Safari Specialist
Ready To Go?
Here are three safaris to get you started. Every one of our trips are tailor-made with flexible booking options.
Call 1-800-421-8907 or fill out a safari planner and submit it to a safari specialist to plan a trip.
PLATINUM BOTSWANA

10 Days - Makgadikgadi Pans | Selinda Reserve | Okavango Delta

An ultra-lux African safari where you'll discover a front-row seat to nature's theatre at luxury-tented camps with ultimate privacy, where style and sustainability intertwine.

ULTIMATE BOTSWANA LUXURY SAFARI

10 Days - Cape Town | Linyanti Reserve | Okavango Delta

A celebration of art, architecture and sustainable travel with a visit to Cape Town, the remote Linyanti, the wildlife rich Okavango Delta, and the sculptural Xigera Safari Lodge.

WILD KINGDOMS OF SOUTHERN AFRICA

10 Days- Hwangwe National Park | Victoria Falls | Chobe National Park

A wildlife odyssey that showcases some of the best destinations in Southern Africa - from Chobe National Park, Hwange National Park and the incredible Victoria Falls.