WE KNOW AFRICA
Welcome to the African Travel safari blog. In this space, we share inspirational stories and ideas on adventures in Africa, plus our latest social posts!
Connecting Our African Roots: How Travel Bridges the Past, Present and Future
August 26th, 2020, by Chelsea Todaro
The human connection is the heart of our existence and travel is what creates a bridge for people to learn about their culture's past and come together to secure a future for generations.
As we focus on the past, present and future this month with The Travel Corporation (TTC), we reflect on how our humble beginnings 100 years ago in Africa ties us to helping the people, planet and wildlife for the future—by making travel matter. While we continue to focus on travelers' well-being in the present, making travel matter is a role we can all play in helping communities around the world recover and rebuild from the impact of this pandemic.
Africa defines the beginning of humanity, and at African Travel, Inc. we strive to authentically connect travelers to the heart of the continent by bringing Africa to life in a meaningful way. Our African roots and unmatched expertise for over 40 years allow guests to leave a lasting footprint at the destinations they visit, as well as having an incredible safari experience.
In partnership with the TreadRight Foundation, African Travel supports various projects across Africa that preserves surrounding wildlife and cultures that travelers encounter on safari. By living in the present moment, our guests will learn about the destination's past and what they can do to help its future.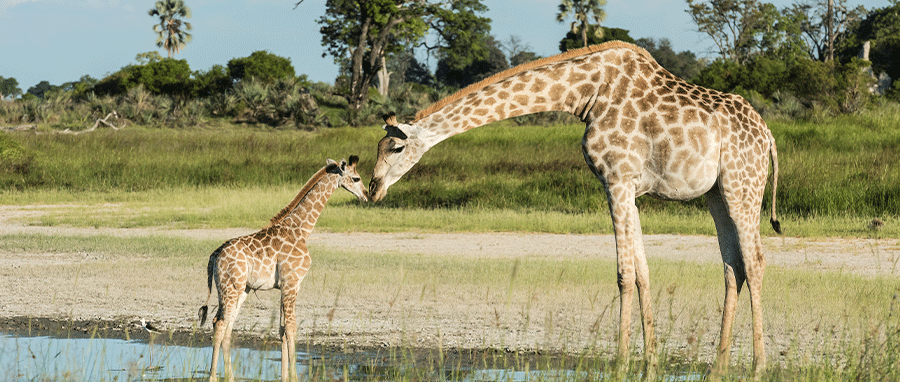 Connecting with Wildlife and Their Surroundings
On safari our guests are introduced to the importance of wildlife conservation and how we work with local communities to ensure that African wildlife is protected. On our Captivating Kenya safari, guests explore Kenya's oldest national park in search of endangered black and white rhino and spend time at the Namunyak Wildlife Conservancy with a behind the scenes experience at the Reteti Elephant Sanctuary. This sanctuary is Kenya's first community owned and managed elephant orphanage.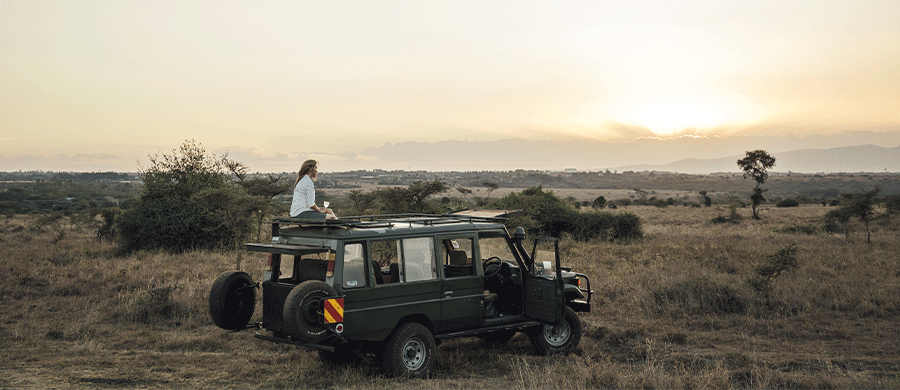 On South Africa's Natural Wonders, travelers explore the wildlife abundant Shamwari Game Reserve, one of the largest private conservation initiatives in Southern Africa, and home to the coveted Big Five. Dedicated to nature conservation, Shamwari strives to educate and promote wildlife awareness. In between safari drives, guests can visit the Wildlife Rehabilitation Centre and the Born Free Big Cat Sanctuaries. They'll also connect with rhino, elephant, lion, buffalo and leopards at Grootbos Private Nature Reserve, which is committed to transforming communities and conserving the environment through the creation of sustainable livelihoods.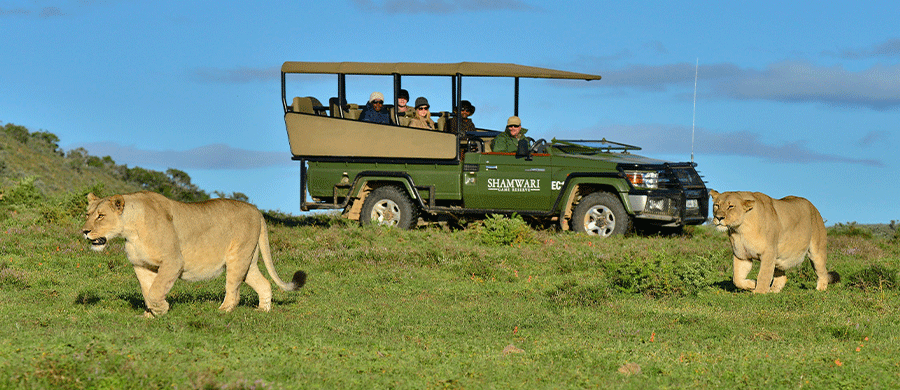 Living and Learning with Ancient Cultures
While wildlife is a big part of a safari, there's also ancient cultures to explore. Africa has the most diverse cultures in the world that we strive to maintain and preserve. This first starts with teaching travelers about them first-hand. Connecting with local communities is what makes our safaris authentic and life changing. In Kenya, guests can experience the singing wells tradition of the Samburu tribe during the dry season when their warriors chant while collecting water for their livestock, and while in Tanzania on our Discover the Wonders of Tanzania safari, they'll experience a visit to the Maasai of Ololosokwan to interact with this unique tribe, who are always enthusiastic to share their cultural beliefs.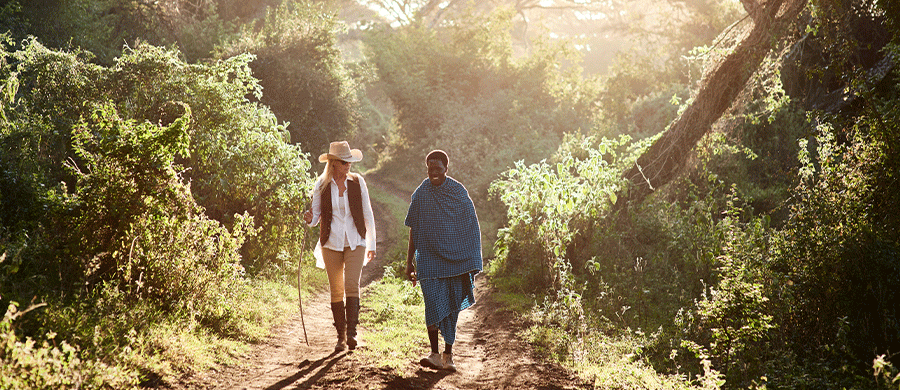 As guests venture to North Africa, we offer an empowering journey to Jordan where they can learn about the country's ancient and modern traditions with locals. They'll follow in the footsteps of influential storytellers by meeting the women of the Iraq Al Amir Women's Cooperative which aims to help local women as they preserve local heritage. Guests will learn how these women make a variety of heritage products to sustain a living—such as creating soap from Olive Oil and greeting cards from recycled paper. After gaining more insight into their culture, guests will join for a meal specially prepared by these local women.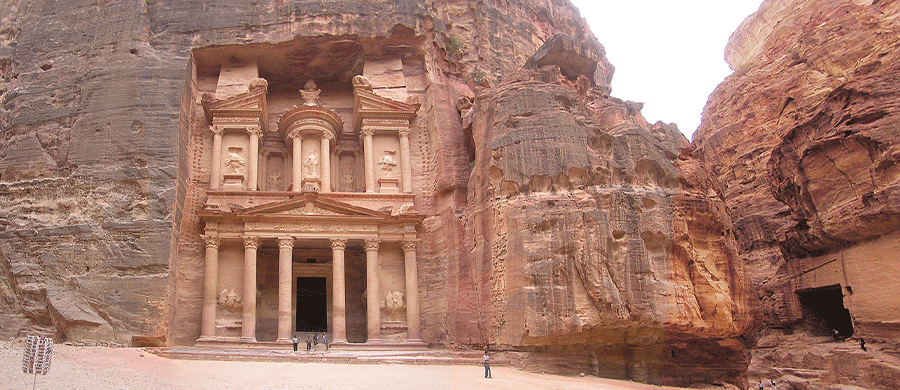 As part of TTC, we work closely with our Red Carnation Hotel properties in South Africa, which have made a grass-roots effort to source employees from local African communities. The Twelve Apostles Hotel & Spa in Cape Town, The Oyster Box in Durban and Bushman's Kloof Wildness Reserve in the Cederberg all support the local communities and strive to bring the heart and soul of these cultures into their properties through using artwork décor from local artists and employing and teaching locals the field of hospitality. Bushman's Kloof works aimlessly to preserve more than 130 cave sites painted by the indigenous San people to ensure that these expressive murals will tell the story of the land's original inhabitants for generations to come. Their preservation efforts have helped the Rock Art earn distinction as a Grade 1 South African National Heritage Site.
Guests can visit Red Carnation's exceptional, award-winning properties on our South African Tapestry safari, where they'll explore a rich tapestry of landscapes in South Africa-- from rugged seascapes, centuries old vineyards, 10,000 year old rock art sites to pristine wildlife reserve.
Preserving the Planet with Eco-Friendly Lodging
An important part of our future is to tread lightly on the environment to save our previous ecosystems, and sustainable lodging plays a big role in this.
Travelers help support planet conservation through our carefully curated and luxurious accommodations. Set to open in October 2020, guests can experience Xigera lodge on our new Platinum Botswana safari. Xigera is set in the heart of the Okovango Delta where guests can experience the bush in ultra-luxury and exclusive, unrivaled flexibility with no set times and no itineraries. One of Red Carnation's most innovative properties, Xigera is dedicated to guarding the precious ecosystem that belongs to Botswana and to empower local communities, alongside environmentally conscious hospitality. With 105 exceptional staff attending to 24 guests, the lodge is 100% solar powered, with villas designed to camouflage among nature.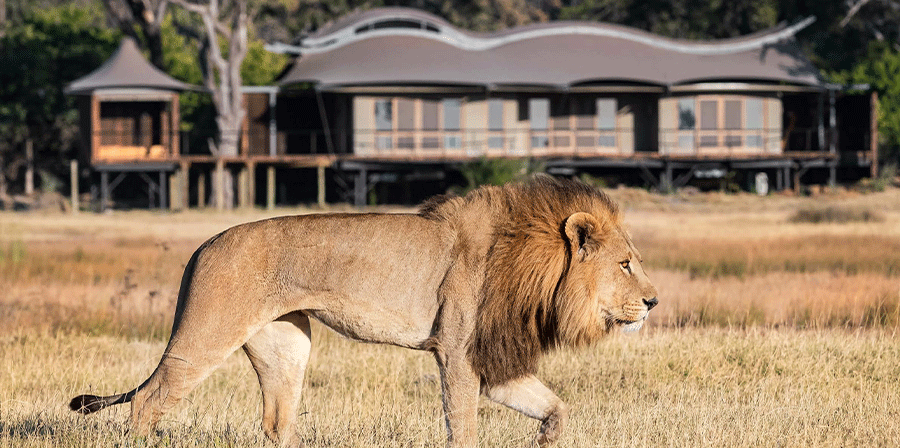 At the end of the day, the way people travel and choose to connect to cultures may differ but coming together to create a sustainable future remains a constant in our daily lives. Our past story defines our future, and while the present moment is very much in limbo, our past is strong, and our future is exciting.
International Women's Day | #EachForEqual
March 5th, 2020, by Claudia Santino
When Lucille Sive learned that the campaign theme for this year's International Women's Day is #EachForEqual, she said "I love it!"
As the CEO for African Travel, Inc., Lucille Sive knows a thing or two about equality. Born and raised in South Africa, Lucille grew up during apartheid. "Without equality you cannot have a thriving community or business," she says. When it comes to women and business, she firmly believes that taking risks can be one of the best things we can do for our careers and that sometimes you can make a decision in your life that changes the course of it in ways you never dreamed.
That's what happened to Lucille when she accepted a marketing position at Lion World Travel. She had no travel or marketing background. What she did have was a desire to learn and that desire sparked a fiery passion for all things Africa. "Along my TTC journey I've done almost everything from the bottom upwards," she said. "For females, you sometimes just have to jump in and make sure that you know every job that there is to know." That philosophy paid off when a few years after joining the company, the owner asked her to run it. Seven years ago, she was named CEO of African Travel, and now oversees all the Africa offerings for TTC's brands.
People measure success in different ways. For Lucille, success is all about how happy you are in what you do, and she is extremely happy in her life and her career. She credits being passionate about all things Africa for what helps make her life a success. Being a female business leader in any industry can be a challenge or an opportunity. Like an experienced wildlife tracker, Lucille looks for opportunity in everything she and her team do. So much so that her team often tells her that she always making lemonade out of lemons.
International Women's Day is personal to Lucille because March 8th is also her birthday. She quotes the African proverb that says, "If you educate a man, you educate an individual, but if you educate a woman, you educate a nation.'"
Lucille takes a lot of inspiration from women in Africa, who she finds incredibly resourceful and resilient. With its focus on sustainability, African Travel, Inc. partners with women entrepreneurs in the destinations they visit to purchase unique and locally crafted gifts, like intricately beautifully beaded elephants and rhinos as guest amenities. "Most of these women are single mothers and widows who must feed their families and the money they earn doesn't just take care of them; it gets cycled back into their communities," she said. "I'm continually inspired by women from local communities working on the conservation front, or who run lodges with an emphasis on protecting elephants, rhinos and other creatures."
Lucille will tell you that equality is not a women's issue, it's a business issue. "I tell people that TTC is one of the nicest places to work at and I love what I do. I have opportunities here that I would never have had anywhere else because the Tollman family believed in me," she says. "Individually, we can all have our own thoughts and we can all make a difference and we can all make sure that we celebrate women's individual accomplishments, but together we can change the world."
Sherwin's #TTCTop10 Bucket List
January 13th, 2020, by Sherwin Banda
A new year brings new adventures and I'm eager to fill it with travels. I'm blessed to have been born in Africa and look forward to discovering new places and rediscovering favorites on the continent. I also can't wait to explore a few new destination experiences with my family recommended by my The Travel Corporation colleagues. Whether you like going it alone or in a group, traveling as a family, or a couple, I hope my #TTCTop10 Bucket List inspires you!
My Top 7 Africa Places
The next 'it' family spot
Africa is a wonderful place to experience with family. While I love showing my son my South African homeland, I can't wait to take my family on our Beyond the Rainbow to Zimbabwe. The country is somewhat overlooked and unexplored but you'll not only be awed with a different perspective on Victorial Falls, but also by some of the greatest game-viewing on land and water safaris. For another fantastic family option, especially mutli-gen gatherings, I recommend Best of Botswana and Victoria Falls.

Conservation and meaningful connections
So many travelers want authentic connections and to help the planet. My answer: go to Kenya! At Lewa Wildlife Conservancy, for instance, you'll learn about their rhino rehabilitation efforts and experience wildlife through horse and walking safaris. In Kenya's north, visit the singing wells of the Samburu tribe and observe the warriors perform an age-old tradition as they chant and collect water for their cattle. I plan to visit Kenya with my son and add an experience helping a local northern Maasai Mara community. It's a great way for him fulfill a class project with real world impact and for us to experience giving back together.
Botswana's new eco-safari lodge
Wherever I travel, I always look for ways to re-connect with nature, so I am very excited about Xijera, the new Red Carnation Hotel Collection safari lodge. It's set in the Moremi Game Reserve in the heart of Botswana's Okavango Delta where wildlife viewing is incredible. The area is also a UNESCO World Heritage Site and one of the Seven Wonders of Africa, where over a third of the continent's elephants roam. I can't wait!
Extraordinary Adventure
For my more adventurous friends, and anyone looking to be surprised by the extraordinary, I highly recommend our Discover Rwanda. The country's variety of wildlife viewing and new lodges is drawing travelers but it's the people and the beauty of "the land of a thousand hills," that is stealing hearts. A tip though, permits are limited to see the country's star attraction—the endangered mountain gorilla—so start planning now.
Ultimate desert safari
I always like to look for new ways to go off the beaten path on safari. Namibia Desert Escapes, African Travel's flying safari, delivers this with a one-of-a-kind desert safari exploration in one of the most other-worldly places on the planet. I'm always amazed by Namibia's contrasts and love to explore the wildlife rich Etosha National Park, the red sand dunes of Sossusvlei and shipwrecks along the Skeleton Coast. Creatures here continually adapt to their harsh environment, which is really something to behold.
Africa's magical islands
The islands of Africa from Mozambique to Zanzibar are often overlooked but are some of my favorites. They boast pristine beaches and are easily combinable with a safari experience. Right now, I'm fascinated by one and Magical Madagascar is calling. Often referred to as the eighth continent, this island is home to 5 percent of the world's wildlife and vegetation. The year-round 70-degree Indian Ocean is also a huge draw to me, as is seeing 11 species of lemurs!
A taste of South Africa
And finally, I can't miss recommending South Africa! I'm especially eager to tuck into the culinary scene in and around Cape Town. Wolfgat, recently voted #1 in the World's Restaurant Awards, and beautiful wine regions like Stellenbosch and Hemel-en-Aarde are just a road trip from the city. As a special carrot to kick start a journey, we're offering $1,000* off per couple on our most popular trip the Southern Explorer. So, you have no excuses!

And a few more places I can't wait to visit…
Old world charm across the Atlantic
I called London home for several years and am excited to return for a friend's wedding. Since it will be my son's first time, I'm excited to revisit iconic attractions and new places through an Evans and Evans tour. While on that side of the Atlantic, exploring the Emerald Island through Intimate Ireland, a Brendan Vacations private chauffeur driven journey is tempting. Staying at Ashford Castle will be an adventure my son will love.

My secret gift splurge
Egypt is steadily gaining attention as a safer destination and an amazing way to explore ancient civilization. This time I'd like to see it on Uniworld's Splendors of Egypt and The Nile and then journey further into the region with our Secrets of Jordan. While you may be in awe of Petra and the Bronze Age settlements in Jerash, I'm most eager to see local women's association, Iraq Al Amir, and purchase their handcrafted gifts for my friends and family.
Pura Vida family time
I'm intrigued by Costa Rica and want to take my son gliding along the canals of Tortuguero under the watchful eyes of colorful toucans and trek the Pura Vida playground along the slopes of the Arenal Volcano. I suspect Trafalgar's Monkeys, Jungles and Volcanoes will help bring out the child in all of us.