WE KNOW AFRICA
Welcome to the African Travel safari blog. In this space, we share inspirational stories and ideas on adventures in Africa, plus our latest social posts!
African Travel Inc. Launches Curated Series of Romantic Safaris
January 31st, 2022, by Jonathan Brannan
Embrace Africa's wild romance with a collection of incredible safari experiences in Africa's hottest destinations
In celebration of the season of love, African Travel, Inc., an award-winning, luxury safari outfitter, has launched a Romance and Honeymoon safari series that curates the best safaris and experiences for weddings, anniversaries, honeymoons, and other romantic getaways.
"We have seen a 20% increase in requests for honeymoon and romantic safaris. Even during the pandemic romance hasn't died and we've hosted many clients on honeymoons to Kenya, South Africa, Tanzania and Botswana and organized small weddings," said Sherwin Banda, president of African Travel, Inc.
"Love is a celebration and Africa offers an endless list of romantic experiences," Banda continued. "Everyone's ideal romantic escape is different, and in celebrating 45 years in business, we know Africa like the back of our hand, compiling our favorite experiences, journeys, and tips to help customize the perfect safari."
The series featured at AfricanTravelInc.com includes unique experiences and safaris for a variety of guests from adventure enthusiasts to couples who need a balance of beach, bush and city. Advisors can also access a customizable brochure to share with clients.
HOTTEST DESTINATIONS FOR 2022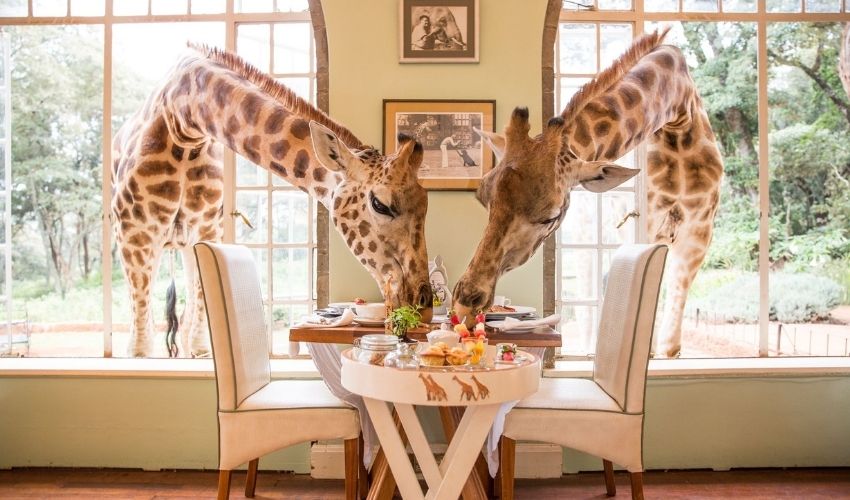 The series features curated journeys to Africa's hottest destinations. Each of its safaris includes an interesting mix of Africa's top lodges and camps and some exciting memorable moments.
Africa's islands and beaches are extremely popular. African Travel has seen an increase in requests for Seychelles and Zanzibar. The most popular safari for romance remains African Romance which pairs the intimacy of a secluded island in Mozambique with the exuberance of a safari at in South Africa Kruger Private Reserve and the exploration of the one of the world's best cities, Cape Town. If guests reserve now, their safari will include a complimentary Azura Benguerra island hopping experience, with visits to beautiful beaches, snorkeling and a scenic beach picnic.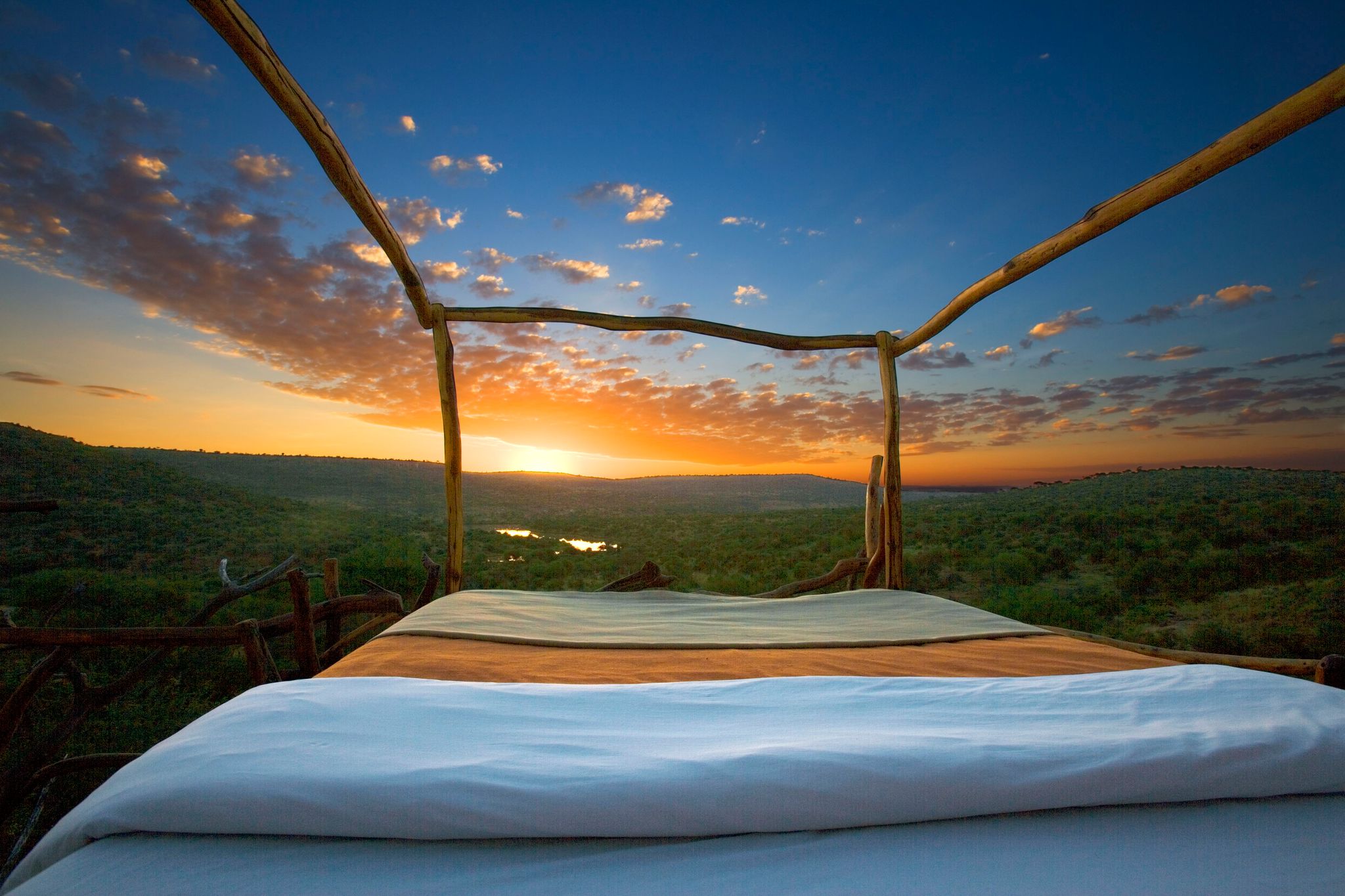 Another top romantic safari destination is Kenya. On Under Kenyan Skies, guests can explore two distinct Kenya iconic wildlife regions by day while relaxing at some of the continent's best lodges and camps at night, including Mahali Mzuri, Travel + Leisure's 2021 #1 World's Best Hotel in the World, and one of the most exciting ways to experience Africa at night with a night a four poster Star bed at the Loisaba Conservancy. If guests travel before June 15, 2022, they will receive an additional complimentary night at Mahali Mzuri.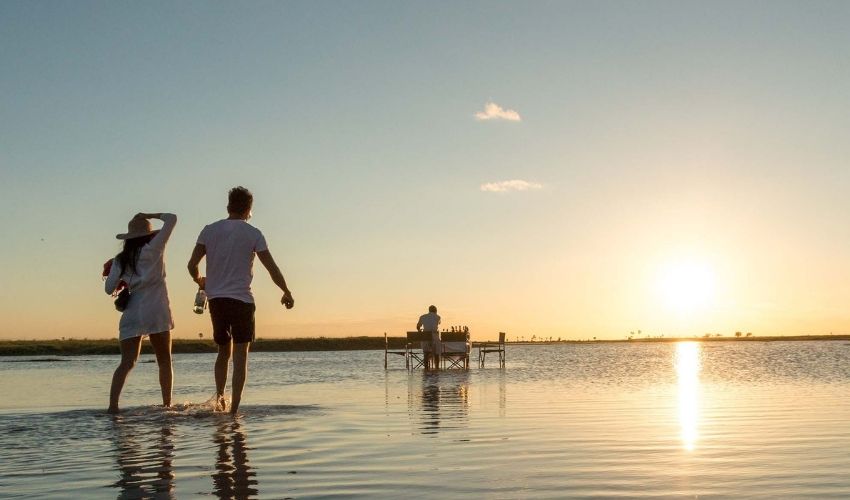 Getting off the beaten path is another hot trend. For a truly remote experience, Botswana offers a slew of new and revamped camps and lodges in famous reserves. There is unbelievable savings on one of African Travel's most luxurious safaris Platinum Botswana, especially for those that choose to visit before June. Guests can catch the end of the Makgadikgadi Pans green season when there is the continent's secret migration of zebra and blue wildebeest and enjoy exploring the newly opened and sustainable Xigera Safari Lodge in the heart of the Okavango Delta.
While the romance and experiences may be wild, rest assured the journey will be a relaxing experience. The African Travel team takes care of every detail with its 24/7 Concierge Care service. With local offices in Africa and experts based across North America, advisors and guests can always reach local hosts and safari specialists who will take care of every detail and make changes to any services or itineraries if the need arises.
"Guests traveling with us can relax and enjoy quality time as they begin a new chapter or celebrate together," Banda continues. "It's time to celebrate the magic of romance as we anticipate 2022 to be the year of re-connecting with loved ones and the celebration of the future of life-long happiness."
For more information, visit https://africantravelinc.com/content/romance
To book an exciting dream honeymoon contact African Travel, Inc.
at 1 (800) 421-8907.
Why Africa is the Perfect Honeymoon
January 20th, 2022, by Chelsea Todaro
Choosing the perfect honeymoon destination may feel a bit overwhelming especially when one wants adventure and the other loves culture or to relax. Africa offers the perfect blend of experiences to suit every travel interest.
From adventurous and intimate time spent in the wilderness to city explorations, these are the most enticing reasons to choose this diverse continent and exotic experiences to add to your upcoming honeymoon.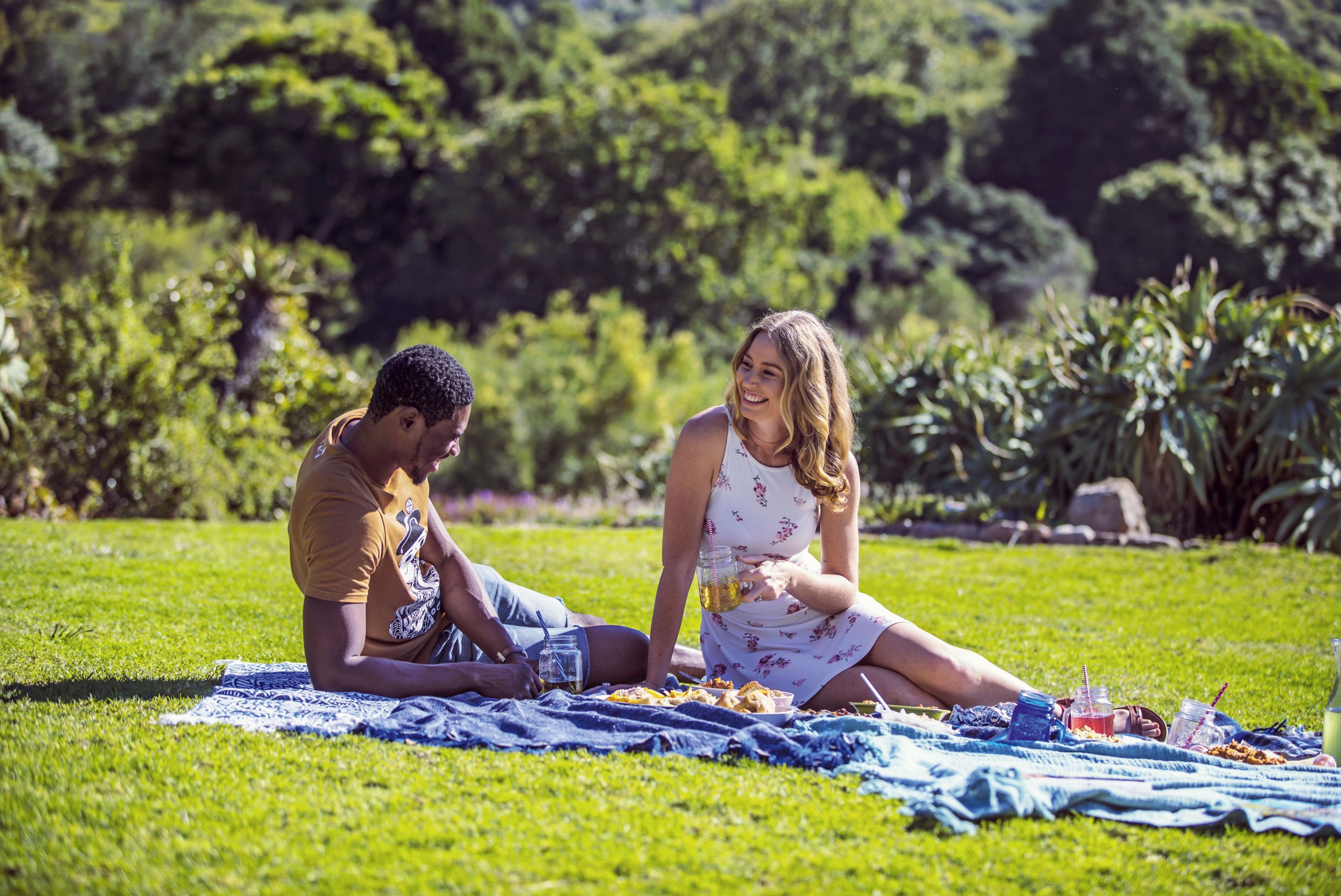 You've had enough to deal with in just getting married so planning and going on your honeymoon should be stress free. Planning a safari can be a fun experience especially when you have a team behind you to guide to the best experiences and camps that also offer the most sustainable experiences. Don't be stressed about the "what ifs" and relax knowing that you have local hosts, and a 24/7 Concierge team are there to assist with any changes, test or add experiences you haven't even thought about.
Secluded Accommodations for Those Intimate Moments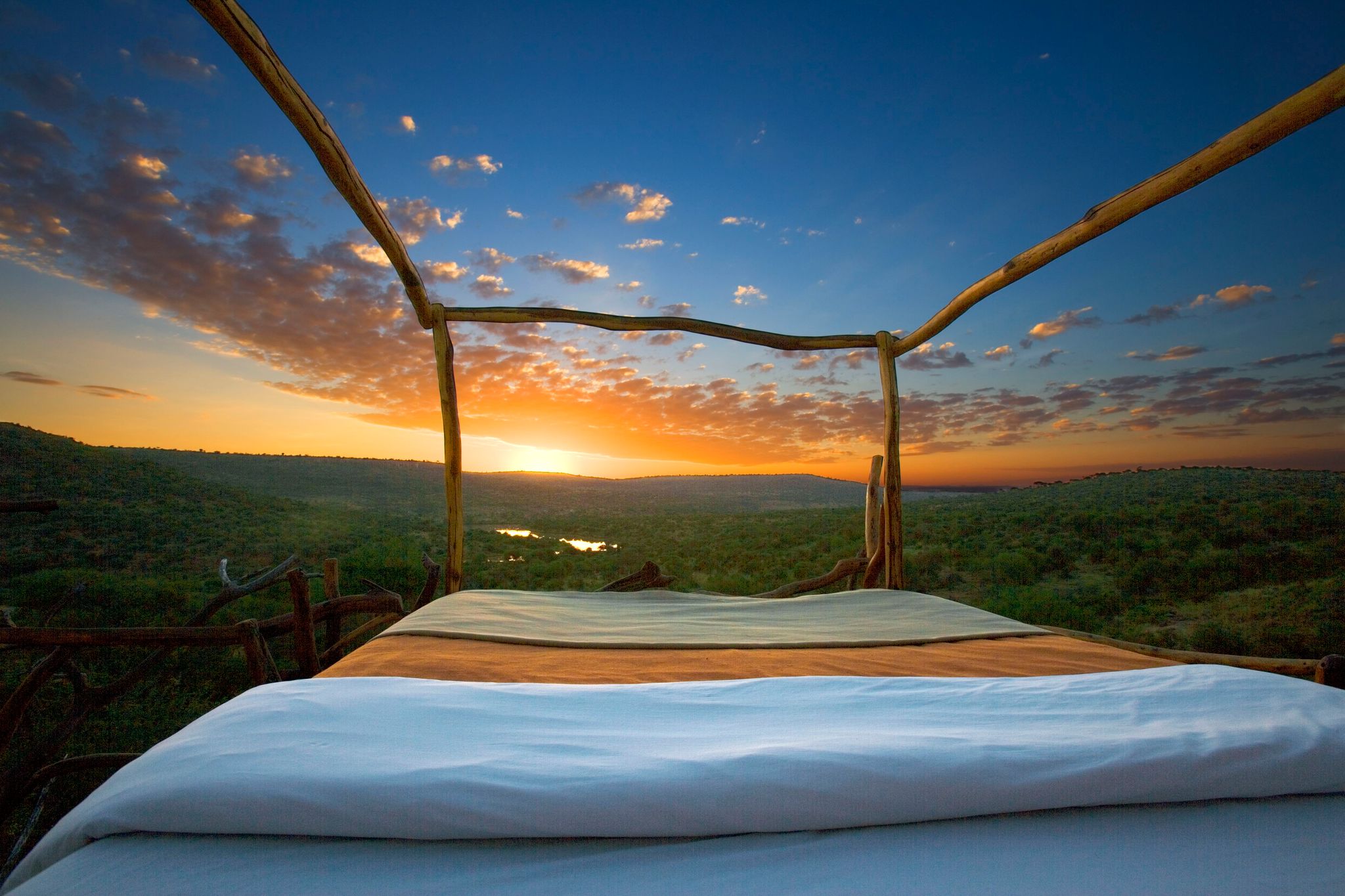 Many accommodations in Africa are in remote, secluded parts of the wilderness that create an ideal intimate getaway. You don't have to worry about crowds or bustling cities because spending time in nature makes "physically distancing" quite easy. It's easy to disconnect and enjoy the sights, sounds, smells, starry nights and sensations of Africa, where time seems to stand still.
Witnessing the rawness of nature at your front door, such as spotting the Big Five, in South Africa's renowned Kapama Private Game Reserve, creates memories you'll share with your partner for a lifetime. The magical Loisaba Star Beds, on our Under Kenyan Skies safari, gives you a completely different perspective of nature from above. It's just you and your significant other lying on a handcrafted four-poster bed with sweeping views over the valley and the twinkling stars shining above.
Classic Romance in Nature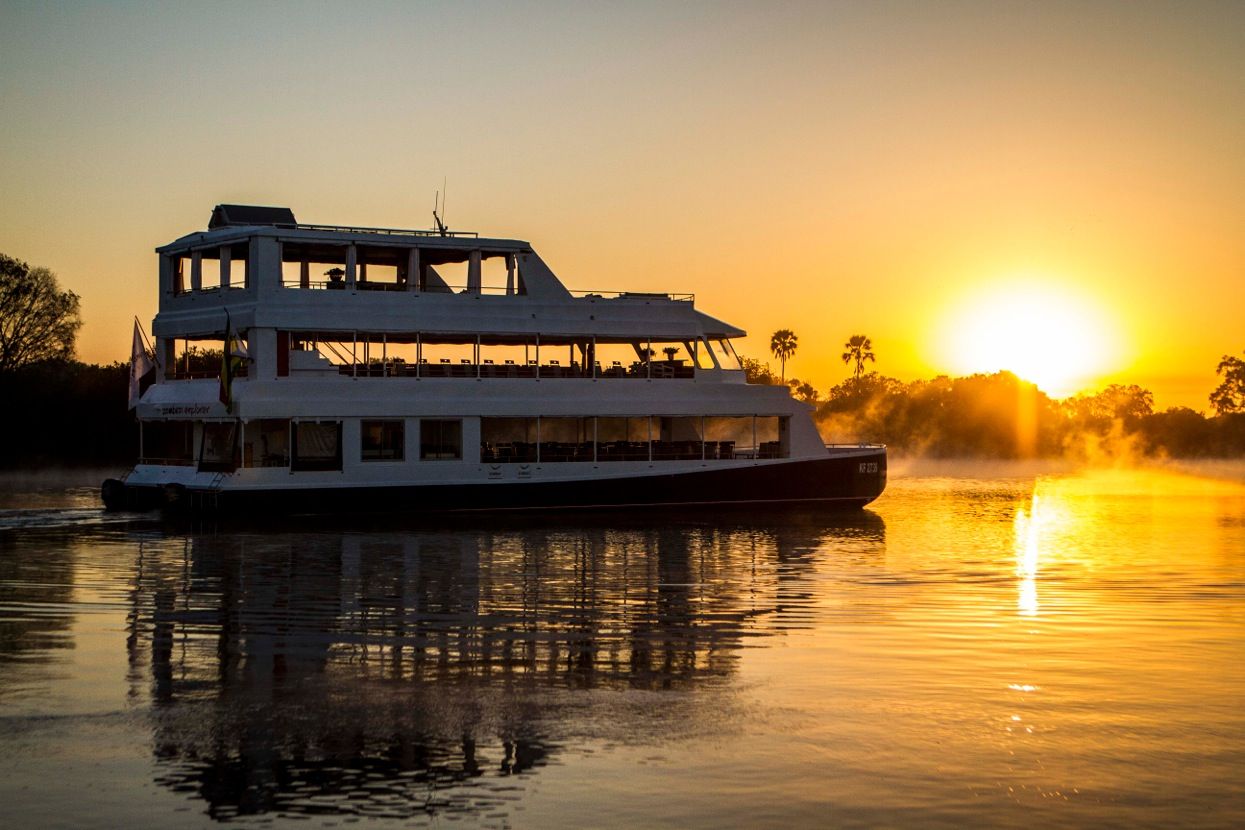 Majestic natural surroundings make Africa a perfect romantic location no matter what you're doing. Take a hot air balloon safari over the Serengeti to get a magical view of the wildlife in one of our favorite hidden corners of this famous savannah on our Discover the Wonders of Tanzania endless. There's always time to delight in a relaxing and colorful sundowner, perhaps on a river cruise on the Zambezi, overlooking the wondrous Victoria Falls?
There're many private dining experiences to delight in with the beautiful backdrops of foliage, wildlife, mountains or the ocean, such as the award-winning 5-star Twelve Apostles Hotel and Spa on our South African Tapestry, where you can savor a delicious romantic picnic for two in the stunning environs of the Twelve Apostles mountain range and the Atlantic Ocean.
Create a Special Bond Through the Culture and Giving Back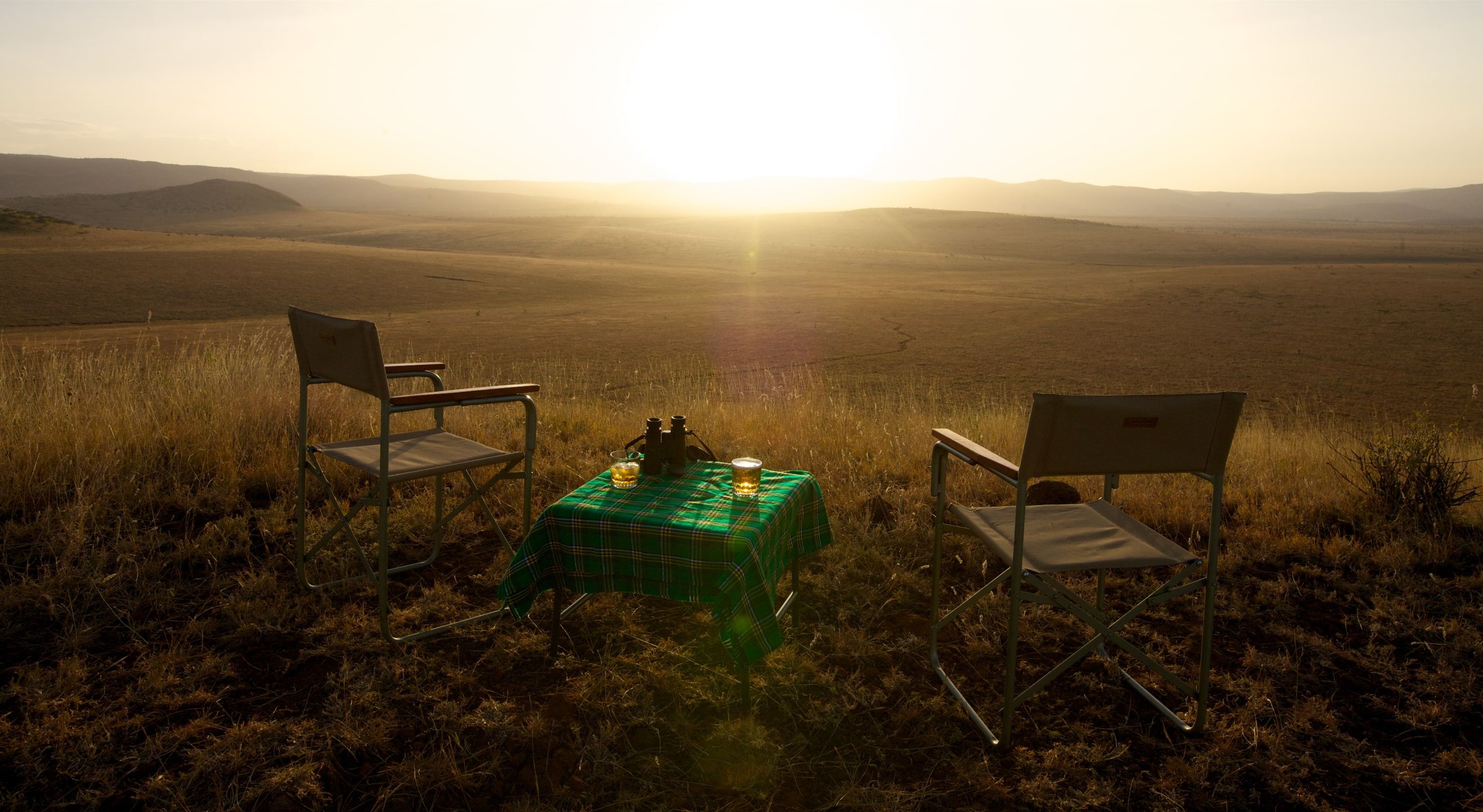 One of the most rewarding experiences of any visit to Africa is time spent with the local people and making travel matter- a commitment we make to sustainable tourism on all our safaris. For a unique bonding experience in Kenya, listen to stories about the Samburu and Maasai people's way of life, or take a visit to the Lewa Conservancy to visit the school children and learn how Samburu are promoting education, as experienced on our World's Greatest Show & Safari - Mara.
At TAASA lodge in Tanzania, you'll spend time with Maasai of Ololosokwan, who are always excited to share their cultural belief, and will teach you about the ecology of the area, the medicinal uses of trees and bushes in Maasai tradition, and basic skills in game tracking.
An enriching and heartfelt experience to share with your spouse is adopting an endangered animal, such as a baby elephant with the Sheldrick Wildlife Trust in Nairobi. On our Enchanting East Africa, visit the Trust and its Orphan's Project and spend time with your foster elephant, who is adopted directly with Sheldrick Wildlife Trust prior to your travels. While lodging at the renowned Giraffe Manor, a boutique private giraffe sanctuary, you can enjoy breakfast with the resident's endangered Rothschild giraffe, as they stick their long necks through the windows to say hello – and search for a treat!
No Need to Compromise - Enjoy the Bush and the Beach
While travelers may think Africa is all about adventure with wildlife, there's also beautiful island havens that boasts relaxation on the beach and marine exploration with white sandy shorelines and exotic marine wildlife. Combining a safari in the bush and an excursion to the exquisite islands of Zanzibar or Mozambique is a perfect option for those who want the best of both African worlds.
Mozambique, whose coastline extends from South Africa to Tanzania, holds pristine and less-traveled resorts along the crystal blue waters of the Indian Ocean. After experiencing the lively culture of Cape Town and eventful game drives at Kruger Private Reserve, end your romantic African Romance safari in one of Mozambique's best secluded villas at the Azura Benguerra Island, with a private butler, a private sun deck, and an infinity pool.
You can also unwind on the exotic island of Zanzibar, which can be reached off the coast of Tanzania. The island has hidden beaches, secret lagoons and untouched coral reefs that makes it one of the top dive sites in the world.
To book an exciting dream honeymoon contact African Travel, Inc.
at 1 (800) 421-8907.
#TTCTop3 2022 Africa Places to Visit
December 23rd, 2021, by Sherwin Banda
A new year brings new adventures and I'm eager to fill it with travels. I'm blessed to have been born in Africa and look forward to discovering new places and rediscovering favorites on the continent, which is my theme this year for my 2022 bucket list.
I hope you enjoy the journey of reading it, dreaming a little and perhaps going on one or more of the adventures. I assure you can travel confidently knowing when you travel with African Travel and our TTC family of brands that all the details are taken care of on your behalf.
1. Kenya - Sustainable Experience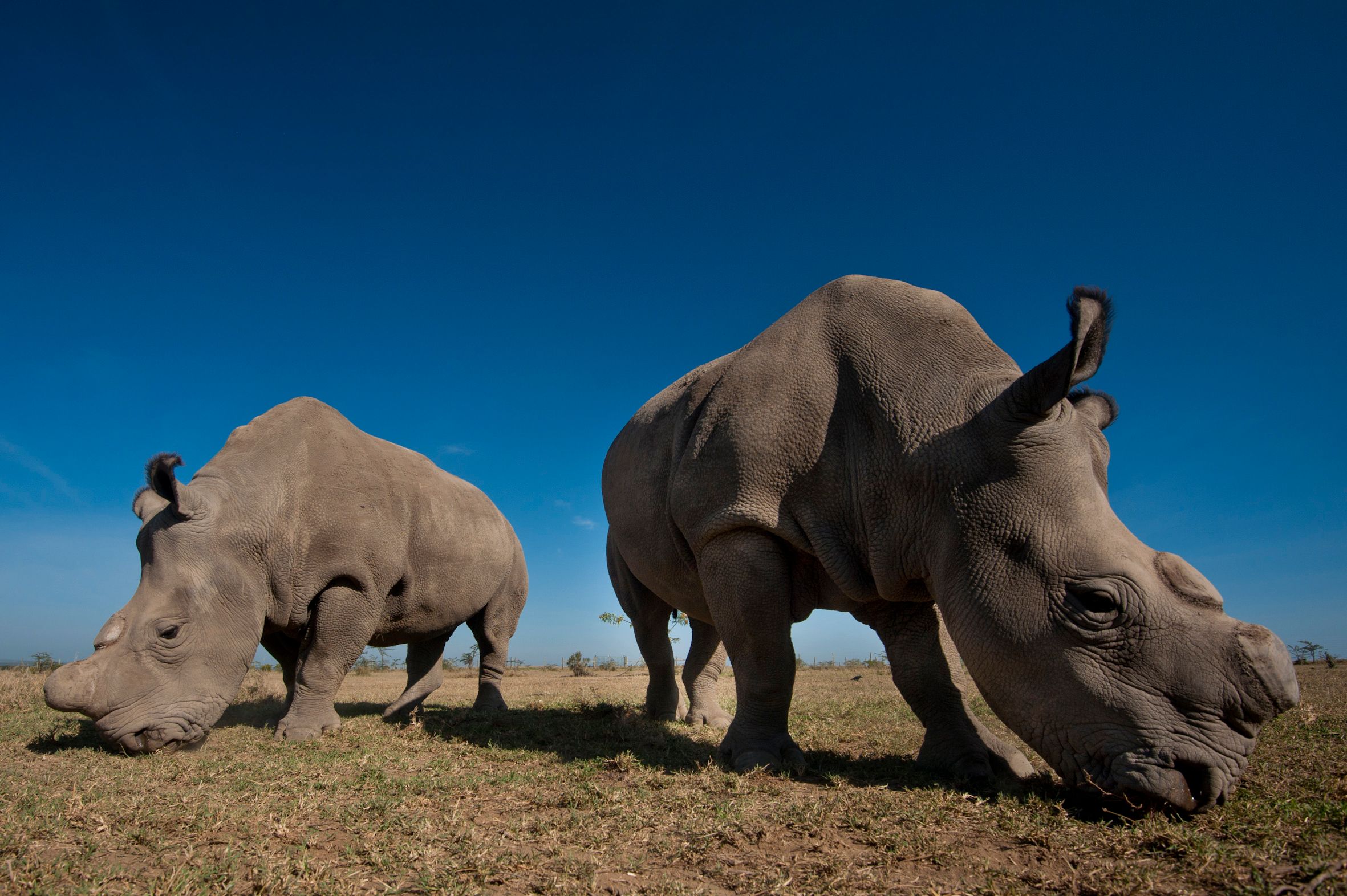 One of my favorite parts of travel is meeting the locals. Kenya is a country that actively invites you to participate.
Guests on our Under Kenyan Skies safari can experience the Maasai culture. Living a semi-nomadic lifestyle, the Maasai tribe have modernized in some ways but adhere to many aspects of their traditional culture. Established as fierce warriors, their lively cultural dance, vibrant clothing and beautifully crafted handiwork are recognized worldwide.
Kenya is also special because of its sustainable tourism practices. The country has one of the most successful community wildlife conservancies and has made great strides in protecting the very different species you can see here. There is wildlife you won't find anywhere else on the continent, like the Grévy's zebra, Beisa oryx, Gerenuk and Somali ostrich. I can't wait to visit to the Lewa Wildlife Conservancy to see these animals and witness the the extraordinary work by local communities. I'm also excited to revisit the Ol Pejeta Conservancy and meet the keepers caring for the last two northern white rhinos.
Further south, I'm eager to explore the floodplains of Amboseli National Park. Known as 'a land of giants,' there has been an elephant baby boom and I'm excited to see the elephants and adopt one.
The Emakoko is also an incredible family-run lodge located in Kenya's oldest National Park. The Nairobi National Park is one of the most unique parks in Africa because the city of Nairobi and wildlife live side by side in harmony, as if as time has stood still for thousands of years for these animals. The park has one of the largest populations of black rhino in the world and the wildlife knows no boundaries.
For more Kenya ideas check out Top 10 sustainable Kenya Experiences.
2. Botswana - Secret Migration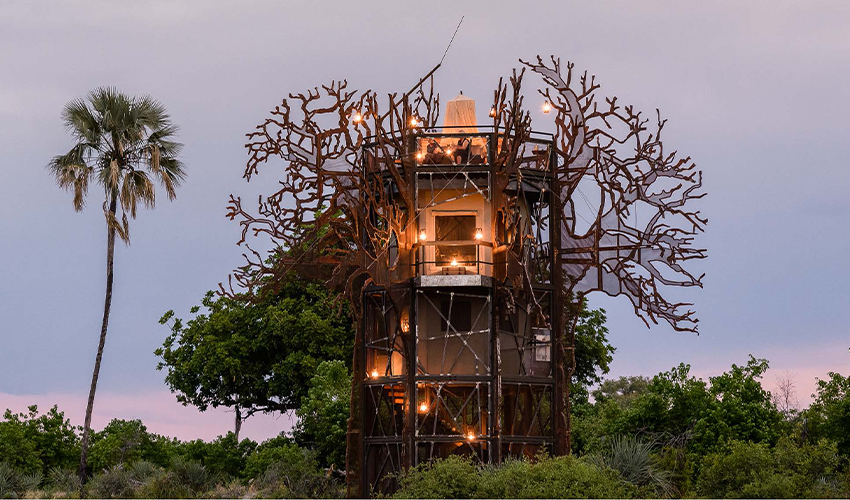 Botswana sets a gold standard in Africa for sustainability and exclusivity among nature and wildlife. Botswana truly delivers unmatched wildlife safari experiences.
The best thing about Botswana is that you can have both land and water safari experiences. It's a magical, beautiful destination, and the government has limited the size of camps to keep numbers down, so it's perfect for people who want an intimate safari experience.
I'm most excited to visit Xigera Safari Lodge in the heart of the Okavango Delta. I look forward to sightings of lion, cheetah andtheir famous leopards. Gliding through the waterwaysa glass-bottomed mokoros (African gondola) intrigues me and there's no better way to end a ride in an African style gondola with a 'feet-in-the-water' sundowner.
I love great design and Xigera feels like you are a part of nature as opposed to one just looking at it. The lodge is aesthetically designed to camouflage with the surroundings of the Okavango Delta. I can't wait to re-wild surrounded by exceptional artwork that matches the unique location.
I'm looking to time the visit to the start of Africa's second "secret" migration and revisit one of the camps in the Makgadikgadi Like the 1940's-style Jack's Camp, A favorite experience here is watching pixie-faced meerkats emerging from their burrow at sun rise.
Experience Xigera as part of our Ultimate Botswana itinerary.
3. Egypt - Nile Cruise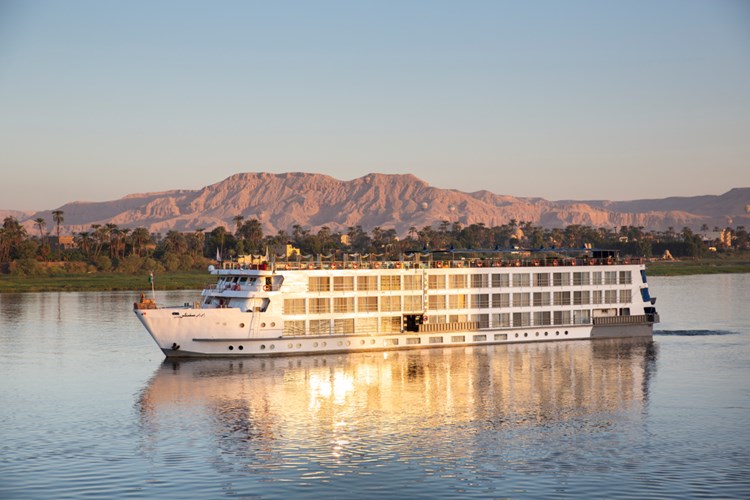 Egypt may be known for ancient treasures and rich history, but there is more to this nation and I can't wait to share it with my family. The surreal waters, golden sand beaches and remarkable architecture are just some of the things I yearn to revisit.
I can't wait to experience Uniworld's cruise across the Nile on its newest luxury super ship, the S.S. Sphinx. The ability to go back in time and experience ancient civilizations is something incredible. The journey is hosted by an Egyptologist who lives and breathes the history of Egypt. It's a very mysterious world with the legacy of pharaohs and ancient gods, and to hear an Egyptologist tell their stories will certainly take me back in time to relive their legacy.
I look forward to visiting the brand-new Grand Egyptian Museum in Cairo and to see Egyptian treasures that have been perfectly preserved for thousands of years. Having an Egyptologist guide you and show you what these artifacts meant to the ancient Egyptians makes this all the more special.
Cairo has been depicted in so many movies and has always been a place that has captured the imagination of the world. Just to walk down the ancient streets and experience what has been so transfixed by people's minds has always been a desire to do with my family. Doing this on a luxury floating hotel cruising down one of the world's ancient rivers is something that must be on everyone's bucket list. Adding a safari to this visit is the ultimate end to a world-class journey.
Experience Egypt and Uniworld's Nile River cruise on the Wonder's of Egypt
To book an exciting dream safari contact African Travel, Inc.
at 1 (800) 421-8907.