Unique Camps and Lodges
As if you needed another reason to travel to Africa, these unique safari lodges and camps are sure to draw you in with their intriguing landscapes and luxurious amenities. From desert escapes in Namibia to legendary lodges across Botswana, check out our list of some of Africa's most unique and best safari lodges and camps.
SOUTHERN AFRICA
Shamwari Private Game Reserve, Eastern Cape, South Africa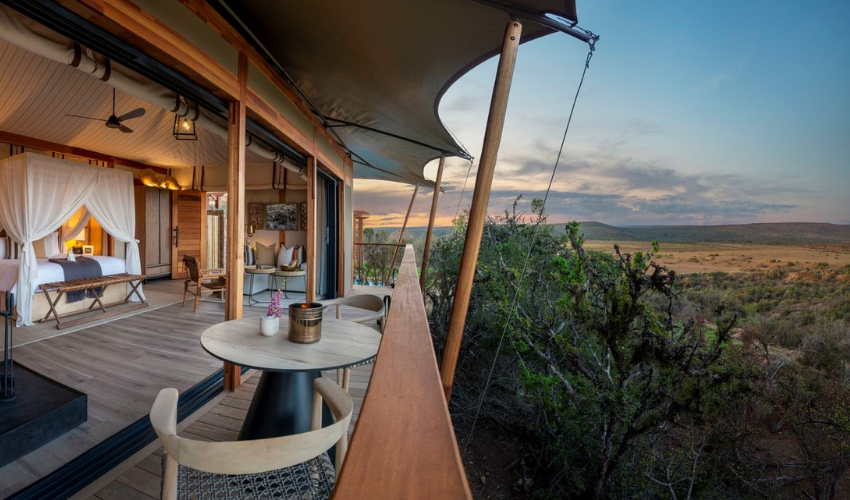 The Eastern Cape is our little secret. Shamwari is malaria-free and its own private reserve, catering to every style and budget without the crowds. There are choices for exclusive use like the five-bedroom Sarili Private Lodge or the back to basics Explorer Camp. Families are well catered to at Riverdene and guests looking for ultimate luxury will find it at Long Lee Manor, Eagles Crag or the most recent addition, Sindile tented camp. View Why We Love Shamwari.
Sabi Sabi, Greater Kruger National Reserve, South Africa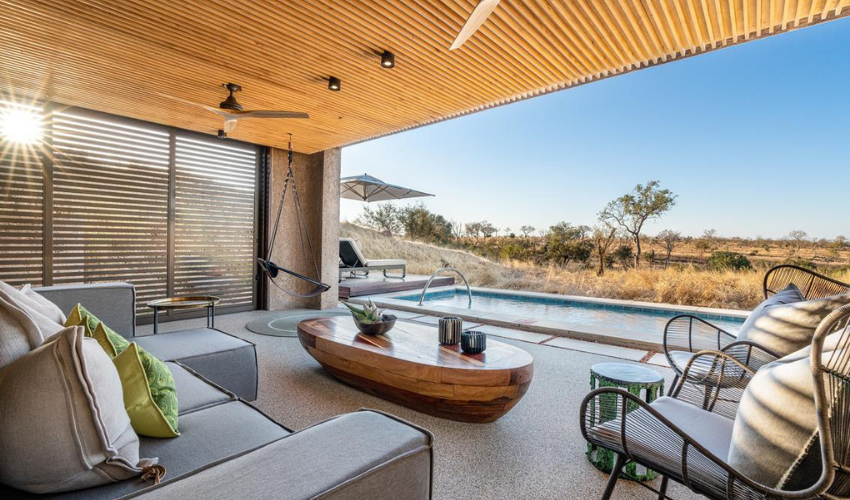 The Sabi Sabi philosophy of 'yesterday, today and tomorrow' is embodied in each of its four unque safari lodges. Whether staying at the Sabi Sabi of "Today" at the Bush Camp or the symbol of a new era at the Earth Lodge, the private reserve offers an experience to match your style. It also has one of the best family friendly experiences at the Bush Camp's Elefun Centre.
Kruger Shalati, Kruger National Park, South Africa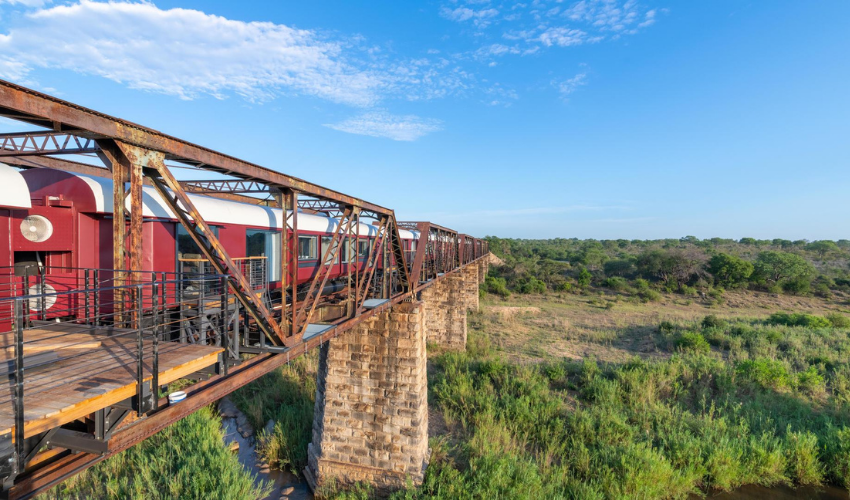 Permanently stationed on the historically-rich Selati Bridge above the Sabie River in the iconic Kruger National Park, Kruger Shalati offers the most unique luxury accommodation in a re-envisioned train. The experience pays homage to the guests who explored the park nearly 100 years ago while welcoming new explorers from near and far. When the first visits to the iconic park were allowed in the early 1920s, the train would park overnight in the exact spot where Kruger Shalati is now positioned.
Victoria Falls River Lodge, Zimbabwe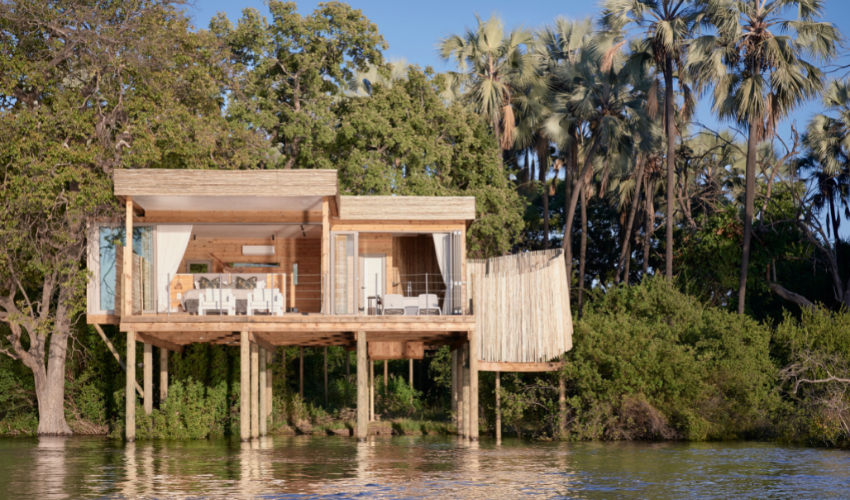 Tucked into the banks of the Zambezi River, the Victoria Falls River Lodge is close enough to the magnificent Victoria Falls to see the spray in the distance, and yet secluded in a remote corner of Zambezi National Park. Boasting panoramic views of African sunsets, spacious rooms extend out onto a private deck with its own plunge pool. The romantic Island Treehouse, ideal for honeymooners, is set among the trees on the banks of the private Kandahar Island, and accessible by boat only.
Matetsi Victoria Falls, Matetsi Private Game Reserve, Zimbabwe
Offering a unique combination of rich wildlife viewing, Matetsi River Lodge is set on a private concession and the broad Zambezi River. Clad in an intricate woven pattern that calls to mind the country's rich heritage, the cool and spacious suites boast contemporary interiors embellished with natural finishes, and decorated with abstract pieces of art, created by a renowned local artist. Each suite features a lovely bathroom and private veranda with exceptional views of the river. Set in the deep shade of riverside trees, each camp has a dedicated guest area. Delicious menus are created in an interactive kitchen and served indoors or beneath a canopy of trees. Al fresco dining takes place next to the Zambezi's running waters.
Xigera Safari Lodge, Moremi Game Reserve, Botswana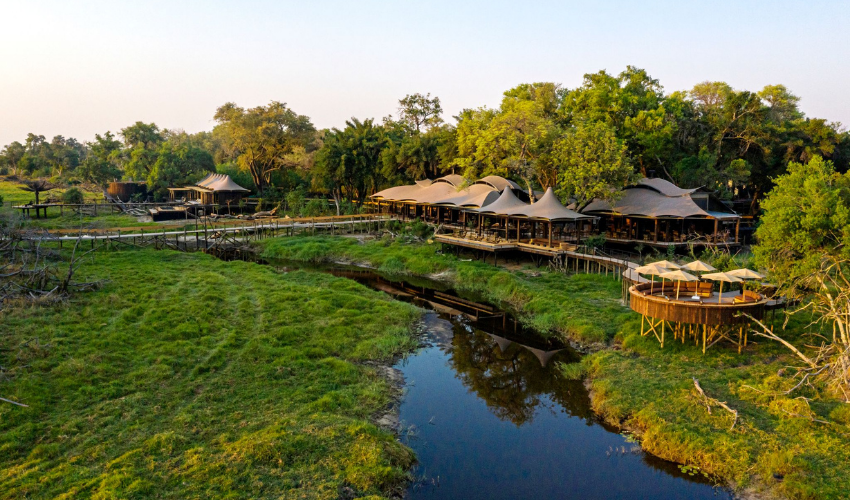 The story of Xigera Safari Lodge is one of renewal of rebirth and family legacy, and of the pioneering spirit that drives us to seek out Africa's wild spaces. Located on the western side of the Moremi Game Reserve in the heart of the Okavango Delta is a bold new safari lodge. Xigera, pronounced "Kee-jera" and named after the local pied kingfisher, is a love letter to the African bush. Built with sustainability in mind – Xigera is 95% solar-powered – the lodge is equally a unique celebration of African art, culture and creativity: a living gallery of African talent.
Jack's Camp, Makgadikgadi Salt Pans, Botswana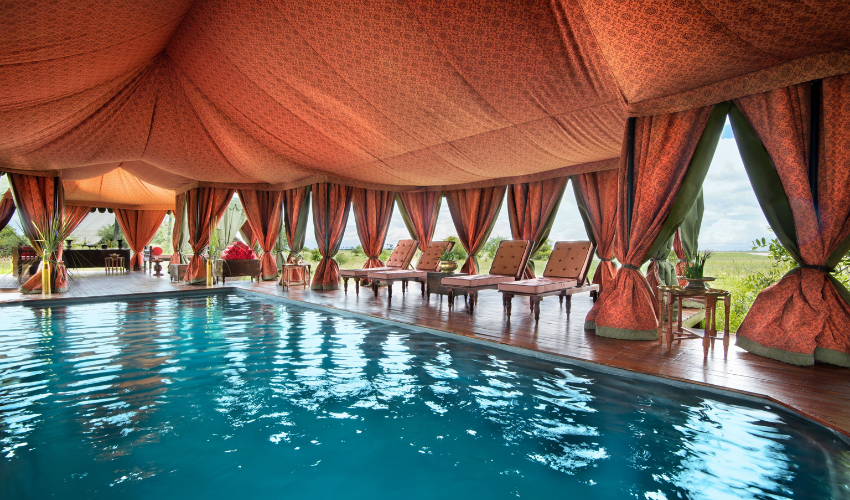 Venture to Botswana's Makgadikgadi Salt Pans where you can stay at Jack's Camp -- just one of three camps in a one-million-acre private wildlife reserve. The camp has been revamped and celebrate a classical 1940's style with larger tents embellished with little touches like Natural History Museum cabinets and a private veranda with plunge pool. Don't miss the bushman walks, meerkats and desert game drives.
EAST AFRICA
Mahali Mzuri, Maasai Mara, Kenya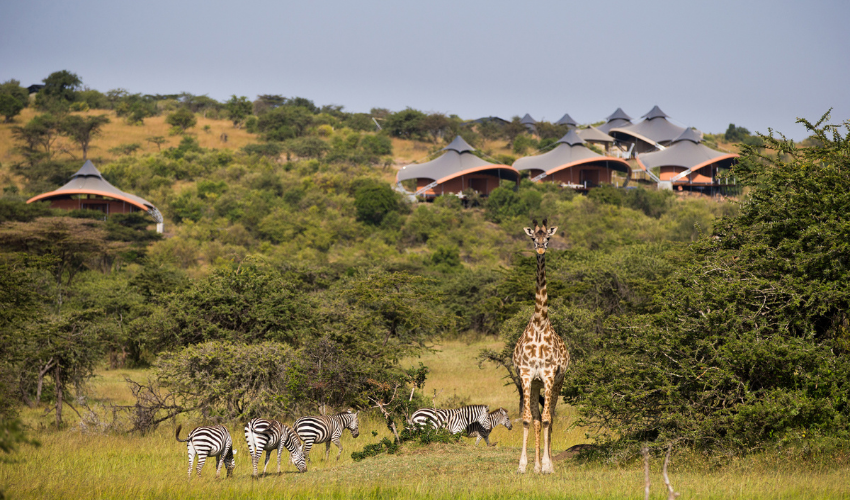 Mahali Mzuri was named not only the best safari lodge in Africa but the best hotel in the world by Travel + Leisure readers in the 2021 World's Best Awards. Readers credited the picturesque view of the Kenyan bush and the luxurious tented suites. Mahali Mzuri is a collaboration with the local Maasai communities and delivers exceptional service and attention to detail. The tented suites sit on a raised platform and include a spacious bedroom with an en-suite bathroom, sitting area and a large deck with views over the landscape - perfect for spotting the game that will almost certainly wander into view!
Loisaba Star Beds, Loisaba Conservancy, Kenya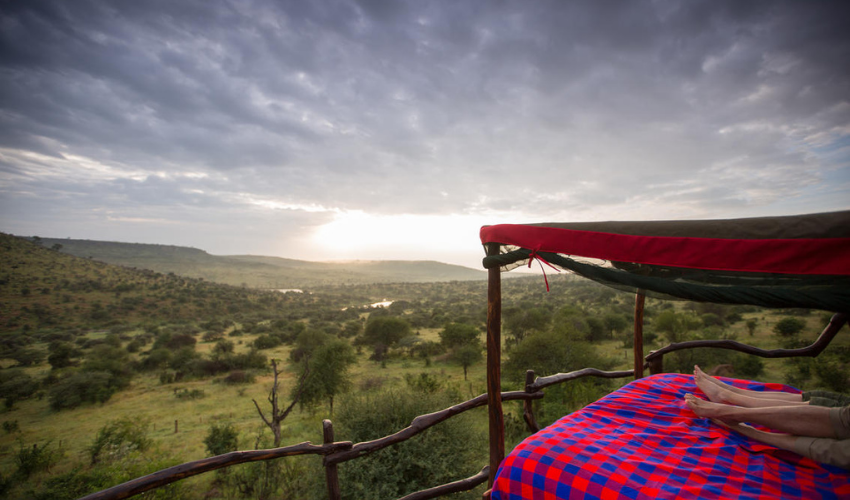 The Loisaba Conservancy is a safe haven for 260 species of brids and 50 species of mammals including lion, reticulated giraffe and the endangered Grevy's Zebra. It is also an adventure lover's dream with different ways to experience the beautiful landscapes outside of the jeep, including horseback safaris and mountain biking. At night, enjoy a completely novel safari experience, the Loisaba Star Beds. Retire to a four-poster bed that has been rolled out onto the deck, and lulled to sleep by nature's chorus, under a canopy of twinkling stars. Discover the experience in our Under Kenyan Skies,
Tarangire Treetops, Tarangire, Tanzania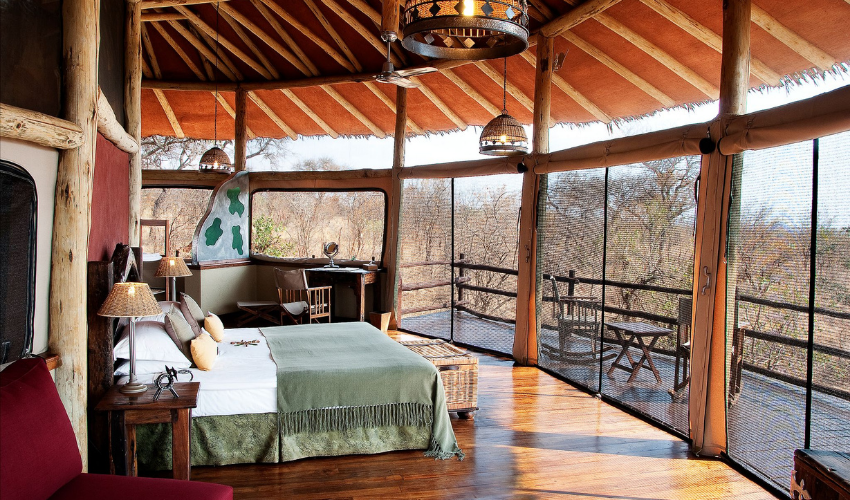 Located in Tarangire National Park, staying at Tarangire Treetops is an experience like no other. Guests stay in one of the 20 "up in the air" lodges and enjoy a private balcony, a double shower ensuite bathroom and one of the largest bedrooms that can't be found in any camp or lodge in East Africa.
Tarangire is known for its large number of elephants, baobab trees and tree climbing lions. You will be amazed at the number of animals to see especially near Tarangire Treetops' own water hole, which attracts a wealth of animals. The food, people and accommodations are all outstanding.
TAASA Lodge, Northern Serengeti, Tanzania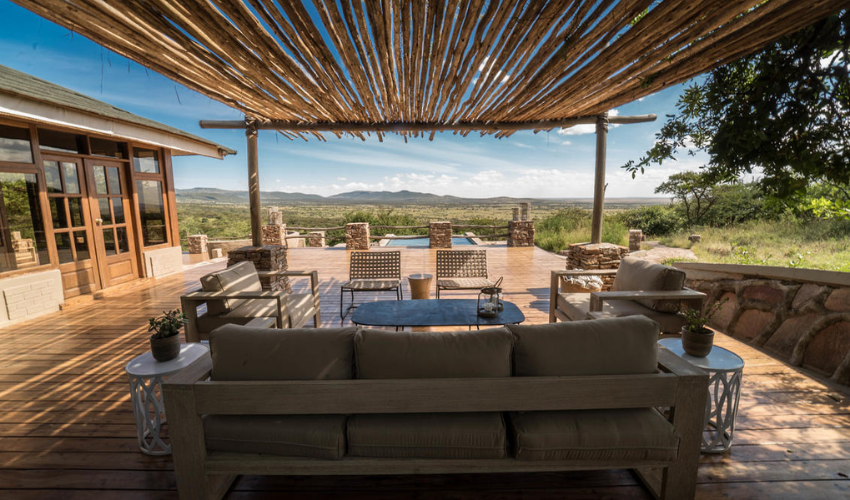 Consider flying to the northern edge of the Serengeti for a less crowded view of the migration on our Discover the Wonders of Tanzania. Nestled in a private game reserve, TAASA Lodge allows you to delve deeper into communities that are practically untouched by tourism and have more intimate experiences on day and night game drives.
Singita Sabora Camp, Grumeti Reserve, Tanzania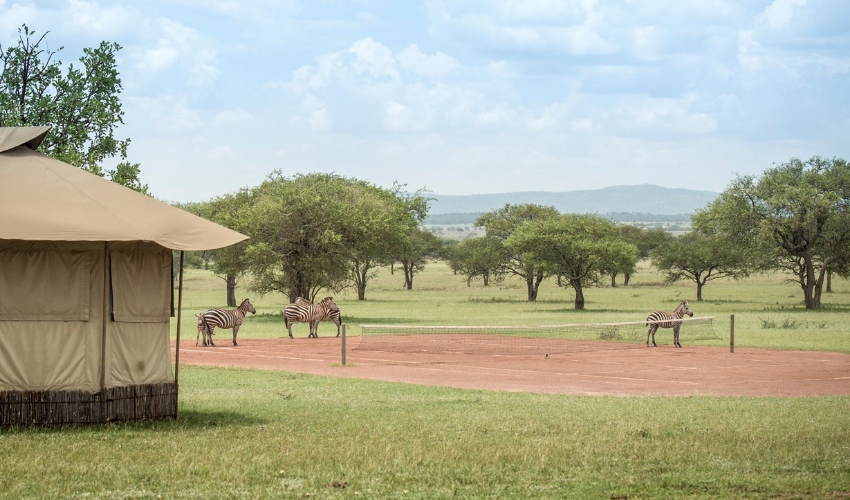 Classic under canvas options are getting reimagined. On our Tantalizing Tanzania safari, the new Singita Sabora Camp boasts intimate 1920s-style letting you explore the untouched wilderness area of the Serengeti in the private Grumeti Reserve.
HIDDEN GEMS
Virunga Safari Lodge, Volcanoes National Park, Rwanda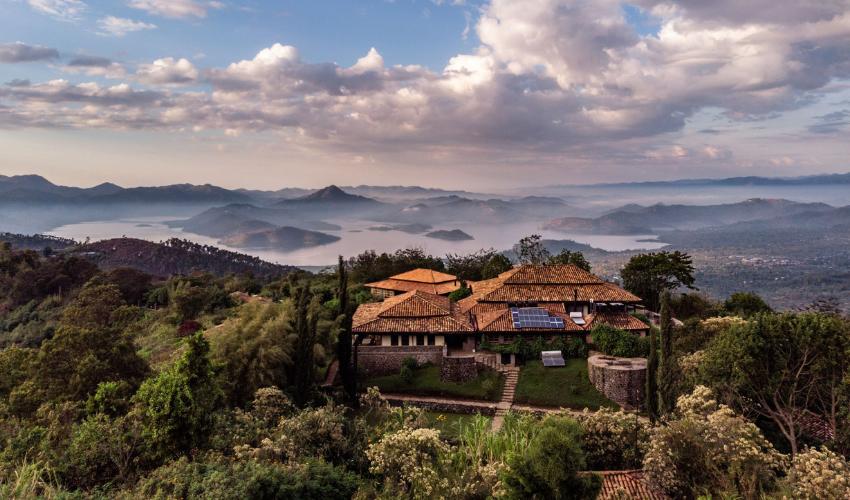 Virunga Lodge is a rustic hilltop retreat with ten suites (or bandas), half overlooking stunning Lake Burera, the other with sweeping views of Rwanda's jagged volcanic peaks. You can't go wrong with either side, but we suggest going for one of the two deluxe options that have living rooms and fire pits. Rooms are spacious and cozy, and filled with bright local fabrics. Rates include all meals and drinks, plus a daily massage—much needed after a day spent gorilla trekking, hiking, or birdwatching in the nearby Volcanoes National Park. As the day winds down, get cozy in the living room for a game of cards and a glass of South African wine, or watch the sun set from the stone terrace.
Shipwreck Lodge, Skeleton Coast National Park, Namibia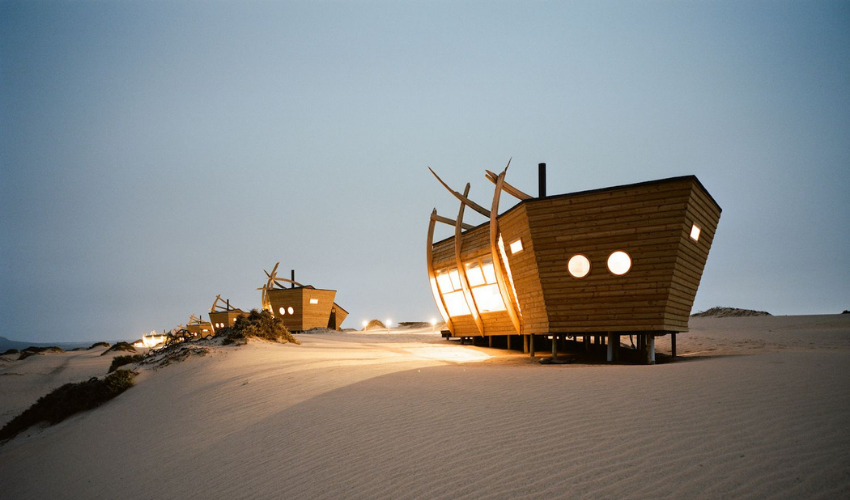 Uniquely designed around the enigmatic shipwrecks that line Namibia's Skeleton Coast, there's nowhere on the continent quite like Shipwreck Lodge. In fact, there's nowhere on the continent quite like the Skeleton Coast. It's a raw, rugged and remote slice of African wilderness, where towering dunes and wind-swept plains roll as far as the eye can see, buffeted by the Atlantic seas.
PLAN A SAFARI
Call 1-800-421-8907 or fill out our questionnaire and submit it to a specialist to plan a trip.