End of Year Wellness
September 9th, 2021, by Chelsea Todaro
Mindful, eating well, staying fit, off the grid
Africa has always been a destination suited to wellness with its open spaces and connection with nature. To end the year on a high note, visit East Africa to recharge, with plenty of spacious settings and gorgeous natural retreats to choose from.
Our safari expert Anais Chavez share with us her favorite wellness retreats in Botswana, Kenya and Tanzania.
Beautiful Botswana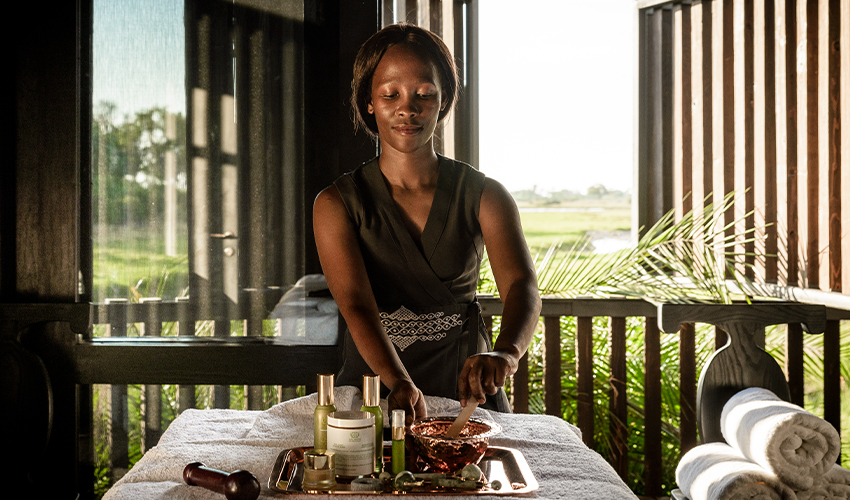 The newly renowned Xigera lodge is perfect for ultimate relaxation, where time seems to stand still in the Okavango Delta. A secret hideaway, Xigera can only be accessed by helicopter or boat. The lodge boasts exceptional wellness experiences, and the spa is tranquil haven for travelers. It has been meticulously designed to frame the breath-taking views of the seasonal flood plains and lush riverine forests.
A dedicated yoga teacher offers daily classes at sunrise and sunset, as well as bespoke private sessions focused on mindfulness and meditation. For a unique boat experience for the Okavango – you can view the vibrant wildlife above and under the water in Xigera's special glass bottomed Mokoros, allowing for incredible views of the Delta both above and below.
TIP: Our experts recommend exploring Xigera on our new Platinum Botswana safari, with an exclusive three-night stay.
Tanzania's Remote Treasures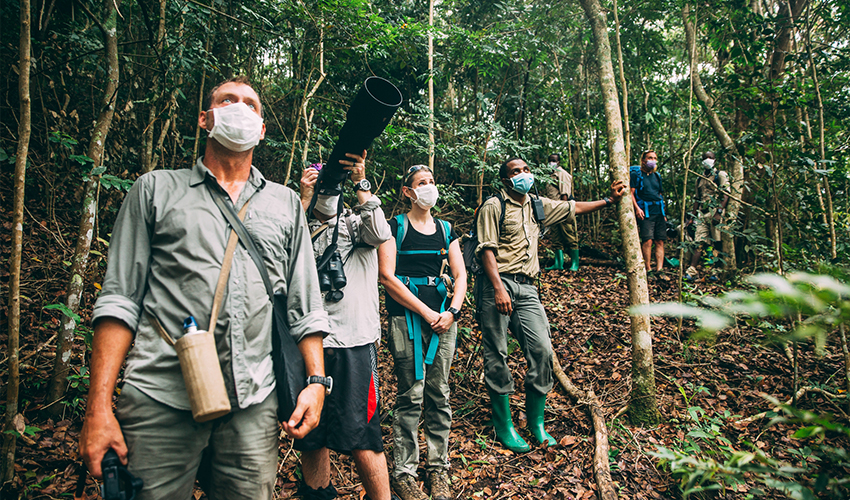 A favorite wellness spot- and hidden gem- in Tanzania is Greystoke Mahale Camp. A remote lodge on the shores of Lake Tanganyika, it's among the best places to enjoy a break from the vehicle safari, offering time on the water as well as hikes up the mountain to get up close and personal to a thriving population of chimpanzees. The camp boasts a beach castaway African-style ambiance on, with an upstairs viewing deck to enjoy the soothing sounds of the waves.
TIP: Add on to your safari to explore Tanzania's lush green neighbor, Rwanda.
Seclusion in the Kenyan Wilderness
For a variety of wellness experiences, we recommend visiting Kenya's Lewa Wildlife Conservancy in the north which holds several rare and unique species. You can disconnect from the world with all that is wellness at Sirikoi Lodge, situated on its own private estate in the center of the Conservancy. The lodge blends adventure with relaxation, offering game viewing that is not readily available elsewhere with all rooms leading out into the wetlands and nearby waterholes.
Sirikoi's landscape holds unique giraffe and zebra species, with endangered black rhino and wild dog conservation giving you a chance to view them up close. The lodge offers variety of wellness experiences such as horse riding across the plains among the wildlife, diving into the blue glacial pools in the Ngare Ndare Forest and helicopter excursions up Mount Kenya. For more relaxation, enjoy a leisurely breakfast on the deck watching wildlife at the waterhole, cool off in the infinity pool, or unwind with a massage. The lodge delivers exceptional food year-round, with their organic garden producing an impressive amount of fruits, vegetables and herbs.
TIP: Allow our experts to tailor your safari to visit Sirikoi on our World's Greatest Show & Safari- Serengeti
Contact our African Travel Specialists
800 421 8907